Watermelon Sugar
Who doesn't enjoy a thirst-quenching watermelon juice drink during the warmer months of Singapore?

But while everyone is familiar with the large fruit with green stripes, did you know that there are also other plants named after the watermelon, due to their striped appearance? Get to know some of them here, and you can even try growing these at home.
Watermelon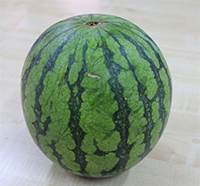 Photo credit: Charis Chiang
Did you know that the Watermelon (Citrullus lanatus) has an extremely high water content that can be up to 92% of the total weight of its fruit! It is often made into a delicious juice to quench thirst, and can also be eaten fresh.

The Watermelon plant has a twining growth habit and can grow up to 5 m in length. While it has an extensive root system, it is also shallow. It produces pale yellow solitary flowers.

For rapid growth and fruiting, it is best grown in a warm, sunny and dry climate. Excessive humidity and rainfall will induce excessive vegetative growth and fruit rot. While the seeds take five to 12 days to germinate, depending on the varities, the plant may take 85 to 105 days to mature.
Watermelon Dischidia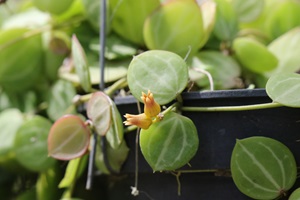 Photo credit:
Pauline Tay
The Watermelon Dischidia (Dischidia ovata) is a robust, fast growing vine named for its light green leaves with white to whitish green veins. It produces flowers that are dull orange with a purplish tinge in colour. It can be propagated by seed or stem cutting and grows best in semi-shaded conditions.

It can be found in mangrove swamps but can also be purchased from local nurseries as a hanging ornamental house plant. It is best to keep the plant away from children and pets as its milky white sap may cause skin irritation.
Watermelon Begonia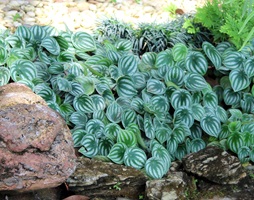 Photo credit: Shi Biying
The Watermelon Begonia (Peperomia argyreia) is a small herbaceous plant with fleshy leaves marked with silver stripes resembling the rind of a watermelon. Its stems are red and fleshy.
This begonia can be an attractive indoor plant for its ornamental foliage. It can grow in moist well-drained soil and under semi-shade, with between three and six hours of direct sunlight preferably in the morning or early afternoon.

Trailing Watermelon Begonia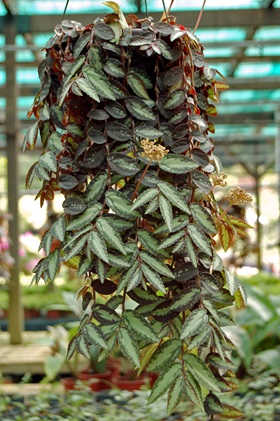 Photo credit: Joyce Foo
Native to Singapore, the Trailing Watermelon Begonia (Procris repens) is a small herbaceous creeper naturally found on shady forest floors and moist rocks. The colours of its attractive foliage resemble watermelon rinds, ranging from grey-green, brownish-green, to purplish brown and with a satiny sheen.
They make a pretty sight when hung from planting baskets, or can also be grown in terrariums as it enjoys high humidity. It prefers consistently moist but well-drained souls as it is prone to rot under constantly waterlogged conditions.


Gardeners' Day Out Is Back!
Participate from the comfort of your home with online activities such as talks and demonstrations, video tutorials of activities and promotions offered. Free guided tours will also be offered on site (with safe management measures). Enjoy Gardeners' Day Out online at www.nparks.gov.sg/GDO.

You can also enjoy our Gardening With Edibles Masterclass Series from your home. They are conducted by NParks horticulturists, focusing on unique and challenging edibles across different plant families.


Learning More
If you are heading to our green spaces, do the right thing and be socially responsible. Maintain a safe distance from other park goers and keep to not more than eight persons in a group, with no intermixing between groups. Always wear a mask except when you are engaged in strenuous exercise or when consuming food, drink or medication.

Do check out the visitorship levels of our parks using our safe distancing portal before you head down and avoid the ones with high visitorship. Learn about some simple do's and don'ts when visiting our Nature Reserve and Nature Parks here.
Visit NParksSG, our refreshed YouTube Channel that serves as a one-stop repository for close to 300 video resources. It also provides you a platform for existing and future digital outreach including DIY gardening and related crafts, virtual tours of our green spaces, and livestream events.
Whether you are an amateur gardener or a seasoned horticulturist, starting a home garden or a community garden, there are plenty of useful information and guides here for your gardening hobby.

For more information about the flora and fauna found in Singapore, please visit NParks Flora and Fauna Web.
If you like what you read, follow us on Facebook, Instagram and Telegram to get the latest updates.