Unique Gifts for Nature Lovers
Have you been exploring Singapore?

With so many pockets of greenery found throughout our City in Nature, you are always just steps away from enjoying a pleasant respite from the urban buzz. And right in central Singapore, you have the Singapore Botanic Gardens, with its many attractions and green spaces to explore.
Don't miss visiting the Gardens Shop when you are done exploring. You can pick up unique gifts from our wide range of garden-related merchandise that are perfect for all nature lovers.

Botanic Floral Fabric Fan

Beat the Singapore heat with this accessory exclusively available at the Gardens Shop. Exquisite and traditional, this oriental fan is made from bamboo and fabric and can be kept in a white organza pouch.
Inspired by the beautiful flowers and foliage found within the Singapore Botanic Gardens, the fan is bound to 'wow' passers-by with its vivacious print. Furthermore, it makes a lightweight and portable gift that is convenient to carry around and ideal to use when the temperature rises.
Purple Orchid Table Runner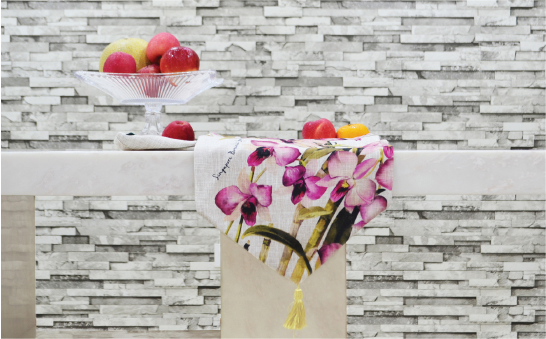 The perfect housewarming gift for any nature appreciators, this table runner features purple orchids inspired by a historical print from the Gardens' archive. This stylish item adds a pretty pop of colour to any tablescape, while protecting your furniture from stains and spills.
Can get enough of orchids? Be enthralled by an abundance of flowers, foliage and scents at the National Orchid Garden. The Tropical Montane Orchidetum showcases the most diversity of orchids found in tropical montane forests, in a single location in Singapore.

It comprises three display houses – the Sembcorp Cool House, Tan Hoon Siang Mist House, Yuen Peng McNeice Bromeliad Collection, as well as the surrounding outdoor display areas that showcase lowland forest and stream habitats, and a Secret Ravine that emulates habitats that can be found in deep, narrow valleys of tropical mountains.

Check these items out at the Gardens Shop in the Singapore Botanic Gardens or view them at www.botanicgardensshop.sg. Find the perfect spot and grab a quick caffeine fix at the Tea Bar, found exclusively at the Gardens Shop Nassim Gate and Tanglin Gate. Hot or cold, each brew is a perfect pick-me-up!