Visiting with the Vet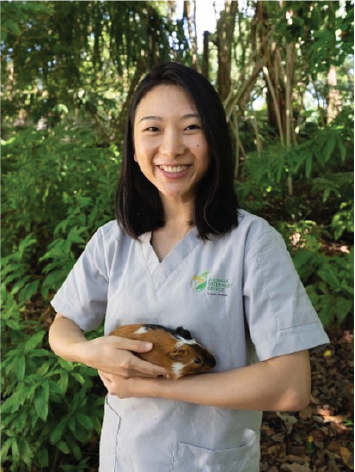 Birds, dogs and cats, or how about sheep? Olivia Lim is an animal lover through and through.
The 25-year-old currently works as a veterinarian with the Animal & Veterinary Service (AVS) under NParks, where she conducts outreach programmes, performs check-ups and surgery on pets, and monitors the overall health and welfare of Singapore's community animals.
Baa Baa… Baack in the Day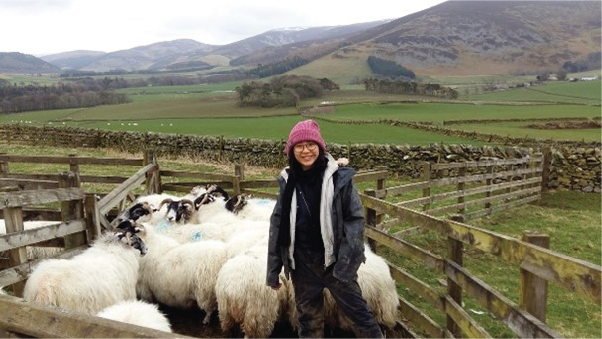 Olivia worked on a sheep farm in the Scottish borders during lambing season.
Olivia studied for a Bachelor of Veterinary Medicine and Surgery at the University of Edinburgh in Scotland. To graduate in 2021, she was required to complete at least 38 weeks of self-arranged work experience. Since she was already studying in the UK, Olivia decided to fulfil some of her school requirements by working on a sheep farm during two lambing seasons, critical periods during the sheep farming calendar when lambs are born.
"While on the sheep farm, I helped with herding, vaccinating, de-worming, and grouping sheep in preparation for lambing season," says Olivia. "When the ewes started lambing (giving birth), I observed that births were progressing as they should, intervened when necessary, and cared for the needs of both ewes and lambs."
Sheep husbandry was an exciting and novel experience for Olivia, whose experience prior to her veterinary studies consisted of working with companion dogs, cats and birds at local organisations. During one of those stints, she learnt to care for various types of parrots, such as cockatoos and macaws, and birds of prey like kites and eagles.
"This was the first time that I worked closely with birds and it built my confidence in handling them," says Olivia. "I discovered that just like other animals, birds have their individual personalities, preferences and motivators too."

Caring for Animals and People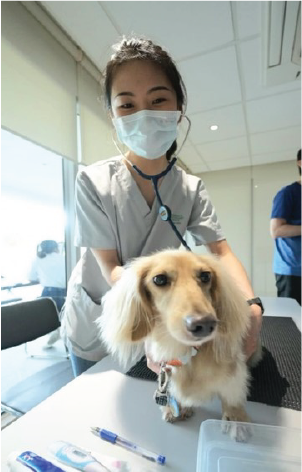 Olivia performing a physical examination on a dog as part of the free pet health check services made available at Pets' Day Out, a regular event organised by AVS.
In her current role as a vet with AVS, Olivia's job scope is constantly expanding to include new ways of caring for both the animal and human communities. While this is challenging, it is a reminder that when animals are well taken care of, this can impact the general public's health. Towards this aim, she is part of the National Parks Board Veterinary Team that performs routine animal inspections, bio-surveillance programmes, and disease outbreak management.

Olivia's other responsibilities include hands-on work at the surgeon's table and planning outreach programmes to enhance public understanding of animal welfare. This is to guide people towards responsible pet ownership and reduce cases of pet abandonment, animal abuse, and neglect.
Specifically, her hands-on work as an animal surgeon enables her to directly treat and manage community animals. "Together with a team of shelter managers, animal behaviourists and other vets, we do things like reunite lost pets with their owners, surgically sterilise, behaviourally rehabilitate, and rehome community dogs and cats. We work together with our AVS Animal Welfare Group partners to find animals their forever homes. For dogs and cats that cannot be rehomed, they may be released at suitable locations to live out their lives naturally," says Olivia.
Dog Day Afternoons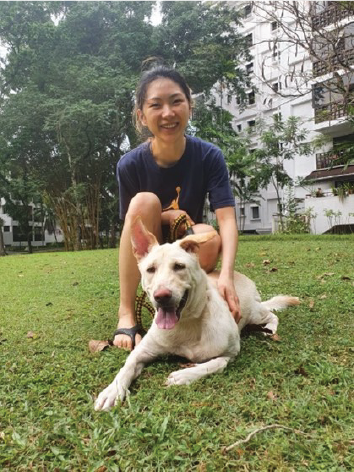 Olivia with her pet Singapore Special, Mochi, when he was 2 years old.
Besides caring for animals as part of her work, Olivia is the owner of a 2.5-year-old "purebred Singapore Special" called Mochi that she initially fostered from a local animal welfare group. After a short period of fostering, her family "quickly fell in love with him and ended up adopting him!"
Like any pet, Mochi has endearing quirks and habits. Olivia has observed her dog spending good chunks of time observing their neighbours through the window or over the wall. "It's quite entertaining to see him drop a toy to trot around and 'find out what's going on' outside," she says.
Mochi also has a "psychological barrier" when trying to get past furniture or doors. Though the space for Mochi to walk through is sufficient, Mochi needs human intervention to feel comfortable enough to pass through. "He needs the gap to be widened by just an inch before passing through," explains Olivia. "Even though the gap often greatly exceeds the width of his body, he will wait for someone to nudge the furniture or door before walking by."
Advice from a Vet
Olivia's experience caring for her pet and her time as a vet have given her valuable insight into managing animals.

For a start, she emphasises the importance of research, planning, and network-building to prospective pet owners. "Consider what the changing needs of your pet will look like as it moves through the stages of life," Olivia advises. "Be prepared for the commitments required and find a community of pet owners to share the experience of pet owning."
She also urges pet owners to regularly engage their vet for their pet's health check-ups. "Build a good relationship with your veterinary team and invest in annual wellness checks even when nothing seems wrong," she says. "Diagnostics are improving and health conditions may be picked up earlier, allowing us to support pets' health better. In addition, investing time, effort and finances when pets are healthy may build positive associations with vet visits, reducing the stress when pets are older and potentially ill.

Olivia's advice to those keen to join the team? "Even if you're not a veterinarian, there are many other opportunities to join us in safeguarding animal health and welfare. Various teams in AVS have interconnected roles and finding where your skills and interests lie through internships, attachments and hands-on exposure will help."

Learning More
If you are interested in adopting an animal, please remember that getting a pet is a lifelong commitment. Do consider the responsibilities of being a good owner before you get one. To find out about the pros and cons of adopting an animal, check out this article and learn more about the adoption process here.
To learn more about the ins and outs of responsible pet ownership and animal welfare, follow @AnimalBuzzSG or visit the Animal & Veterinary Service webpage.
Visit NParksSG, our refreshed YouTube Channel that serves as a one-stop repository for more than 500 video resources. It also provides you a platform for existing and future digital outreach including DIY gardening and related crafts, virtual tours of our green spaces, and livestream events.
If you like what you read, follow us on Facebook, Instagram and Telegram to get the latest updates.


Text by Liyana Adnan

About the writer
Liyana Adnan is a third-year Arts & Humanities major at Yale-NUS College. She is undertaking a six-month internship at NParks out of her love for nature. Her interests include natural history, literature, art, and philosophy.