Six Reasons to Revisit Lakeside Garden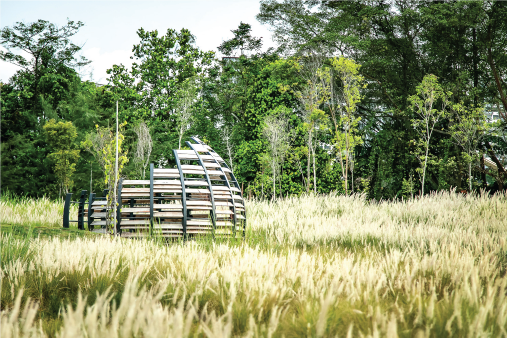 Looking for a quick getaway this month? Make Lakeside Garden in Jurong your stop the next time you are out and about!
Opened in April 2019, Lakeside Garden is part of Jurong Lake Gardens, Singapore's first national gardens in the heartlands. The 53-hectare Lakeside Garden was developed with a strong emphasis on nature, community and play.
Whether you are an aspiring nature photographer, fitness junkie, nature enthusiast, proud pet-owner or green-fingered gardener, there is something for everyone at Lakeside Garden! Check out these six reasons to spend your day in the Garden.
1. Bazaar In the Garden



Looking for gardening and nature-related merchandise or thinking of starting your gardening journey with some help from experts? Look to Jurong Lake Garden's signature event: Bazaar In the Gardens (BIG).

BIG is back and takes place on the fourth Saturday of each month onsite and online! It features programmes, such as talks, guided walks and even craft and activities for children. The curated. There are also free garden tours to enjoy. BIG promises to be a fun day for the whole family if you are joining us online or onsite.

BIG is held online and the guided tours will be held on site at the Gardenhouse in Lakeside Garden. For more information, visit www.nparks.gov.sg/BIG.


2. Learn about Nature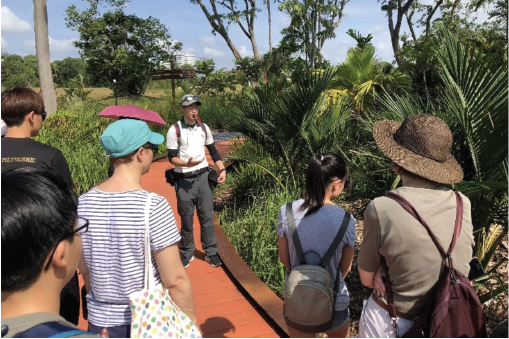 There isn't always a need to venture deep into the wilderness to learn about nature. You will be surprised by the biodiversity you can find close to home.

Join experienced nature guides on our regularly conducted walks and learn to appreciate the wide variety of animals and plants in Lakeside Garden as you take in the sights and sounds around you.

Discover the stories of the Garden and how Jurong's rich history inspired many of the design aesthetics of its attractions. Spaces fill fast, so keep a close lookout for upcoming guided walks on our calendar of events.
3. Fun for Kids

Children of all ages and abilities can have fun together in Lakeside Garden. Forest Ramble is the largest nature playground in the heartlands, comprising 13 adventure stations that enable children to mimic the movement of animals. It also has inclusive and wheelchair-accessible elements.

Children who worked up a sweat and are looking to cool off can enjoy Clusia Cove, a water playground for the young to experience water movements mimicking tidal patterns, surface ripples and directional currents of coastal shores. This means children can learn as they play!

Forest Ramble and Clusia Cove are open Tuesday to Sunday from 8 am to 10 pm.

Children can also explore a Butterfly Maze set within an undulating landscape filled with butterflies. Unlike a traditional hedge maze, they will traverse an open landscape with changing views as they climb up and down the moulds in search of a way out. There are quiet corners, rest areas, slides and educational signs throughout the maze for children to learn about pollination and the life cycle of butterflies.

The maze joins the children's section of the Therapeutic Garden where young visitors can experience the positive effects of immersing in greenery. There are also therapeutic horticulture programmes for children to participate in,

Visitors are discouraged from entering the Butterfly Maze from 7 pm to 7 am as the lighting conditions are dim.
4. Pet-lovers' Hangout

Looking for an adventure with your canine buddy? Come and enjoy Lakeside Garden's Dog Run.

Let your dog move freely in one of Singapore's largest public dog runs, with play mounds for your pet to explore. The monthly BIG also hosts pet-related workshops in partnership with the School of Life Sciences and Chemical Technology in Ngee Ann Polytechnic.
The Dog Run is open daily from 8 am to 10 pm.


5. #Instaworthy Spots Galore

Photo credit: Jeremy Yeo
There is no shortage of spectacular views at Jurong Lake Gardens. Whether you are looking for the ideal photo spot or hoping to catch some wildlife with your camera, capture stellar shots at our diverse range of photogenic areas. From the Logs Trail to the Gabion Wall Grasslands and Rasau Walk to Neram Streams, you are sure to snag that perfect shot.
Check out eight locations in Lakeside Garden to soak in the views and capture shots for your social media needs.


6. Fitness Amidst Greenery

Fret not fitness junkies, there are plenty of options to get your active game on at Lakeside Garden!

With a multitude of scenic running and cycling paths, you have the option to begin or finish your NParks Coast-to-Coast Trail (C2C) journey at Jurong Lake Gardens, the western end of the extensive 36 km trail. Looking to hit the gym or pool surrounded by lush greenery? ActiveSG Park @ Jurong Lake Gardens, Sports Singapore's first facility nestled in an NParks' garden, might just be the place for you.

If you are feeling adventurous, PAssion WaVe @ Jurong Lake Gardens by People's Association gives you access to water sports such as kayaking, paddle-boating and dragon boating at affordable prices.


Visiting Lakeside Garden
Lakeside Garden is open 24 hours daily and admission is free. There are certain areas within the garden that are dimly lit and/or are closed so do check out the website before heading down.

The 90-hectare Jurong Lake Gardens comprises Lakeside Garden (formerly Jurong Lake Gardens West), as well as Chinese and Japanese Gardens (formerly Jurong Lake Gardens Central) and Garden Promenade (formerly Jurong Lake Gardens East), that are currently under development.

If you are visiting our green spaces, mask-wearing in outdoor settings such as parks, gardens and nature reserves is optional but continues to be required when you visit our indoor facilities, such as museums, galleries and enclosed visitor centres.

Do check out the visitorship levels of our parks using our safe distancing portal before you head down and avoid the ones with high visitorship.
Learning More
Visit NParksSG, our refreshed YouTube Channel that serves as a one-stop repository for more than 500 video resources. It also provides you a platform for existing and future digital outreach including DIY gardening and related crafts, virtual tours of our green spaces, and livestream events.

If you like what you read, follow us on Facebook, Instagram and Telegram to get the latest updates.

Text by Daniel Yee


About the writer
Daniel Yee is graduate of National University of Singapore who pursued a Bachelor of Science (Life Sciences) degree. He interned at NParks, Jurong Lake Gardens Operations as part of his school's Final Year Internship project. During his time with NParks, he contributed to Jurong Lake Gardens' educational and outreach programmes such as workshops and biodiversity guided walks for the public. His Life Sciences background and passion in conservation and environmental issues made NParks an easy choice for his project.