Potful of Green Edibles
Did you know? Many edible plants can be grown in pots! This makes make them suitable for small home gardens in urban spaces where true ground may not be available.

Getting the right pot size and type is important to keep your plants healthy, so let's learn more about such pots and how to choose the best one for your edible plants.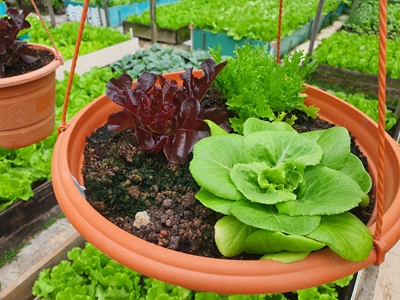 One Size Does Not Fit All
Different kinds of plants will need pots of different sizes to contain the amount of soil to cater adequately for the plant roots. Because soil can "hold" water, the amount of soil in a pot will also determine how much water is available to a plant.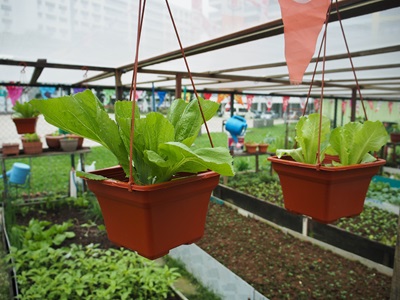 Generally, small pots are suitable for plants with shallow roots.


As a rule of thumb, larger pots are better for taller or thirstier plants. But leafy vegetables like lettuce, Bayam, Xiao Bai Cai and Cai Xin have shallow roots, so pots that are 10 to 15 cm deep are enough for them to grow.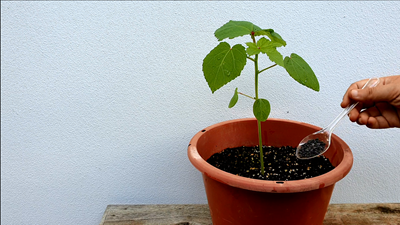 Deeper pots are able to support larger plants that tend to have large root balls to keep the plant upright.


Fruiting vegetables and herbs with woody stems, like Lady's Fingers, Eggplants, Basil and Rosemary are much larger than leafy vegetables, and thus also have larger root balls to keep the plant upright.

They do best in pots that are 15 to 30 cm deep, with deeper pots being able to support larger plants.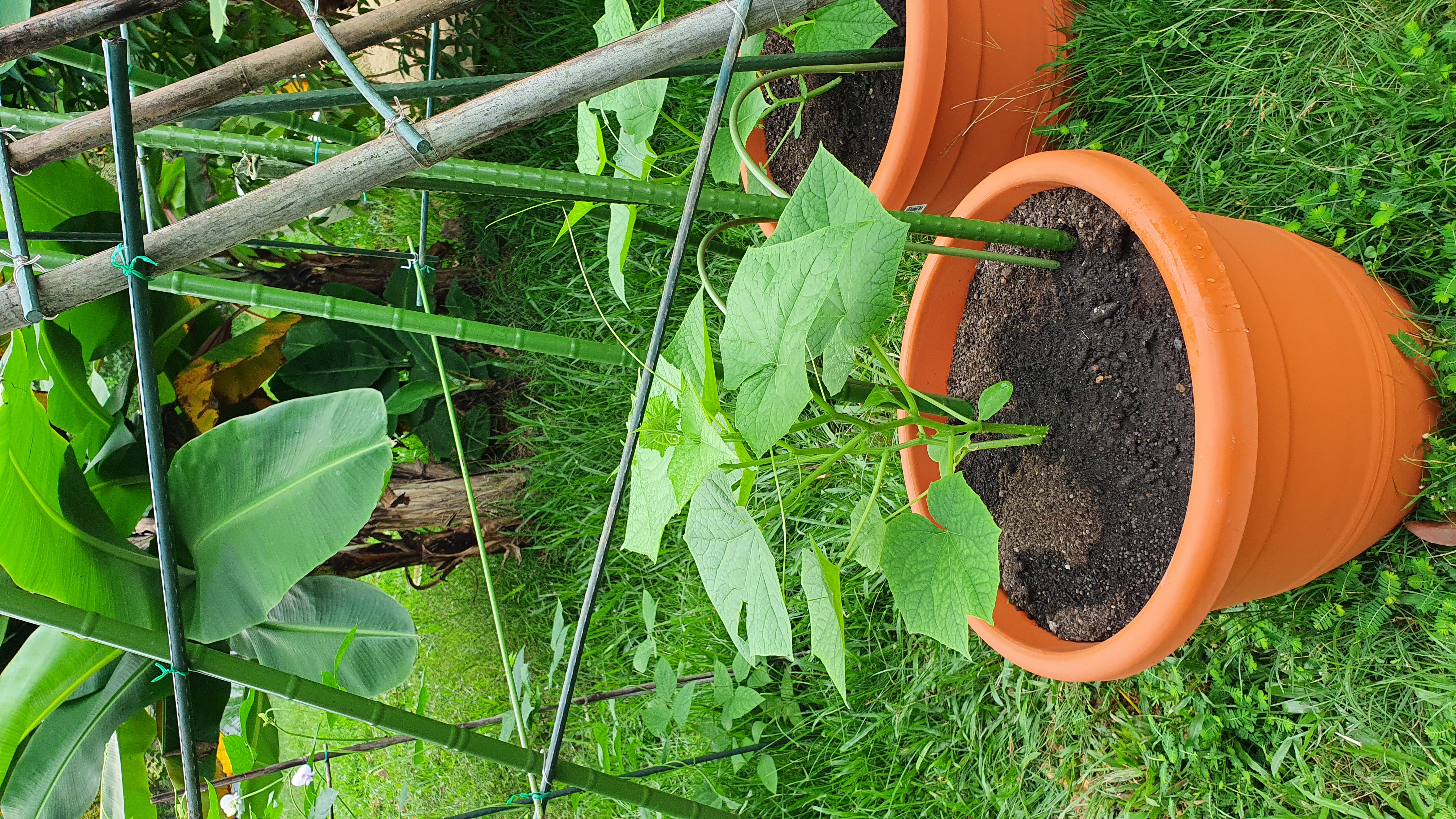 Use bigger pots for fruiting climbers. You can also attach physical supports in these pots for the plants to climb on.

Fruiting climbers, like Cucumbers, Bitter Gourds and Long Beans have very large root systems as the vines of the plants are supported by water pressure rather than woody stems.

This means they will need pots that are at least 50 cm deep. These large, deep pots also help stabilise the plants as they climb. Physical supports for the plants to climb on like trellises and lattices can also be attached to these large pots.
Pot Types A to Z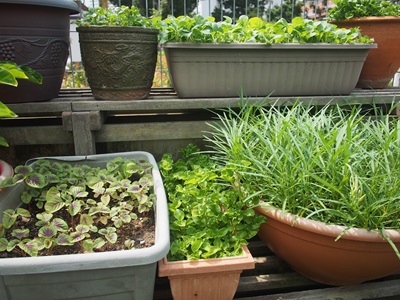 Big or small? The right pot will maximise your growing space and complement your plant's growth habit.


Pots come in all shapes and sizes. It is important to choose pots that will maximise your growing space and complement your plant's growth habit.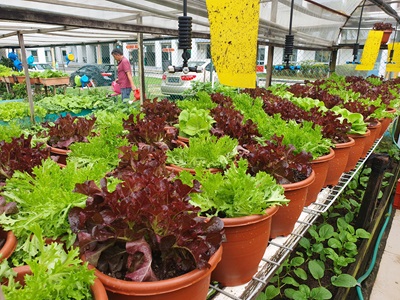 Choose a round pot for plants that form a 'head'.

Round pots are ideal for plants that form a 'head' like Lettuces and Cabbages, or large bushy plants like Eggplants that need space to spread their leaves. One plant per pot will prevent overcrowding and make it easy to check your plant for pests and disease.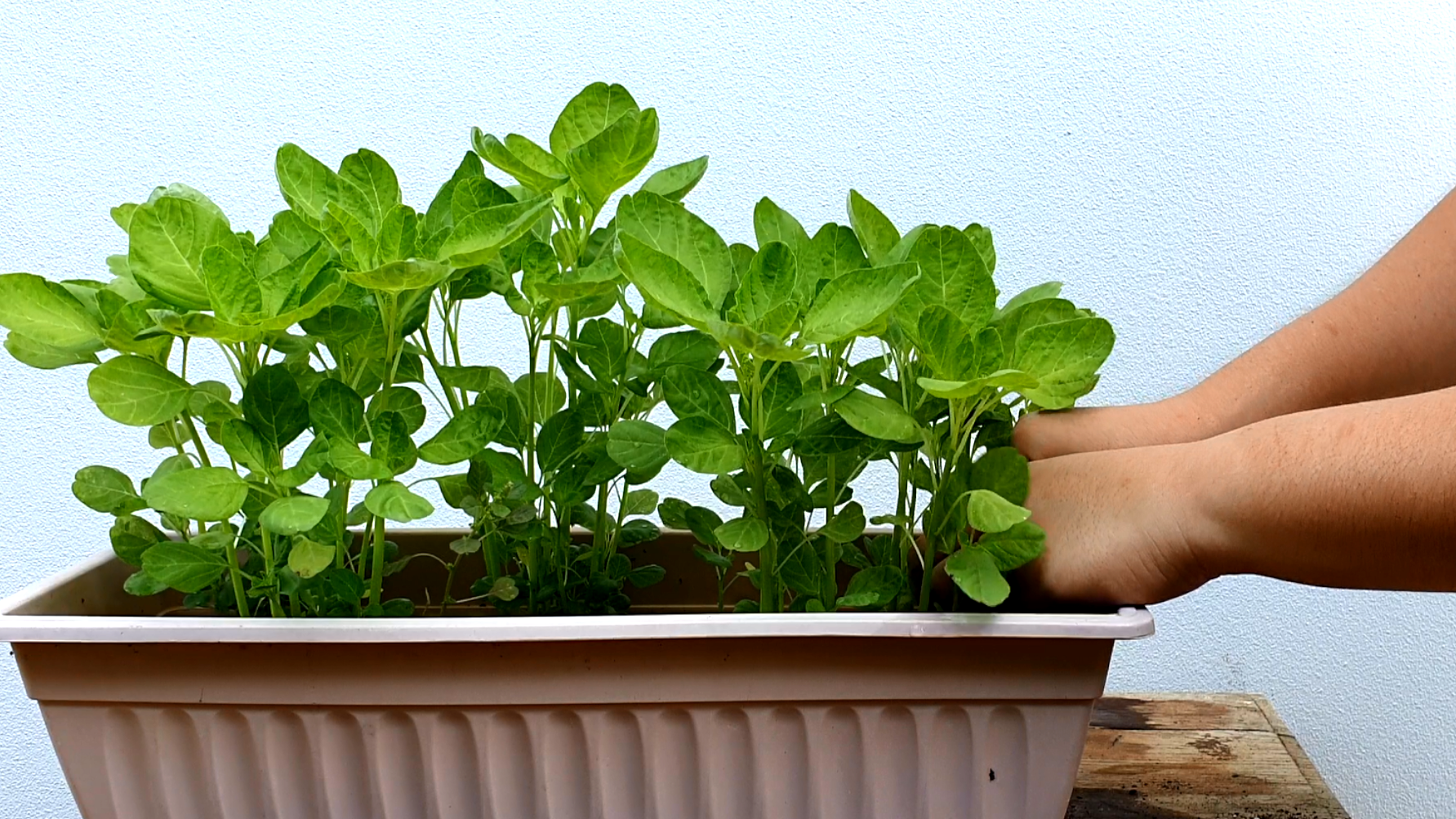 Edibles that can grow close together can be planted in troughs.

Troughs or rectangular pots can hold many more plants and are best used for edibles that can grow close together, like Bayam or Kang Kong. Remember to prune your plants regularly to allow air to circulate and to reduce pests and overcrowding within the pot.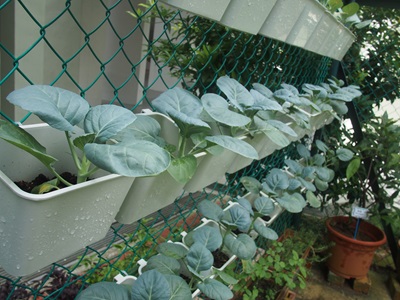 A vertical green wall is a great way to save space.

You can also plant edibles in hanging pots or as a vertical green wall!

Small leafy vegetables like Kai Lan, Caixin and Lettuce do particularly well in these hanging pots as they have small root balls. This is a great way to save space and make gardening more accessible for gardeners who may have difficulty bending down or squatting.
More Than Just Pots
Pots are important and so are pot holes!

It is very important that the pots used to grow edible plants have drainage holes. This is because roots need to breathe. Submerging them in waterlogged soil for too long will cause suffocation. Pots with drainage holes will also allow you to gauge if you have watered enough as a well-watered pot will have runoff from the drainage holes.



Remember to break your compacted soil up to encourage plant growth.


Repeated watering and the gradual degradation of organic matter in the soil can leave your soil very compacted and hard. This will eventually reduce root growth of your edible plants. Refresh your soil periodically by breaking it up and adding organic matter like compost to encourage plant growth.
Finally, it is good practice to add adequate fertiliser and nutrients to your potted edibles to encourage more growth.

As a rule of thumb, leafy vegetables can be boosted with fertilisers high in nitrogen to encourage leaf growth, and fruiting edibles can be made more productive with fruiting fertilisers, which are high in potassium. Follow the manufacturer instructions for the best results.

Gardening with Edibles
The City in Nature vision seeks to bring greenery closer to all residents. The community plays a key role in the ownership and stewardship for nature which will benefit our health and well-being.

NParks is partnering residents to make Singapore our City in Nature and spark a love for community gardening through the Gardening with Edibles initiative launched in June 2020. Under this programme, some 400,000 free seed packets have been distributed to interested members of the public. Relevant resources are also available online, to guide gardeners along the way.

Also, NParks is expanding the allotment gardening scheme and the Community in Bloom programme, to welcome even more residents into the gardening family.

The Gardening with Edibles initiative is aligned with Singapore's national strategy to strengthen our food resilience. The "30 by 30" goal, led by the Singapore Food Agency, aims to produce 30% of Singapore's nutritional needs locally by the year 2030. The programme is jointly funded by founding partners DBS Bank and Tote Board through the Garden City Fund.

Gardeners' Day Out Is Back!
Participate from the comfort of your home with online activities such as talks and demonstrations, video tutorials of activities and promotions offered. Free guided tours will also be offered on site (with safe management measures). Enjoy Gardeners' Day Out online at www.nparks.gov.sg/GDO.

You can also enjoy our Gardening With Edibles Masterclass Series from your home. They are conducted by NParks horticulturists, focusing on unique and challenging edibles across different plant families.

CIB Awards 2021
The Community in Bloom (CIB) Awards recognises excellence in gardening efforts by community groups and aims to encourage community gardeners to improve the standards of their gardens while continuing to enjoy gardening as a fun and healthy activity.

This year, the CIB Award focuses on community gardens in schools and organisations, as well as a new category of indoor gardens. Click here for more information.

Learning More
Go on a journey through Singapore's gardening history. Discover how people and plants of past and present come together through a love for gardening, and find out how you, too, can be a part of this movement. Visit the Connecting People and Plants Exhibition at the
CDL Green Gallery, Singapore Botanic Gardens, on to 14 March 2021.

If you are a gardening newbie, visit NParksSG, our refreshed YouTube Channel that serves as a one-stop repository for close to 300 video resources. It covers topics ranging from types of soil needed for your garden and how to plant, harvest and even cook your edibles.
To learn more about growing edible plants, please watch our videos on Gardening with Edibles.
To learn more about growing edible plants safely, please download our guide on Horticultural Best Practices for Edible Gardening.
For additional resources on growing edible plants, please check out our list of Gardening Resources.

For more information about the flora and fauna found in Singapore, please visit Flora and Fauna Web.

If you like what you read, follow us on Facebook, Instagram and Telegram to get the latest updates.


Text and photos by Jacqueline Chua

About the writer:
Jacqueline Chua is a Community In Bloom manager with the Horticulture and Community Gardening Division. She conducts gardening workshops for new community gardens under the Community In Bloom programme, and produces educational materials for outreach. Jacqueline enjoys growing a variety of edible plants at home and at work and is always happy to learn about new gardening techniques from the community.