Function Inspired by Nature
Looking for a practical gift that allows you to take home a piece of the Singapore Botanic Gardens?

Explore the Gardens Shop's wide range of products that are not only functional and thoughtfully designed but are also essential pieces that speak of the Gardens' unique beauty, heritage and colours.
Magnets with Bottle Openers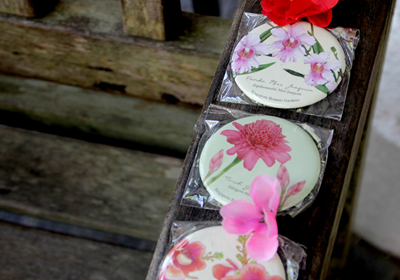 Dazzled by the wondrous floral blooms you can find throughout the Gardens? The colours and beauty of three flowers – the Cannonball Flower, Torch Ginger and Vanda Miss Joaquim – serve as inspiration for these pretty magnets that also function as bottle openers.
While Singapore's national flower, Vanda Miss Joaquim needs no introduction, how much do you know about one of the Gardens' Heritage Trees, the Cannonball Tree that is found just behind the waterfall in the Ginger Garden?

This tree is believed to be almost 100 years old, planted in 1931 from seeds collected by E.J.H. Corner from specimens he found when he was in Colombo, Sri Lanka. Corner was the Assistant Director of the Singapore Botanic Gardens from 1929 to 1945. As for the Torch Ginger, it is known for its medicinal properties. This vibrant beauty can be found in many parts of the Gardens, but particularly in the Ginger Garden.
Botanical Print Mug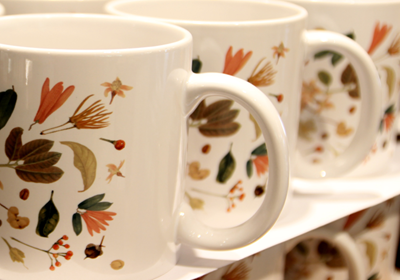 Everyone needs a trusty mug as a coffee or tea companion for a nice cuppa in the office or at home. The botanical print mug is an ideal gift for the nature lover, featuring a tasteful and understated print of leaves, flowers, berries, seeds and buds from the Gardens' archive.

Are you interested to learn about the process of preserving seeds and germplasm of plants found in Southeast Asia? At the Seed Bank, a conservation, research and education facility in the Singapore Botanic Gardens, you can find an interpretative gallery as well as a seed dispersal garden with sculptures showing the different seed dispersal mechanisms.

Exclusively available at the Gardens Shop.

You may check these items out at The Gardens Shop in the Singapore Botanic Gardens or view these products on www.botanicgardensshop.sg.