Love Is Blind – Lessons from My Blind Dog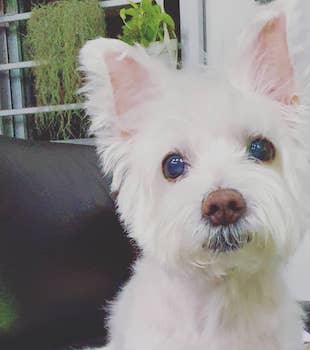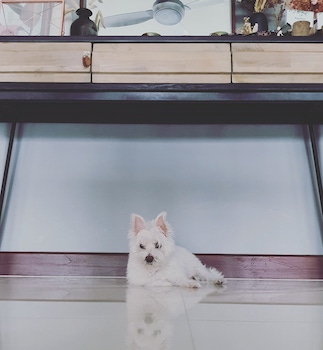 Cotton, our cross-Maltese-Westland Terrier dog, has a mind of her own.

I first met Cotton in end-2011 when I was dating her owner, who has now become my wife. Unlike other friendly dogs you see in the park who like to mingle and play, Cotton prefers to be alone whenever she is at the dog run.

At home though, Cotton loves company. She readily involves you in her life especially when it comes to convincing you to give her a treat. She does this comical choreography that combines multiple head turnings, paws tapping and scratching the nearest metal surface to produce a 'tune' that is sure to get your attention and make you get out of your seat and go to the kitchen.

Change in Behaviour
Nearing her 10th birthday, my wife and I noticed a small change in her behaviour. Usually a greedy eater, she started to hesitate and acted as if she was searching for her food bowl that was just right in front of her. As weeks passed, we noticed she was struggling to find her treats on the floor and had to sniff around for a few seconds to locate it. Something was not quite right with Cotton.
We brought Cotton to the vet and were dealt with an unexpected blow. The vet suspected she has Sudden Acquired Retinal Degeneration (SARD). Cotton had lost her sight in one eye, and the other one would follow eventually. SARD can happen as quickly as within 30 days and no one knows what causes it.
Hearing this, we grieved. How is Cotton going to move around at home? How is she going to locate her pee and poo tray? Will she just remain stationary and no longer behave the same way? How would going out with a blind dog be like?

Finding Her Way
Soon enough, Cotton went fully blind in both eyes. Heartache aside, we quickly realised dogs are utterly amazing creatures.

Cotton seemed to take the situation in her stride and started leaning lightly on the walls of our home to find her way to her pee tray. Slowly, her route got shorter when she realised that there were no obstacles in certain places. Her other senses guide her too – she listens for the drinking water fountain and television and sniffs her way past the kitchen until she arrives at her pee tray.
It made sense when a colleague shared that we should minimise moving or shifting our furniture. Cotton now has a map in her mind and making any changes in the layout of our home would confuse her. So, we decided that our home shall remain this way until it is necessary for us to replace or add on any furniture.

Simple Changes Made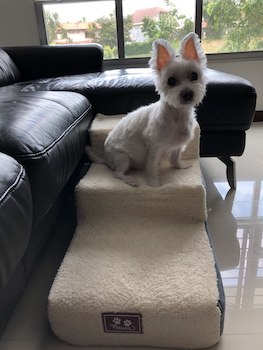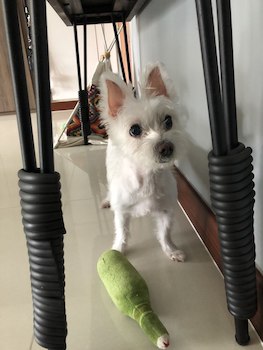 Since going blind, we have added paddings to table legs to reduce the chances of hurting herself whenever she gets excited and charges forward suddenly, for example, whenever the doorbell rings.

Knowing that Cotton prefers to sleep next to me on the bed, we purchased a set of foam steps for her, so she could climb up or down on her own. We had to train her to use the steps daily and slowly, she has gotten the hang of it and is now able to do it on her own.
Despite now being blind in both eyes, Cotton retains about 60% of her usual habits and behaviours. At times, she would accidentally pee and poo outside her tray because she is not able to locate her toilet in time but we do not blame her for it.
This experience has changed our views on blind pets entirely. They are highly adaptable and do not require an expensive nor extraordinary amount of extra care. They still enjoy the same things but perhaps with some modifications. Ultimately, they can continue to lead happy and healthy lives.


Living in the Moment
Cotton runs and plays as much as her body allows her to, which at almost 11 years of age, is quite a feat. She has certainly taught us a lot about living in the moment no matter what curveball life throws at us!
Cotton has also taught us patience and gave us invaluable knowledge in caring for pets with a disability. Experiencing Cotton re-learning some of the activities she used to do and enjoy without giving up has moved us and made us appreciate doing things slowly and more purposefully.
Some tips we have found useful when living with a blind dog:
· Always check in with your veterinarian if you have doubts
· Minimise movement of furniture at home
· Remove obstructions along common walking paths
· Use a soft and calm voice to get the dog's attention or to wake it up, before touching it
· Remain patient and consider re-training if necessary
· Provide items or equipment (like we got Cotton the foam steps) that support its activities, such as foam steps or anti-collision safety harness
Learning More
Keeping and caring for a pet is a huge responsibility. Besides the commitment to care for your pet for its entire life, you also need to be prepared for unexpected incidents such as what the writer has shared. Medical bills for our pets can be costly too. To learn more about responsible pet ownership, you can visit our NParksSG YouTube.
Etch beautiful memories with your pet permanently by learning how to take professional shots of them here.
To learn more about the ins and outs of responsible pet ownership and animal welfare, follow @AnimalBuzzSG or visit the Animal & Veterinary Service webpage.
You can also contribute towards the Animal & Veterinary Service's animal-related programmes through the Garden City Fund. Find out more here.
Text and photos by Wayne Gui