In The Lime-light
While we are most familiar with the common Lime in how it adds zing and zest to many of our favourite local delights and drinks, we may not think too much else about it.

We shine the spotlight on the common Lime and other plants with 'lime' in their names that you can find in Singapore. While some such as the Limeberry, Finger Lime, Kaffir Lime, Mangrove Lime, and Mock Lime are in the same family as the common Lime (Rutaceae family), others are not directly related, but are equally sub-lime!

Lime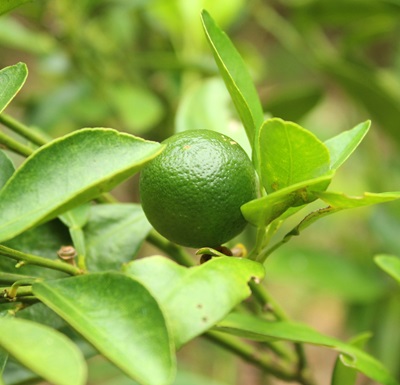 Photo credit: Shi Biying

The well-known Lime (Citrus × aurantiifolia) needs no introduction. The glossy fruits turn from green to pale yellow as it matures. Its juice is commonly used to add flavour to meat and fish fishes, as well as various types of beverages.

The Lime is a shrubby tree that grows up to 4 m. It has a spreading crown composed of spiny branches. The numerous, sharp spines grow to about 1 cm long each. It produces dull, dark green leathery oval-shaped leaves and white flowers with purple tints arranged in a spike-like inflorescence known as a raceme.

False Lime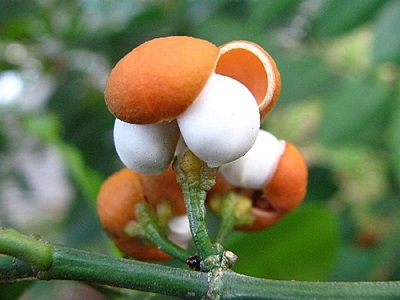 Photo credit: Keneric Ng Wei Sheng
The False Lime (Suregada multiflora), also known as Merlimau, has fruits in capsules that are somewhat round or slightly three-lobed and reveal their seeds when ripe. These fruits resemble small limes, hence its name. Each fruit contains three black seeds that are covered by a succulent white flesh.
This critically endangered species is native to the coastal areas of Singapore, occurring locally in Changi and Pulau Ubin. It grows into a small tree or big shrub, up to 15 m in height. It has a prominent conical crown, especially when young, with its branches growing in a spiral form along the trunk and stem.

It has leathery leaf blades that are dark green and oval-shaped. These leaves turn orange before dropping, making this plant an attractive choice for themed gardens.


Limeberry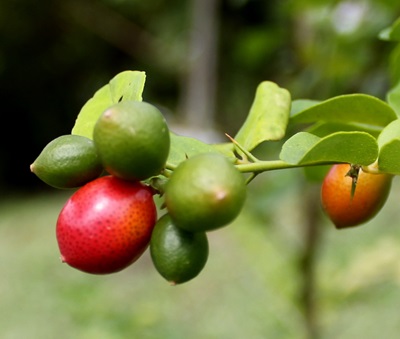 Photo credit: Jane Li

The Limeberry (Triphasia trifolia), also known as Limau Keah, has reddish orange to bright red fleshy fruits that are round to ellipsoid in shape. The fruit peel contains many oil glands that makes it smell like lemon.
These fruits can be used to treat coughs and sore throats, and the leaves are used to treat colic, diarrhoea and skin diseases. While it is considered an invasive species in the understorey of native forests, you can take a closer look at it in Healing Garden in the Singapore Botanic Gardens.
Finger Lime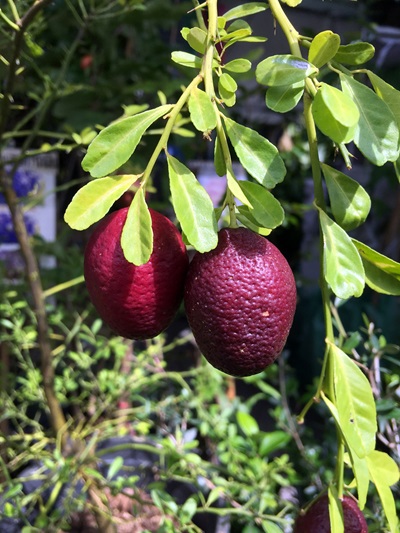 Photo credit: Vicky Lim Yen Ngoh

The fruits of the Finger Lime (Citrus australasica) have a distinctive finger shape and change from green to variable colours when mature. The fruit pulp can be used in seafood or as garnish in salad and desserts. The rind can also be processed into spice.

This shrub or small tree grows best in well-drained soil, reaching up to 6 m tall and producing slightly fragrant tiny flowers that are pinkish in colour.
Kaffir Lime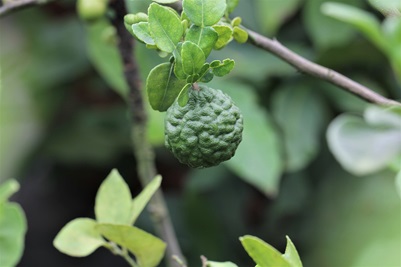 Photo credit: Shi Biying
The fruits of the Kaffir Lime (Citrus hystrix): are round to egg-shaped with a very wrinkled and bumpy texture. They can vary from light to dark green, eventually turning yellow before dropping from the tree. It is the food plant for caterpillars of the Atlas Moth (Attacus atlas).
The flesh contains little juice which is sour and slightly bitter. The leaves add a lemon flavour to various types of dishes such as tom yum soup. The rind can also be added to curry such as green curry paste.
Mangrove Lime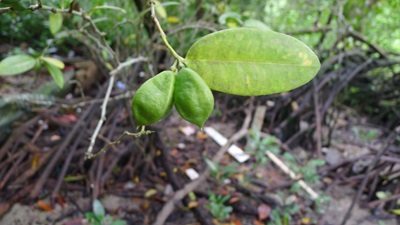 Photo credit: Chua Jit Chern

The Mangrove Lime (Merope angulata), also known as Limau Lelang, is a critically endangered species that is native to Singapore. It can be found in landward margins of mangroves and along riverbanks.

The shrub can grow to about 3 m tall when mature. It has thick leathery leaves with transparent dots, with each leaf measuring about 2 to 7 cm in length and is covered with minute glands that release a lime-like odour if bruised. The fruits have an angular berry shape with three to four flattened sides and are also aromatic when crushed.
Mock Lime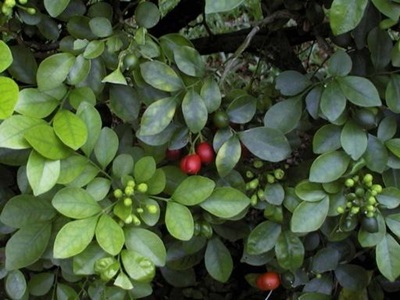 Photo credit: Shi Biying

The Mock Lime (Murraya paniculata) is typically a medium-sized shrub of about 2.5 to 3.5 m tall. It produces evergreen leaves and white flowers. These flower all year round, generating a pleasant fragrance for all to enjoy. Its fruits are red, oval, fleshy and measure only about 1 to 3 cm long.
In Chinese medicine, a decoction of the leaves is taken to treat bruises, chronic dysentery, stomachache, swellings, and skin irritations. The leaves are also used as a tonic, for example to cure toothache and expel tapeworms in Malaysia; as a stimulant in Indonesia; and to treat diarrhoea and dysentery in the Philippines.
Want to view these plants up close? There are two unique specimens that have grown as a tree, up to about 12 m tall each! They are listed as Heritage Trees in Singapore, and both can be found at Andover Road in Changi. Learn more about them here and here.

Lime Basil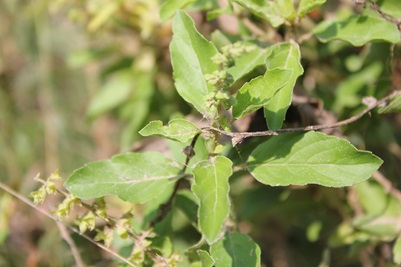 Photo credit: Jennie Tang Yurue

The Lime Basil (Ocimum americanum) has tiny white to light blue flowers and small one-seeded fruits known as nutlets. In water, the nutlet-wall produces a thick white cover of slimy threads within several minutes. The plant can be found in tropical climates, growing on roadsides, in fields, in teak forests, and in open spaces close to settlements.
It is cultivated for the young mildly fragrant leaves which are eaten raw as a vegetable side-dish in Indonesia, Malaysia, and Thailand, and can be added to various dishes with a fishy or disagreeable smell. Essential oil of the plant is used in soap and cosmetics while in traditional medicine, pounded leaves are used to treat respiratory problems and the whole plant is used in baths to treat rheumatism!

Gardeners' Day Out Is Back!
Participate from the comfort of your home with online activities such as talks and demonstrations, video tutorials of activities and promotions offered. Free guided tours will also be offered on site (with safe management measures). Enjoy Gardeners' Day Out online at www.nparks.gov.sg/GDO.

You can also enjoy our Gardening With Edibles Masterclass Series from your home. They are conducted by NParks horticulturists, focusing on unique and challenging edibles across different plant families.


CIB Awards 2021
The Community in Bloom (CIB) Awards recognises excellence in gardening efforts by community groups and aims to encourage community gardeners to improve the standards of their gardens while continuing to enjoy gardening as a fun and healthy activity.

This year, the CIB Award focuses on community gardens in schools and organisations, as well as a new category of indoor gardens. Click here for more information.

Learning More
If you are heading to our green spaces, do the right thing and be socially responsible. Maintain a safe distance from other park goers and keep to not more than eight persons in a group, with no intermixing between groups. Always wear a mask except when you are engaged in strenuous exercise or when consuming food, drink or medication.

Do check out the visitorship levels of our parks using our safe distancing portal before you head down and avoid the ones with high visitorship. Learn about some simple do's and don'ts when visiting our Nature Reserve and Nature Parks here.

Visit NParksSG, our refreshed YouTube Channel that serves as a one-stop repository for close to 300 video resources. It also provides you a platform for existing and future digital outreach including DIY gardening and related crafts, virtual tours of our green spaces, and livestream events.
Whether you are an amateur gardener or a seasoned horticulturist, starting a home garden or a community garden, there are plenty of useful information and guides here for your gardening hobby.

For more information about the flora and fauna found in Singapore, please visit NParks Flora and Fauna Web.
If you like what you read, follow us on Facebook, Instagram and Telegram to get the latest updates.

Text by Charlotte Tan