Growing Good Eats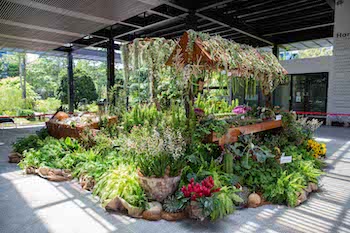 Displayed at HortPark was a lush and delicious centrepiece made of fruits and vegetables, including winning entries from the Community Garden Edibles Competition 2021!
Pumpkins, luffas, winter melons, and more!


During the Community Gardens Edibles Competition (CGEC) 2021 March edition, gardening enthusiasts from all walks of life came to showcase their prized produce. Be it the heaviest cauliflower or longest lady's finger, each and every submission was a love of labour, a fruit of hard work!
Calling Green Thumbs
Attracting green thumbs from all over Singapore, CGEC allows gardening enthusiasts to inspire and be inspired by other members of the gardening community who share their passion for growing edibles.
This edition of CGEC saw many newcomers in addition to seasoned competition regulars, testifying to the growing gardening scene in Singapore. The selection of produce they submitted was impressive, reflecting the gardeners' exceptional skill and effort in the careful upkeep and harvesting process.
Judges assessing entries for the Longest Category (Lady's Finger).
There was a total of over 450 fruits and vegetables submitted across 11 categories of edibles. Apart from measuring the length or weight of the entries, the judges assessed them based on colour and freshness.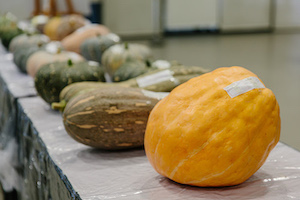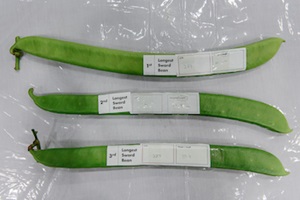 Entries for the Heaviest Category (Pumpkin) and the winning entries for the Longest Category (Sword Bean).
Unusual Edibles
In recognition of how the local horticulture community has become even more adventurous, skilled and knowledgeable, a new Open Category was introduced in this edition of the CGEC, where participants may submit an unusual edible plant.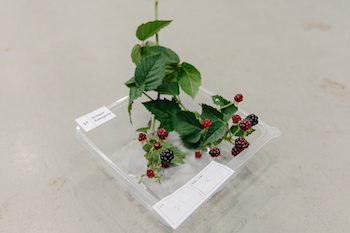 A Chester thornless blackberry plant, the top entry for the Open Category.
There were 120 intriguing entries for this category, coming in all colours, shapes and sizes, ranging from juicy fruits such as grapes and pomelo to richly coloured vegetables such as kale and sweet potato. The winning entries were a Chester thornless blackberry (Rubus fruticosus 'Chester') plant, a Kohlrabi (Brassica oleracea Gongylodes Group) and a Gac fruit (Momordica cochinchinensis).
The next round of CGEC returns in October 2021, so you can look forward to hearing about more interesting edible plants! If you are keen to take part in future editions of the competition, find out more here.

Gardening with Edibles
The City in Nature vision seeks to bring greenery closer to all residents. The community plays a key role in the ownership and stewardship for nature which will benefit our health and well-being.

NParks is partnering residents to make Singapore our City in Nature and spark a love for community gardening through the Gardening with Edibles initiative launched in June 2020. Under this programme, some 400,000 free seed packets have been distributed to interested members of the public. Relevant resources are also available online, to guide gardeners along the way.

Also, NParks is expanding the allotment gardening scheme and the Community in Bloom programme, to welcome even more residents into the gardening family.

The Gardening with Edibles initiative is aligned with Singapore's national strategy to strengthen our food resilience. The "30 by 30" goal, led by the Singapore Food Agency, aims to produce 30% of Singapore's nutritional needs locally by the year 2030. The programme is jointly funded by founding partners DBS Bank and Tote Board through the Garden City Fund.
Learning More
If you are a gardening newbie, visit NParksSG, our refreshed YouTube channel that serves as a one-stop repository for close to 300 video resources. It covers topics ranging from types of soil needed for your garden and how to plant, harvest and even cook your edibles.

You can also learn more about growing your own edibles here.
For more information about the flora and fauna found in Singapore, please visit Flora and Fauna Web.

If you like what you read, follow us on Facebook, Instagram and Telegram to get the latest updates.
Text by Marcella Chua