In The Lonely 'Owl'
Often considered wise and mysterious, owls are nocturnal creatures known for their otherworldly hooting sounds.
Owls have the same general appearance – a flat face with a small hooked beak and huge, forward-facing eyes, with a short tail, rounded wings as well as large feet with sharp talons. Some features that differ from species to species is the presence or absence of "ear" tufts, and also the shape of their faces.
There are over 200 different species of owls and they can be found in many parts of the world, except for Antarctica. Due to their nocturnal habits, it is difficult to spot these enigmatic and stealthy birds in action.
Learn more about these six different owls that can be found in Singapore.
Sunda Scops Owl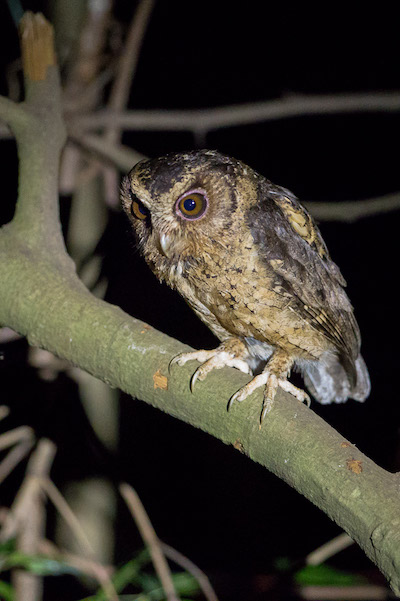 Photo credit: Francis Yap

The Sunda Scops Owl (Otus lempiji) has short ear tufts and a pale brown collar around its neck. Its underparts are brown with faint black streaks and its eyes are dark brown with deep orange irises.
It is found from Peninsular Malaysia to the islands of Borneo, Sumatra and Java, and inhabits rainforest, tree plantations and well-wooded gardens. Measuring at about 21 cm, it feeds oninsects and small animals, such as cockroaches, beetles, lizards and rodents. In Singapore, it is widely distributed and can be seen in various parks as well as the nature reserves.
Barred Eagle-Owl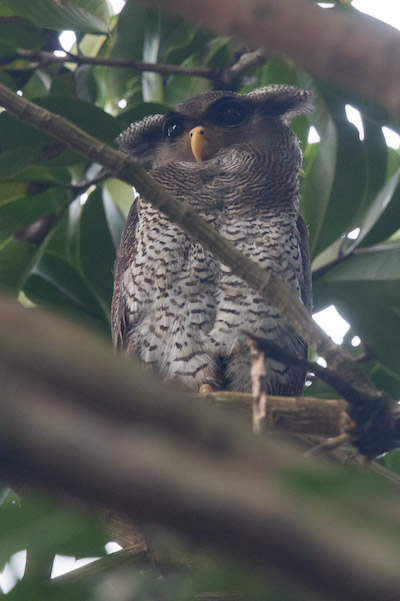 Photo credit: Francis Yap
At about 45 cm in height, the Barred Eagle-Owl (Budo sumatranus) is one of the largest owls found in Singapore. This rare resident has big dark eyes and long ear tufts.
Usually solitary, it resides in the middle and upper storeys of rainforests. It feeds on larger animals and has been known to prey on Long-tailed Macaques and Malayan Colugos. In Singapore, it is mainly observed around the Bukit Timah and Central Catchment Nature Reserves, as well as on Pulau Ubin.
Buffy Fish Owl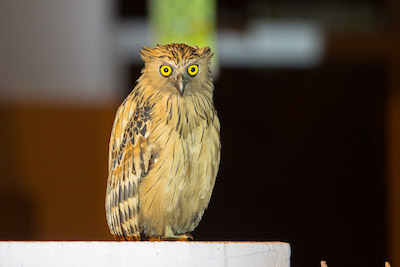 Photo credit: Francis Yap
With its long, tawny ear-tufts and black-streaked, brownish underparts and as yellow eyes, the nationally Critically Endangered Buffy Fish Owl (Ketupa ketupu) may be seen in well-wooded parks with water bodies as well as around the nature reserves.

Measuring about 45 cm in height, it is usually seen perched on trees overlooking water bodies searching for prey. It feeds on fish, frogs, and other small animals.
Spotted Wood Owl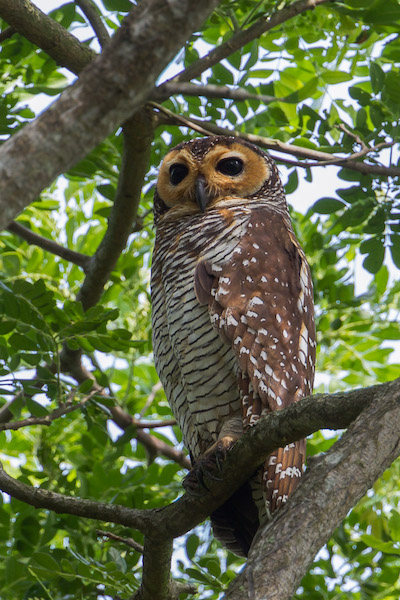 Photo credit: Francis Yap


The Spotted Wood Owl (Strix seloputo) has a distinctive orange-brown facial disc and bold black-barred buffy underparts. Its upperparts are dark brown with white spots, and has dark brown eyes that contrast heavily against its facial disc.
A species associated with woodlands, it can be seen in various well-wooded parks such as Pasir Ris Park, Jurong Lake Gardens and the Singapore Botanic Gardens. This nationally Critically Endangered species stands at about 46 cm tall and is the largest owl found in Singapore. It feeds on rodents and other small vertebrates.
Brown Wood Owl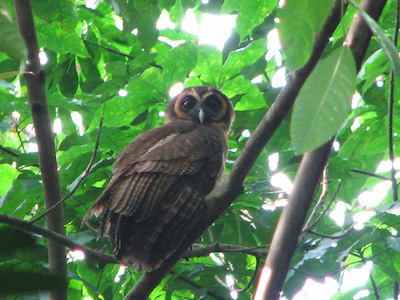 Photo credit: Yeo Siew Teck
The Brown Wood Owl (Strix leptogrammica) has a rounded head that lacks ear tufts, and a rufous facial disc with dark edges. It might be confused with the Spotted Wood Owl, but has a dark border around its facial disc which the latter species lacks.
It is generally found in forested area andhas been sighted near Bukit Batok Nature Park and on Pulau Ubin. It feeds on small mammals birds, reptiles, and large insects.
Brown Hawk-Owl
Photo credit: Francis Yap

Measuring about 30 cm and larger than the Sunda Scops Owl, the Brown Hawk-Owl (Ninox scutulata) is also known as the Brown Boobook. It has a rounded head with no ear tufts, and round, staring yellow eyes. It has dark brown upperparts and whitish underparts with numerous brown streaks.
It is usually found in rainforest and can. be seen in the Central Catchment Nature Reserve and its surrounding areas. It hunts primarily for insects in the forest canopy.
Learning More
Love to bird-watch, or want to learn more on identifying garden birds? Join us for Garden Bird Watch, that runs twice a year as part of the NParks Community in Nature Biodiversity Watch series. Click here for more information.

To identify garden birds, you can do so even without leaving your house. Learn more about our common birds through our interactive e-learning module, accessible via Internet Explorer or Mozilla Firefox browser.

Visit NParksSG, our refreshed YouTube Channel that serves as a one-stop repository for close to 300 video resources. It also provides you a platform for existing and future digital outreach including DIY gardening and related crafts, virtual tours of our green spaces, and livestream events.


To ensure the well-being of our biodiversity, visitors to our nature parks and reserves should adhere strictly to the opening hours of 7 am to 7 pm. Disturbances to the nocturnal animals' activities could mean disruptions to their natural behaviour, including venturing outside the nature parks and reserves. This will endanger both their own safety and that of the general public.
Learn how to enjoy nature responsibly by observing some simple practices.

If you are heading to our green spaces, do the right thing and be socially responsible. Maintain a safe distance from other park goers and keep to not more than five persons in a group. Always wear a mask except when you are engaged in strenuous exercise or when consuming food, drink or medication.

Do check out the visitorship levels of our parks using our safe distancing portal before you head down and avoid the ones with high visitorship.
Interested to learn about the flora and fauna found in Singapore? Visit NParks Flora & Fauna Web here.

If you like what you read, follow us on Facebook, Instagram and Telegram to get the latest updates.
Text by Charlyn Ng

About the writer
Charlyn Ng is an undergrad at the Wee Kim Wee School of Communication and Information. She is currently in her third year and specialises in Media Research and Analytics. Ever since starting her internship with NParks, Charlyn has been heavily involved in collecting and analysing data from various NParks' social media platforms. Her efforts are focused on increasing the public awareness towards Singapore's biodiversity. She also conceptualised and organised photoshoots and wrote articles about NParks conservation initiatives.
Please email wong_yeang_cherng@nparks.gov.sg for more information on our internship programme.