Contest Nov 2020
In this issue, we are giving away three Singapore Botanic Gardens 2021 Calendars.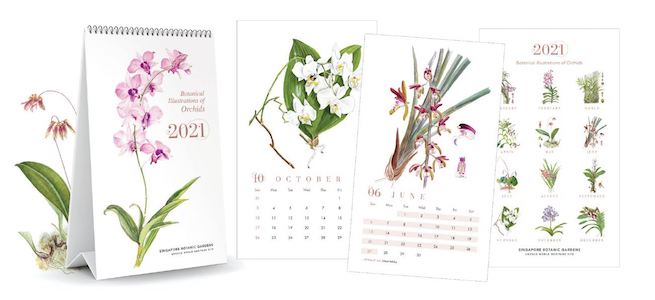 Made to commemorate the 25th anniversary of the National Orchid Garden, the Singapore Botanic Gardens' 2021 Calendar is a special, orchid themed one. Keep track of the date with this beautiful calendar filled with botanical watercolours and featured paintings of orchids and orchid hybrids found in Singapore and the surrounding regions.

Simply answer the questions below and you could be a lucky winner!

In the article, "Singapore Botanic Gardens' Heritage Secrets", we introduce you to some little known facts about Singapore Botanic Gardens. According to the article,
The colonial government granted 22 hectares of land in Tanglin to the Agri-Horticultural Society in 1859. This land was obtained from a merchant. What was his name?

What is the size of the Singapore Botanic Gardens' Rain Forest in hectares?


Contest closes on 27 Nov 2020. Provide your answers to this link, together with your name, e-mail address, mailing address and contact number.
NParks Buzz Oct 2020 Contest Winners:

Ankita Baid
Seyanthi d/o Suppiah Pillai
Xing Yiling