Eat Your (Native) Greens
"Eat your greens!"

Growing up, many of us are familiar with this common exhortation. And if you are a parent, this is a phrase you often have to use to persuade your children to consume their veggies.
On a typical trip to the wet market or supermarket, most of us would be able to find familiar leafy and fruiting vegetables such as kang kung, bayam, cai xin, eggplant, ladies' fingers, and many other types. But have you ever wondered where these vegetables first originated from?
These vegetables originated from all over the world — kailan from China, tomatoes and chillies from the Americas, cucumbers from India, ladies' fingers from the African continent, just to name a few!

But did you know that there are many edibles plants native to Singapore that we can find in our local markets as well?

What are native plants?
Native plants are those originally found growing as part of the natural vegetation of Singapore. These species were not introduced to the country.
Native plants are a treasured part of our natural and cultural heritage and provide many indispensable benefits and amenities. Our forests, full of native plants, provide ecosystem services such as water filtration and carbon sequestration, as well as food and act as a home to our native animals.
In Singapore, we have more than 2,000 species of native plants calling our island home. As it turns out, some of these are delightfully tasty too!
Get to know five of them here:
1. Belinjau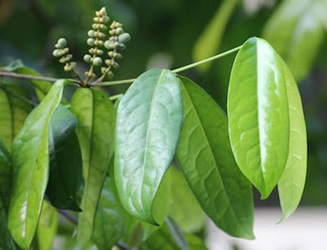 The Belinjau's leaves and ripe fleshy cones.
The Belinjau (Gnetum gnemon) grows in coastal areas and rainforests in our region. It has many culinary uses — its leaves, cones and seeds are edible. Young leaves are often sold in bundles and can be cooked as a leafy vegetable.
Emping belinjau crackers are one of the most popular products form this tree, made from the seeds that are first roasted to remove the brown covering, pounded flat, sun-dried and then deep fried. Slightly bitter in taste, they are eaten with gado-gado, sambal or simply salted as a quick and tasty snack.
2. Jering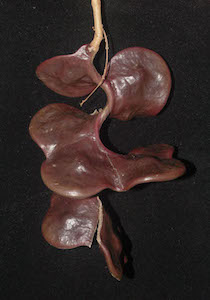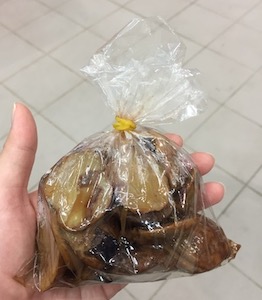 The pods of a Jering and its seeds packed for sale in a market.

The Jering (Archidendron jiringa) can be found in the rainforests from Bangladesh to Borneo and the Moluccas. It is from the legume family that gives us soybeans, lentils, black beans and many other species of edible seed plants.
The seeds of the Jering plant are found in pods. They can be boiled and cooked in dishes like Jering Tua Masak Sambal, Sambal Tumis Bilis Jering and others.
3. Petai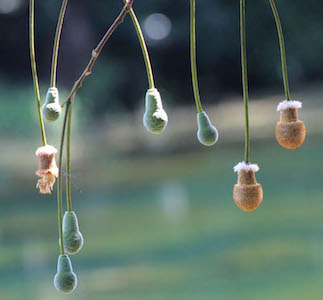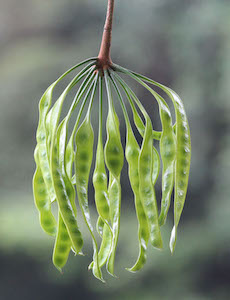 The Petai inflorescences (or flower heads) and its young pods with seeds.


Another rainforest tree from the legume family, the Petai (Parkia speciosa) grows up to 45 m tall. It has flower heads that resemble dangling light bulbs! They are pollinated by bats, eventually producing seed pods. In the wild, seeds are eaten by mammals and hornbills.
When grown in cultivation, seed pods are harvested when young and contain about 18 seeds each, which are especially delicious when cooked with sambal!
4. Gotu Kola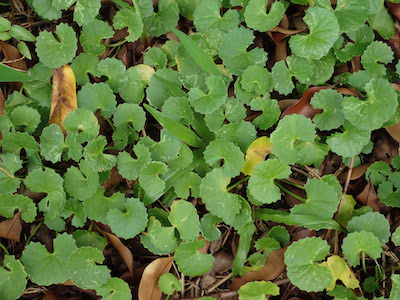 The Gotu Kola has bean-shaped eaves.
A perennial herb with a creeping growth habit, Gotu Kola (Centella asiatica) is often found growing on wet grassy areas. Its leaves are bean-shaped with margins bearing rounded teeth.
It is used mainly for its leaves that can be blended and squeezed to make a nutritious green drink while its dried leaves can be brewed as a tea. It has also been been known to treat skin ailments, wounds and to aid digestion.
5. Cekur Manis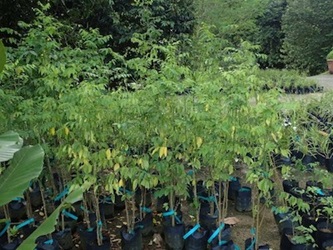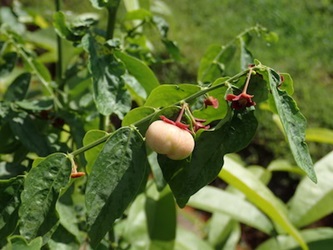 The Cekur Manis grows as a shrub and bears capsular fruits.

The Cekur Manis (Breynia androgyna) grows as a shrub, thriving in hot humid lowland weather conditions. Its leaves are arranged alternately along the stem, with fruits borne in hanging capsules. When ripe, fruits split open to release black-coloured seeds. If allowed to grow, it can reach heights of about 2.5 m high. It can be propagated by seeds, or more easily by stem cuttings from plants bought in the market, making it especially suitable for growing at home.
The plant is valued for its tender young leaves that are harvested from the top 15 cm of stem tips. They can be stir-fried with eggs, added to ban mee soup, and cooked in coconut-based curries.


Besides our spread of vegetables from all over the world, Singapore has a rich diversity of native plants, some of which have traditional culinary uses too! Be sure to explore some of our markets to see what other interesting native vegetables you may find!

Gardening with Edibles
Watch this Gardening with Edibles Facebook Live Episode 2 clip to learn more about native plants as well as to gain tips on growing edibles.

The City in Nature vision seeks to bring greenery closer to all residents. The community plays a key role in the ownership and stewardship for nature which will benefit our health and well-being.

NParks is partnering residents to make Singapore our City in Nature and spark a love for community gardening through the Gardening with Edibles initiative launched in June 2020. Under this programme, some 400,000 free seed packets have been distributed to interested members of the public. Relevant resources are also available online, to guide gardeners along the way.

Also, NParks is expanding the allotment gardening scheme and the Community in Bloom programme, to welcome even more residents into the gardening family.

The Gardening with Edibles initiative is aligned with Singapore's national strategy to strengthen our food resislience. The "30 by 30" goal, led by the Singapore Food Agency, aims to produce 30% of Singapore's nutritional needs locally by the year 2030. The programme is jointly funded by founding partners DBS Bank and Tote Board through the Garden City Fund.

Learning More
If you are a gardening newbie, visit NParksSG, our refreshed YouTube Channel that serves as a one-stop repository for close to 300 video resources. It covers topics ranging from types of soil needed for your garden and how to plant, harvest and even cook your edibles.
For more information about the flora and fauna found in Singapore, please visit Flora and Fauna Web.

If you like what you read, follow us on Facebook, Instagram and Telegram to get the latest updates.

Text by Yeoh Yi Shuen
Photos by Ng Xin Yi and Yeoh Yi Shuen

About the writer
Yeoh Yi Shuen is a Native Plant Centre Manager with the Horticulture and Community Gardening Division. As a botanist, she regularly goes into the field to observe the growth, reproduction and interactions of plants with the environment. A typical day at the Native Plant Centre nursery involves trialling various methods of propagation and ensuring the healthy growth of some of the rare and threatened plant species in Singapore. These plants are eventually re-introduced into suitable sites in nature reserves, parks and streetscapes for the conservation of native plant species and to enhance the diversity of our forest and urban habitats.