Trees of the Mangroves
Mangrove species live in a unique ecosystem and have evolved with special adaptations to deal with stressful coastal conditions such as the waves and waterlogged soil with low oxygen and high salt content. These include specialised roots to breathe and anchor themselves, or even with membranes to prevent salt from entering.

Get to know some of the interesting trees growing in our mangroves here:
Bakau Pasir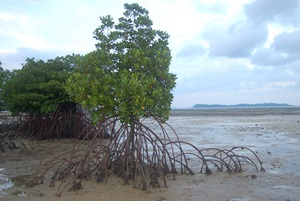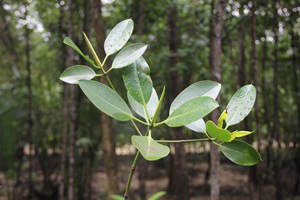 International trade in elephant ivory is prohibited under CITES, which Singapore has been a Party of since 1986.
Photo credit: Jonathan Tan
The Bakau Pasir (Rhizophora stylosa) is one of the pioneering species in coastal environments and can be found in tidal habitats or landward margins of mangroves on mud, sand, coarse grit, and rock.
It has prop roots measuring up to 3 m long that support the trunk. These extensive roots also help to disperse the energy from strong tidal waves, thus shielding the shoreline and surrounding areas.
River Mangrove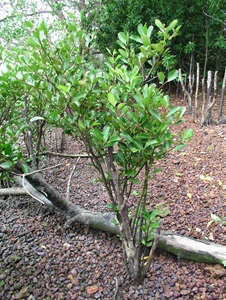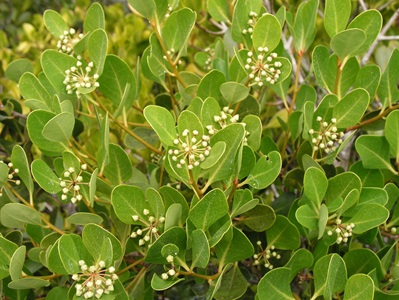 Photo credit: JWH Yong
The River Mangrove (Aegiceras corniculatum) is also known as Kacang Kacang, which means beans in Malay due to its fruits that resemble bean pods. It thrives in sandy and compact mud at the landward side of mangroves.
Its unique adaptations are its roots running along the soil surface, as well as lenticels (breathing pores) on its bark that allow for gaseous exchange between the tree and the surrounding atmosphere.
Teruntum Merah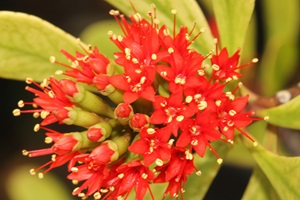 Photo credit: Ang Wee Fong and Pauline Tay
The Teruntum Merah (Lumnitzera littorea) is a small native tree found mostly at back mangrove forests. Its fragrant red flowers produce copious amounts of nectar that attract birds and insects.
Instead of buttress roots, it has pneumatophores which are aerial roots that grow upwards out from the water surface to obtain oxygen from the air.

White Teruntum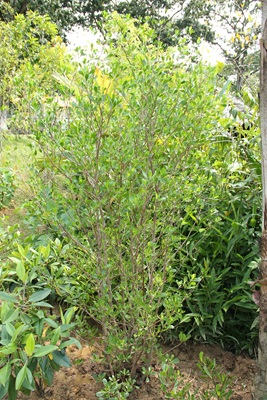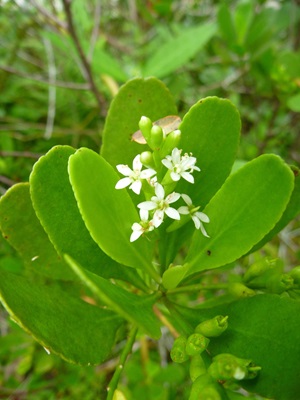 Photo credit: Ang Wee Foong
The White Teruntum (Lumnitzera racemosa) is also known as Teruntum Bunga Putih. It may look similar to its sister tree, the Teruntum Merah (Lumnitzera littorea), only that it has white flowers instead of red. These are lightly fragrant with lots of nectar that attract insects such as moths.
The native White Teruntum tolerates brackish or fresh water and can thrive on rocky, muddy, or sandy coasts in mangrove forests. Like the Teruntum Merah, it also has pneumatophores which are upright breathing roots.
Eye of the Crocodile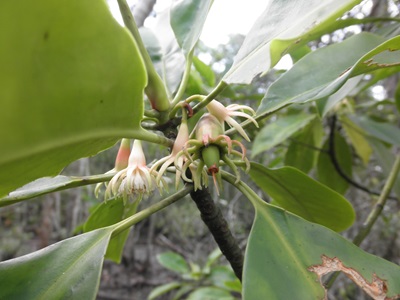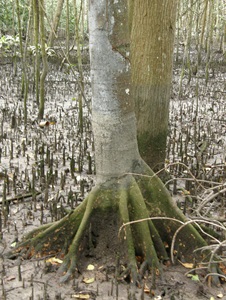 Photo credit: Koh Kwan Siong
With an estimated 200 individuals in the wild, the Eye of the Crocodile (Bruguiera hainesii) is critically endangered in Singapore and also one of the rarest mangrove species in the world. It grows on the relatively dry landward margins of mangroves, where it is flooded for only a few hours a day.
Role of Mangroves
A mangrove forest is an intertidal area, a buffer between the land and the sea. Look closely around the mangroves at low tide and you can spot many small fishes and crustaceans. The mangrove swamp is, in effect, a nursery for many species of crabs, prawns and fishes that spend their early life there, in relative safety from predators of the sea. Their roots provide hiding places for young fishes and shrimps and their branches provide shelter and nesting areas for birds, such as herons.

In addition, mangrove habitats are important to the marine environment. The roots of mangrove plants trap sediments and prevent mud and sand from being washed away, stabilising the coastline and preventing erosion from waves and storms. Mangroves also physically protect coastlines by breaking the sea waves during storm surges and help shield seagrass beds and coral reefs from the effects of siltation.

Mangroves also have real economic value to mankind. They give us charcoal, gula melaka, attap chee and material to build for kampong houses. Some are even used to produce medicines.
Most importantly, mangroves help mitigate climate change, as they can store three to five times more carbon per hectare than other types of tropical forests do, according to Dr Daniel Friess of the National University of Singapore. Singapore's mangroves store about 11 per cent of the carbon in all of Singapore's forests. By actively taking in carbon dioxide (a greenhouse gas which contributes to global warming) from the atmosphere, mangroves form one nature-based solution that can contribute towards Singapore's climate resilience.
Mangrove Magic
Mangroves are the only plants in the world to germinate while attached to the parent plant. The germinated seeds, called propagules, are able to produce their own food. Thus, they are able to survive extreme conditions for a long time by being dormant. These propagules drip off from their parent tree and into the swamp when they are big enough or ready to survive on their own. For more information on mangroves, click here.
Despite our small size, Singapore is home to more than 30 species of mangrove vegetation. You can find several of these species in Sungei Buloh Wetland Reserve. The Reserve is open from 7 am to 7 pm daily. Entering or remaining in the Reserve after 7 pm is not allowed. You can also go on a virtual tour on mangroves.
Besides the trees of the mangroves, learn more about the native species of fauna that make the Reserve its home.

During September to March, thousands of migratory birds fly in from their breeding grounds in the Northern hemisphere to the Reserve, to tide over the cold winter months. Spot seven migratory birds if you visit the Reserve during the next few months.
Sungei Buloh Nature Park Network
Sungei Buloh Wetland Reserve is recognised internationally as an important site for migratory waterbirds along the East Asian – Australasian Flyway, encompassing 22 countries. It harbours unique wetland flora and fauna and is home to more than half of the bird species that can be found in Singapore.
The Sungei Buloh Nature Park Network has been created as a buffer to the Reserve and includes extensions to its east, west and south, Kranji Marshes, and the Mandai Mangrove and Mudflat. Collectively, these complementary wetland habitats strengthen the conservation of wetland biodiversity in the northwestern part of Singapore.

NParks will continue to grow the Nature Park Network and aims to have at least an additional 200 ha of nature parks by 2030.
Learning More about City in Nature
As part of our strategies under the City in Nature vision to enhance climate resistance, we will be implementing more nature-based solutions to build the resilience of Singapore's coasts. For instance, we have incorporated a new hybrid eco-engineering solution integrating biodiversity and coastal structures to protect and restore a 0.49 ha coastal area at Kranji Coastal Nature Park, a buffer park abutting Sungei Buloh Wetland Reserve. Similar coastal protection and restoration projects will be carried out at Pulau Ubin.

Over the years, NParks has created a green network comprising roadside planting and a Park Connector Network that links up parks and other green spaces. Skyrise greenery dot developments while biophilic design has been adopted in restoring habitats.

But as Singapore continues to urbanise, the growing infrastructure will put increasing pressure on the established green cover. Coupled with climate change and more extreme weather conditions, this will result in higher urban temperatures and the increased risks of localised flooding events. Our City in Nature vision works to ensure the city develops in a way that continues to provide a high-quality living environment for residents while ensuring Singapore remains a distinctive global city.
Learn more about our City in Nature here.
City in Nature, with the objective of creating a green, liveable and sustainable home for Singaporeans, is a pillar of the Singapore Green Plan 2030. This is a whole-of-nation movement to advance Singapore's national agenda on sustainable development. It aims to strengthen our economic, climate and resource resilience, improve the living environment of Singaporeans, and bring new business and job opportunities. Learn more about SG Green Plan here.


Visiting Our Green Spaces
If you are heading to our green spaces, do the right thing and be socially responsible. Maintain a safe distance from other park goers and keep to not more than two persons in a group, with no intermixing between groups. Always wear a mask except when you are engaged in strenuous exercise or when consuming food, drink or medication.

Do check out the visitorship levels of our parks using our safe distancing portal before you head down and avoid the ones with high visitorship. Learn about some simple do's and don'ts when visiting our Nature Reserve and Nature Parks here.
Visit NParksSG, our refreshed YouTube Channel that serves as a one-stop repository for close to 300 video resources. It also provides you a platform for existing and future digital outreach including DIY gardening and related crafts, virtual tours of our green spaces, and livestream events.
For more information about the flora and fauna found in Singapore, please visit NParks Flora and Fauna Web.
If you like what you read, follow us on Facebook, Instagram and Telegram to get the latest updates.

Text by Felix Siew