Our City in Nature Explained: Biophilia and Biophilic Design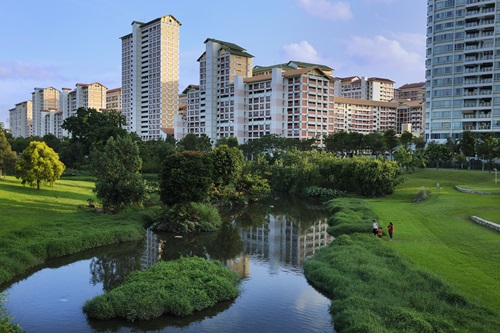 A man-made concrete canal in Bishan-Ang Mo Kio Park was transformed into this naturalised river through biophilic design.
Does the view of lush greenery, birdsong or scents of flowers make you feel refreshed and lighter at heart?
This is because of biophilia, an innate emotional connection that humans have with nature. Biophilia explains why we feel restored physically and mentally when immersed in nature. With the stresses of urban living in a 'concrete jungle', having greenery in our midst helps give us respite.
Biophilic design allows us to connect with nature in the urban landscapes, where aspects of nature and greenery are incorporated in our built environment. Biophilic design is designing with nature in mind – such as by using natural elements like wooden materials and organic shapes, and incorporating features for vegetation like rooftop gardens and green walls.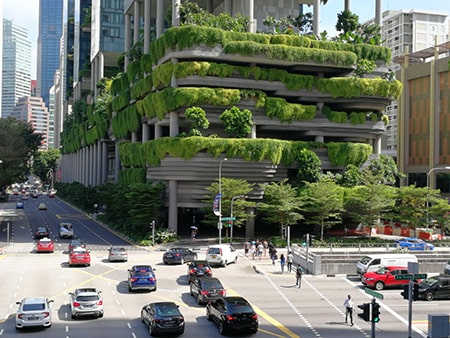 Skyrise greenery, in the form of rooftop gardens and green walls, is one way of incorporating biophilic design in buildings, as can be seen at the PARKROYAL COLLECTION Pickering hotel. (Photo credit: Leon Chin)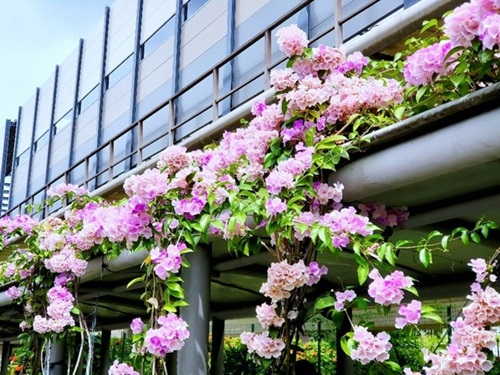 Garlic vine (Mansoa hymenaea) along covered linkways at Ang Mo Kio Avenue 8
Biophilia and biophilic design feature prominently throughout Singapore's greening journey. NParks' City in Nature vision, one of the key pillars of the Singapore Green Plan 2030, aims to grow this further in various ways, to restore nature in the urban landscape and bring nature closer to Singaporeans' everyday lives.
For starters, NParks aims to provide a park within a 10-minute walk from every home by 2030, and expand the Park Connector Network to give everyone easier access to parks. Biophilic design will be adopted for new and redeveloped parks and gardens. For example, plants grown in these areas could be specially chosen to recreate the look and feel of Singapore's native forests, while nature playgardens will have specially-designed play features that allow children to connect closer with nature through play, exploration and learning.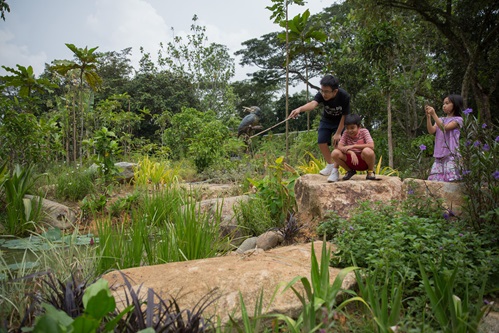 Children can explore biophilic play at Jacob Ballas Children's Garden.
At the same time, more greenery will be incorporated along our streets and in buildings and infrastructure, which not only softens their appearance, but also make them more comfortable to live, work and play in.
As Singapore grows more into a City in Nature, a biophilic city where we live in harmony with nature, NParks will continue to conserve and strengthen Singapore's natural capital as well. What's that, you ask? Tune in our next issue to find out what natural capital means!
Text by Victoria Cheong