Feast in the East
Located at Parkland Green in East Coast Park is SandBank, a casual-dining restaurant that serves mainly Western-styled dishes such as pasta, pizza, burger and grill. It adopts a "Eat Drink Plunge" philosophy, offering diners a wide range of tasty food and refreshing beverage choices.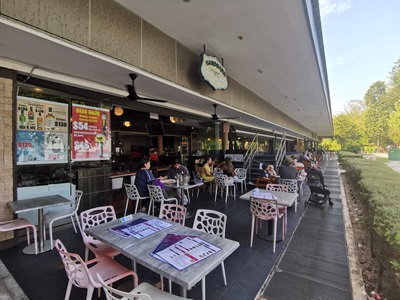 Chilled and Calming
If you are looking for a nice and relaxing way to spend an evening out, I recommend you to dine at SandBank.
While the restaurant did not offer a sandbank view, like how its name suggests, its location close to the beach means customers get to enjoy a nice sea breeze. You can choose to enjoy your meal indoors that is airy and well-ventilated, or outside, to observe the world as it goes by. Overall, the eatery has chilled and calming vibes for you to unwind after a hectic day.
Bar Bites
I started my meal with something to share from the 'Bar Bites' on the menu: Truffle Fries. I am sure this is a familiar and favourite pick for many since the combination of aromatic truffle oil infused in fries was quite the sensation in 2015 when it was first introduced to Singapore!

Hence, I knew I had to try them the moment I saw this option on the menu. The generous serving, enough for three people to enjoy, was tasty and reasonably priced, particularly when compared to other restaurants. A good start to the meal!
A Melt-in-the-mouth Experience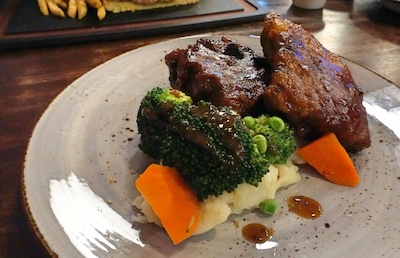 I have always been a huge fan of BBQ Baby Back Pork Ribs as I really enjoy the tender and flavourful meat. Little wonder I was excited to savour Sandbank's interpretation of this classic.
It did not fall short of my expectations. The tender meat with a fall-off-the-bone quality and laced with smoky-sweet BBQ sauce gave this dish a delightful lingering aftertaste. The plating was simple yet colourful with broccoli, carrots and mashed potatoes served on the side.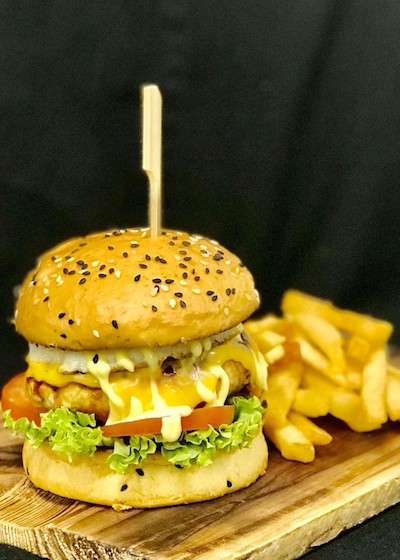 Photo credit: SandBank


For my other main dish, I ordered the Teriyaki Chicken Burger. If you appreciate plump and nicely marinated chicken, this is definitely for you.

The burger is packed with flavours thanks to the fried egg, cheese, lettuce, tomatoes and generous layers of smooth mayonnaise and teriyaki sauce between soft fluffy buns. Served with fries, this was a splendid combination.
For Your Sweet Tooth
To end this hearty meal, I ordered the Homemade Chocolate Peanut Butter Lava Cake. The use of peanut butter gave an interesting twist to the usual lava cake. It was my first time tasting this pairing and I have to say that I really liked the nutty flavour that was infused with the hot oozing chocolate.
Paired with smooth vanilla ice cream and freshly cut strawberries, this desert is great particularly for those who have a sweet tooth.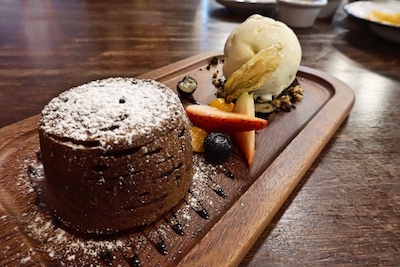 After the satisfying meal and If you feel like having some drinks, SandBank also has a bar that sells a wide range of alcoholic beverages, from draught beers, to wines and cocktails. Of course, there is also an array of non-alcoholic drinks such as mocktails, milkshakes and juices you can choose from.
With its yummy food and refreshing drinks, head down to SandBank to enjoy your very own unique dining experience.

In view of the Covid-19 situation, customers are advised to comply with the prevailing Safe Management Measures. You can also opt for takeaways to enjoy the good food in your own home.

For More Information
If you are heading to our green spaces, do the right thing and be socially responsible. Maintain a safe distance from other park goers and keep to not more than five persons in a group. Always wear a mask except when you are engaged in strenuous exercise or when consuming food, drink or medication.

Do check out the visitorship levels of our parks using our safe distancing portal before you head down and avoid the ones with high visitorship.

Visit NParksSG, our refreshed YouTube Channel that serves as a one-stop repository for close to 300 video resources. It also provides you a platform for existing and future digital outreach including DIY gardening and related crafts, virtual tours of our green spaces, and livestream events.
If you like what you read, follow us on Facebook, Instagram and Telegram to get the latest updates.

Text and photos by Charlyn Ng

About the writer
Charlyn Ng is an undergrad at the Wee Kim Wee School of Communication and Information. She is currently in her third year and specialises in Media Research and Analytics. Ever since starting her internship with NParks, Charlyn has been heavily involved in collecting and analysing data from various NParks' social media platforms. Her efforts are focused on increasing the public awareness towards Singapore's biodiversity. She also conceptualised and organised photoshoots and wrote articles about NParks conservation initiatives.
Please email wong_yeang_cherng@nparks.gov.sg for more information on our internship programme.