Five Facts About Ban of Domestic Trade in Elephant Ivory

International trade in elephant ivory is prohibited under CITES, which Singapore has been a Party of since 1986.
Photo credit: Jonathan Tan

Did you know that wildlife trafficking is the world's fourth largest illegal trade, only after drugs, human and counterfeit trafficking? African elephants, rhinos, and pangolins are some of the most highly-trafficked endangered species in the world.
Singapore has taken another step to strengthen our contributions towards the global fight against illegal wildlife trade, by banning the domestic trade in elephant ivory from 1 September 2021.
Here are five things to know about the ban:
#1: It is an offence to sell (including online sales) elephant ivory and ivory products, and to display publicly elephant ivory and ivory products for the purpose of sale in Singapore.
#2: Those found doing so may be charged under the Endangered Species (Import and Export) Act and face fines up to S$10,000 per specimen, not exceeding S$100,000 in total and/or up to 12 months' imprisonment.
#3: If you have inherited ivory or ivory products, you can choose to keep, dispose or donate them (for example, to a museum for educational purposes). NParks can provide assistance if you wish to dispose of your ivory items. If you decide to give these items away or donate them, we recommend that you maintain records or documents that show the origin and chain of ownership of the items.
#4: Displaying elephant ivory or ivory products for educational or religious purposes publicly will continue to be allowed. If you own items such as accessories, musical instruments or bird cages that contain ivory, you may continue to use them in public too. However, we encourage everyone to play your part to help support the conservation of elephants by not using or buying ivory products.
#5: You may enter or exit Singapore with personal ivory effects so long as you obtain a CITES permit from your destination country and country of departure each time. Individuals found without a CITES permit may face a fine and/or two years' imprisonment. Do also note that personal ivory effects brought overseas from Singapore must not be sold outside of Singapore.
What is CITES
The ban of domestic trade in elephant ivory highlights Singapore's resolve in the fight against the illegal trade in species listed under CITES, also known as the Convention on International Trade in Endangered Species of Wild Fauna and Flora. CITES is an international agreement between 183 Parties, to protect endangered wildlife species from extinction by trade, by ensuring that the international trade in wildlife is carried out in a way that does not threaten their survival.
As a CITIES signatory since 1986, Singapore is committed to implement domestic legislation that ensure CITES is carried out on a national level. This legislation is known as the Endangered Species (Import and Export) Act, and NParks is the national authority that enforces and implements CITES regulations.

This ban follows extensive stakeholder engagements with the public, non-government organisations and ivory retailers for their views. Some 99% of feedback received through public consultation was supportive of a blanket ban.
Science-Based Approach
Further stepping up our efforts against illegal wildlife trade, NParks opened Singapore's first Centre for Wildlife Forensics in August 2021. The Centre will draw upon expertise across the organisation, and leverage science and technology to identify and analyse specimens involved in the illegal wildlife trade. These enhanced capabilities will provide deeper insights on the seized items, for example, their geographical origins.
Such information can help international organisations and source countries to undertake further investigation and enforcement action against poachers and smugglers. These capabilities will also enable NParks, through collaborations with international experts and organisations, to better analyse seizures globally. This will allow us to identify potential linkages and syndicates involved in the illegal trade in wildlife.

The Centre for Wildlife Forensics will utilise science and technology to analyse seized items from the illegal wildlife trade such as pangolin scales, allowing us to gain insights on their geographical origins.
NParks also introduced a new K9 Unit, where dogs have been specially trained to detect commonly trafficked wildlife and wildlife products, such as elephant ivory and pangolin scales. This is the first time that Singapore is deploying detector dogs to sniff out wildlife and wildlife products.
The unit will enhance detection capabilities for wildlife and wildlife products at Singapore's border checkpoints and enable NParks to strengthen its enforcement against the illegal trade of wildlife and wildlife products through our borders.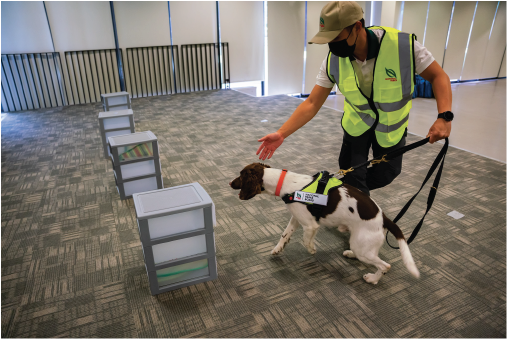 Dogs at NParks' new K9 unit have been trained to sniff out commonly trafficked wildlife and wildlife products, which sometimes cannot be detected by radiographic scanners and visual inspections.
Collectively, these developments will further contribute to Singapore's journey towards becoming a City in Nature, by strengthening Singapore's conservation of our native biodiversity in our nature reserves and encouraging Singaporeans to become good stewards of biodiversity.

Making a Difference
Here are some ways you can put a stop to the illegal wildlife trade:
Check before you buy items or souvenirs if you are unsure if these have animal or plant parts. Ask what they are made of and where they are sourced from.
Use substitutes or alternatives remedies to reduce demand for animal parts which are commonly used in traditional medicine.
Report instances of illegal wildlife trade to NParks. You can do so via our online feedback form or call 1800-471-7300. Information shared will be kept confidential.
Join a volunteer programme and help spread the word. NParks offers opportunities for you to contribute to conservation efforts in Singapore as a volunteer.

Text by Pearly Cheong