Sea Mango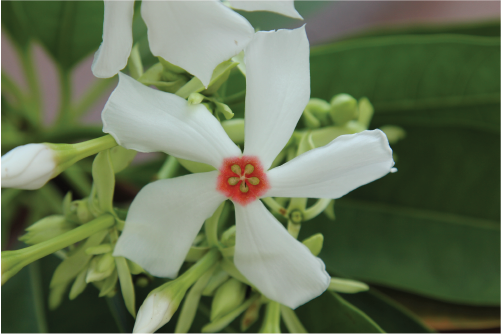 Photo credit: Ang Wee Foong
The Sea Mango (Cerbera manghas) is an evergreen tree that can grow up to 20 m in height. Native to Singapore, this Critically Endangered species can be found in the coastal forests of Pulau Semakau and St John's Island.
The Sea Mango has pure white flowers that are accentuated with a pinkish-red centre. These mildly fragrant flowers are pollinated by insects. This tree is the caterpillar host-plant of the King Crow butterfly (Euploea phaenareta castelnaui). It has large fruits that are shaped like an egg or mango, about 5 – 12 cm long. Each fruit is hard, shiny and smooth, ripening to red at maturity, with a fleshy outer part and a fibrous inner part.
This species can be propagated by seed or stem cuttings. It should be cultivated in sandy soil with good drainage and high humus content.

Learn more about this plant here.