Beautify Your Home with Aroids
Many say that aroids are the perfect beginner's house plant. This is because aroids are prized for their diverse, spectacular foliage and relative ease of care.

They are extremely adaptable and grow quickly. It is no surprise that aroids can be found in many of our green spaces and can be used to help beautify our houses. Get to know more about five aroids suitable for any home.
Arrowhead Vine
The Arrowhead Vine (Syngonium podophyllum), also known as Syngonium 'White Butterfly', has leaves that are triangular with a heart-shaped base when young and they develop lobes when matured. A herbaceous climber, it climbs by means of its roots.
A gorgeous mound of creamy white foliage touched with green combines with the arrowhead-shaped foliage creates an illusion of butterfly wings. Its colour is a good accent to any décor. It is best grown under semi-shaded conditions and in fertile, well-drained and moist soil. It can also be grown in sandy or loamy soils. Easy to care for, this plant adds a relaxed, natural feel when used indoors, or it can be admired outdoors during warm weather on a shaded balcony.
Fiddle-leaf Philodendron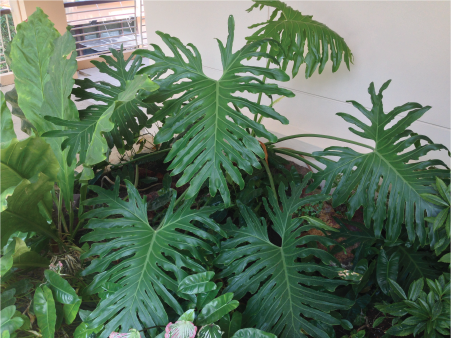 Photo credit: Ang Wee Foong
Fiddle-leaf Philodendron (Philodendron bipinnatifidum) is a large foliaged plant that grows on trees in its natural habitat and requires supplemental support in containers. It is a native of the tropical rainforests of south Brazil into Argentina, Bolivia, and Paraguay.
Growing the Fiddle-leaf Philodendrons in the home can evoke the sense of a forest filled with exotic flora. It has distinctive deeply-lobed simple leaves and grows relatively fast. Requiring low light, it is suitable for shady areas, courtyards, next to water features or placed indoors. It requires some occasional misting if grown indoors, especially in air-conditioned environments.
Queen of Hearts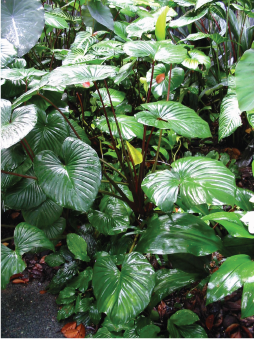 The Queen of Hearts (Homalomena rubescens) is a clump-forming evergreen perennial with arrowhead or heart-shaped leaves, which gives it its common name. Its flowers are tiny and without petals, enclosed in a usually greenish petal-like structure called the spathe.
Tropical in origin, the foliage will stay evergreen if temperatures do not drop too low. This is widely considered to be a great houseplant, due to its ease of care, disease-resistance quality, and its ability to tolerate low lighting conditions.
Dumb Cane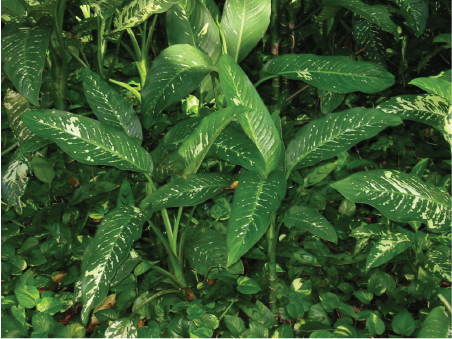 Also known as Besar Putih, the Dumb Cane (Dieffenbachia amoena) has some of the most beautiful mix of green, white, and yellow foliage, ideal as an indoor plant. Requiring little maintenance, the plant prefers bright filtered light but is also able to tolerate dark conditions.
However, do avoid coming into contact with the sap and if you do, wash it off before you accidentally rub your eye. This is because its sap can cause certain allergic reactions such as swelling. If you have children or animals around, relocate the plant out of their reach to avoid accidental ingestion or contact of the sap.
Flamingo Flower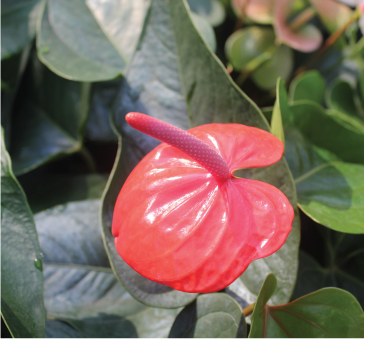 Photo credit: Pauline Tay
If you would like a pop of colour in your home, you could consider the beautiful Flamingo Flower (Anthurium andraeanum), which may not look like it, but is also an aroid. Its flowers are tightly packed into a fleshy spike called a spadix.

With glossy dark green leaves and attractive waxy red spathe, this is a beautiful plant to keep indoors. It grows best in well-drained soil under semi-shade light conditions.
Singapore Garden Festival Hort Show 2021
Can't get enough of the beauty of aroids and other plants?

You can view some of Singapore's best aroids, cultivated by professionals and amateurs, as part of a horticultural competition to be held in the Plant House in the Singapore Botanic Gardens from 9 to 13 October 2021. Best Show Plants across nine categories – aroids, ferns, begonias, edibles, carnivorous plants, flowering plants, gesneriads and succulents – will be vying for prestigious awards, medals and the Grand Prize, the City in Nature Challenge Cup!
This competition is part of the Singapore Garden Festival (SGF) Hort Show that is taking place from 9 to 31 October. Look out for virtual programmes, which include online talks, workshops and an eMarketplace where you can shop from the comfort of your own home! Visit here for more information on SGF Hort Show 2021.
Learning More
If you are heading to our green spaces, do the right thing and be socially responsible. Maintain a safe distance from other park goers and keep to not more than two person in a group, with no intermixing between groups. Always wear a mask except when you are engaged in strenuous exercise or when consuming food, drink or medication.

Do check out the visitorship levels of our parks using our safe distancing portal before you head down and avoid the ones with high visitorship. Learn about some simple do's and don'ts when visiting our Nature Reserve and Nature Parks here.
Visit NParksSG, our refreshed YouTube Channel that serves as a one-stop repository for close to 300 video resources. It also provides you a platform for existing and future digital outreach including DIY gardening and related crafts, virtual tours of our green spaces, and livestream events.
Whether you are an amateur gardener or a seasoned horticulturist, starting a home garden or a community garden, there are plenty of useful information and guides here for your gardening hobby.

For more information about the flora and fauna found in Singapore, please visit NParks Flora and Fauna Web.
Text by Jodie Lim