Garden Reverie
With most overseas holidays ruled out, everyone has been navigating the new normal during this period, getting some R&R through staycations or adventures in various parts of Singapore. Many have turned to exploring our parks and gardens for much-needed respite from the daily grind, gaining a deeper appreciation for nature at the same time.
At the Singapore Botanic Gardens, visitors are often enthralled by its 6.2 ha Rain Forest and world-renowned National Orchid Garden. During a day of wandering about in the Gardens, the Gardens Shop is the perfect stopover for a break or for picking up stylish items inspired by nature. Each item is exclusive and serves as a great gift for any occasion.
Orchid Tea and Ginger Garden Tea


Floral teas like jasmine and rose need no introduction, but have you tried Orchid Tea? This invigorating blend of Ceylon black tea, perfectly balanced with cranberry and decadent hints of cream, is topped with delicate orchid petals for a lovely floral finish. Sipping on each cuppa evokes wonderful memories of the National Orchid Garden, setting you up for an exceptional tea drinking experience.
A whiff of the Ginger Garden Tea will transport you momentarily into the Ginger Garden. The garden features more than 250 species of gingers in all shapes and forms, many with surprisingly beautiful foliage and flowers – a visual treat for all visitors. Ginger is favoured for its myriad of health benefits, and the Ginger Garden Tea presents an enticing brew of Ceylon black tea infused with ginger and cream flavouring in perfect proportions.

Orchid Collection Long Magnet Set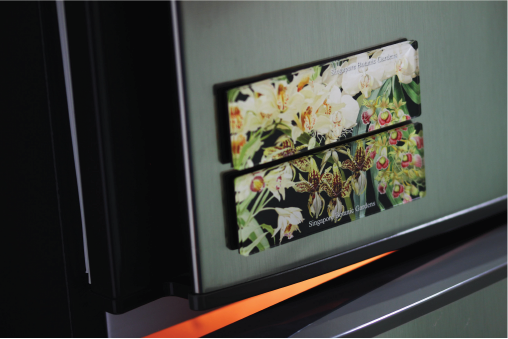 Can't get enough of orchids? Why not grab an Orchid Collection Long Magnet Set for yourself from the Gardens Shop? Perfect as a souvenir, this pair of beautiful magnets lets you bring home fond memories of Singapore's first UNESCO World Heritage site. Add a splash of colour to your home, beautify the fridge or anywhere around the house or office with this charming and useful item.

You may check these items out at the Gardens Shop in the Singapore Botanic Gardens or view these products on www.botanicgardensshop.sg.