Journey North By Northeast
With its beautiful stretches of coastline, scenic flowing waterways and thriving wetlands, the North Eastern Riverine Loop is one of Singapore's most interesting park connectors.
This 26 km route follows the natural coastline of Punggol Beach and the riverbanks of Sungei Punggol and Sungei Serangoon, while providing connections to four parks: Punggol Park, Punggol Point Park, Punggol Waterway Park, and Sengkang Riverside Park.

You can also make a quick detour to the rustic Coney Island Park, via the Punggol Park Connector, Punggol Promenade Punggol Point Walk, or Punggol Promenade Nature Walk.
So go for a long walk or hop on a bicycle for a journey up north by northeast. Here are some highlights along the loop to check out:
Coney Island Park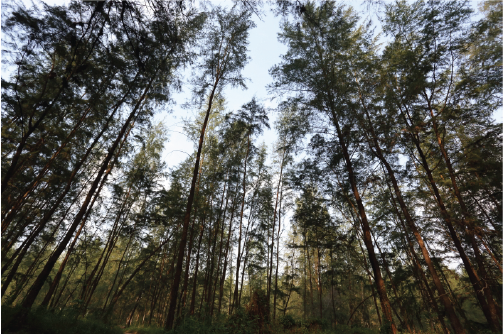 With its tall and slender Casuarina trees, Coney Island Park offers much to explore for bird watchers and nature enthusiasts. It is an ecologically sustainable green space with many environmental initiatives, focused on conserving energy and water, recycling and retaining natural elements in the park.
For example, the timber from uprooted Rhu or Casuarina (Casuarina equisetifolia) trees were collected and recycled into park signages, seats, benches, boardwalk, and used to construct parts of the nature play garden at Casuarina Exploration in the park.
Start exploring the forest and mangrove habitats on the boardwalk and move on to the beach which can be accessed at five locations. If you are on a bicycle, you can also ride through the rustic island along the 2.5-km track on the southern part of the island, taking in the beautiful promenade views of the Serangoon Reservoir.
Discover the park's rich biodiversity; it is home to more than 80 species of resident and migratory birds that can be found in the coastal forests, grasslands, mangroves, and casuarina woodlands.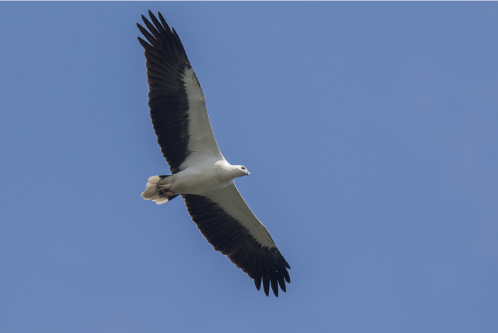 Look up to catch the magnificent White-bellied Sea Eagle as it soars above head.
Photo credit: Francis Yap

Try to spot the White-bellied Sea Eagle (Haliaeetus leucogaster), the largest raptor in Singapore with a wingspan of about 50 cm soaring above, or look for the Common Flameback (Dinopium javanense) that is easily identified by its golden yellow feathers on its back and black and white face pattern. This bird also has stiff tail feathers to help it balance as it climbs the trunks and branches of trees in search of prey.


Punggol Waterway Park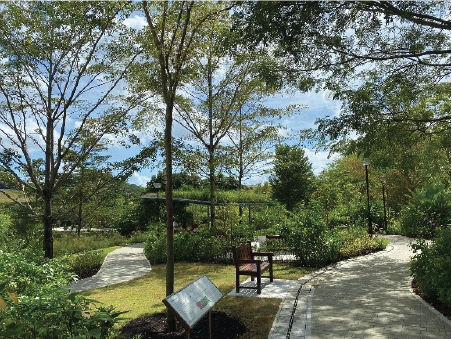 Did you know that the word Punggol in Malay means hurling sticks at the branches of fruit trees to bring them down to the ground – a reference to the area's history as a fruit-growing district!

Punggol Waterway Park is one of four parks linked by the Northern Eastern Riverine Loop. It is segmented into four different themes: Nature Cove, Recreation Zone, Heritage Zone and Green Gallery.
Built around the section of Punggol Waterway and located along Sentul Crescent, you can easily spend a full day here, enjoying activities like birdwatching, cycling, exercise, photography or just relaxing and feeling the breeze as you listen to the soothing sounds of cascading water around you.
There is a new Therapeutic Garden offering an elevated vista of the waterway. Enjoy the features that facilitate therapeutic horticulture which uses plants to help improve mental well-being. It is located next to Punggol Waterway Park Car Park A, which is accessible from Punggol Walk.

Towards the south-eastern end of the park is the distinctive Lorong Halus Red Bridge. After you stop to snap a few photos for your social media account, keep your eyes peeled for a possible rare sight along Punggol Promenade Riverside Walk near the bridge.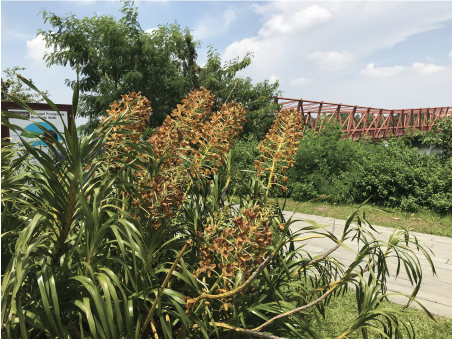 Photo credit: Kalthom Abd Latiff


The Tiger Orchid (Grammatophyllum speciosum) is the largest orchid species in the world. When in bloom, its flowers are pale greenish-yellow with orange-brown spots and turn darker as it gets older. In Singapore, it flowers in January or July, but may not do so every year, so if you can see these blooms, you can consider yourself lucky!
Punggol Park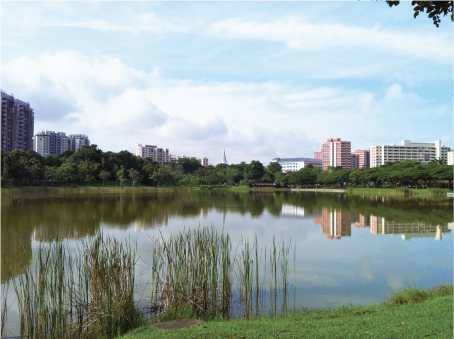 A familiar recreational space for families in Hougang, anyone can sit back and take in the tranquility of the serene 5-ha pond in Punggol Park. Anglers can look forward to hooking their next catch at the park's fishing promenades located around the pond, while the shady trees in the park provide a lush, cool area for families to spend time immersed with nature.
Adjacent to Punggol Park is Sungei Pinang, a tributary of the longer 8 km Serangoon Reservoir. Many waterside birds can be seen fishing here, hiding amongst the reeds on the banks. Catch a glimpse of the White-breasted Waterhen (
Amaurornis phoenicurus
), a typically shy and wary bird that
makes a harsh disyllabic "krruwak, krruwak" call.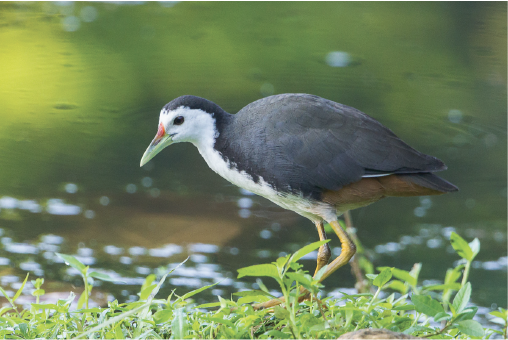 The White-breasted has a white face, a yellow bill with a red base, and greenish legs.
Photo credit: Francis Yap



Sungei Serangoon Park Connector


Photo credit: Mardiah Effendi


Sungei Serangoon Park Connector, together with the Serangoon Park Connector, provides residents with seamless connectivity from Punggol Park to Punggol Promenade.

Look for the aesthetic bioswales, which are shallow vegetated troughs or depressions with bio-retention systems at the base. They are designed to treat storm water with their gently sloped sides, also preventing erosion. They help with the efficient infiltration of surface water as a flood control measure.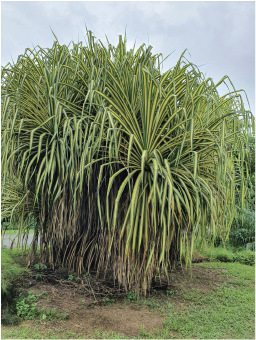 Photo credit: Mardiah Effendi

Do also look out for an eye-catching species of Pandan along the Sungei Serangoon Park Connector. The Pandanus tectorius 'Sanderi' is a large branching woody shrub that can grow up to 14 m tall.

Normally, the long linear leaves would be green in colour. However the variegated leaves of this cultivar has yellow or yellowish-white streaks along the middle part of the leaves, giving the plant a golden look. It is highly versatile plant, being able to grow in dry soils as well as waterlogged areas. It is also resistant to salt sprays and saline soils.


Serangoon Park Connector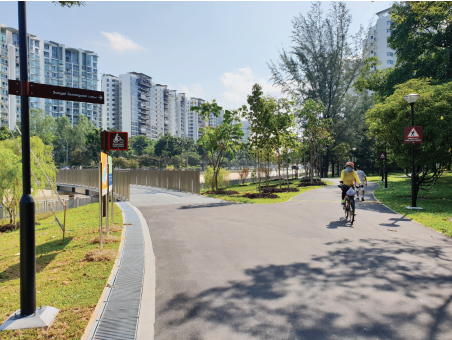 Serangoon Park Connector, which runs along Serangoon Reservoir and Sungei Pinang, is a popular recreational corridor for residents in the vicinity. It is an established route to Punggol Park, joining directly to Sungei Serangoon Park Connector via a footbridge across Sungei Pinang.
Nature lovers will delight in the biodiversity found here. Look for the elegant resident Grey Heron (Ardea cinerea) as it hunts for fish in the water, the migratory Little Egret (Egretta garzetta) standing on one foot and the White-throated Kingfisher (Halcyon smyrnensis) that is easily distinguished by its blue plumage and bright red legs and beak. During the breeding season, its noisy calls resound in the morning air!
Photo credit: Benjamin Tan



Learning More
If you are plan to visit the North Eastern Riverine Loop or any of our green spaces, do the right thing and be socially responsible. Maintain a safe distance from other park goers and keep to not more than five persons in a group, with no intermixing between groups. Always wear a mask except when you are engaged in strenuous exercise or when consuming food, drink or medication.

Do check out the visitorship levels of our parks using our safe distancing portal before you head down and avoid the ones with high visitorship.

Visit NParksSG, our refreshed YouTube Channel that serves as a one-stop repository for close to 300 video resources. It also provides you a platform for existing and future digital outreach including DIY gardening and related crafts, virtual tours of our green spaces, and livestream events.
For more information about the flora and fauna found in Singapore, please visit NParks Flora and Fauna Web.
If you like what you read, follow us on Facebook, Instagram and Telegram to get the latest updates.


Text by Charlotte Tan and Lynette Goh
About the writer
Lynette Goh is a final year media student at Singapore Polytechnic. As part of her school's professional internship programme, she chose to intern at NParks' Communications and Community Engagement department. In this time, she has written for NParks' social media platforms and e-newsletter as well as providing media support for events.

Please email wong_yeang_cherng@nparks.gov.sg for more information on our internship programme.