Leashing Your Dog? Lead the Way!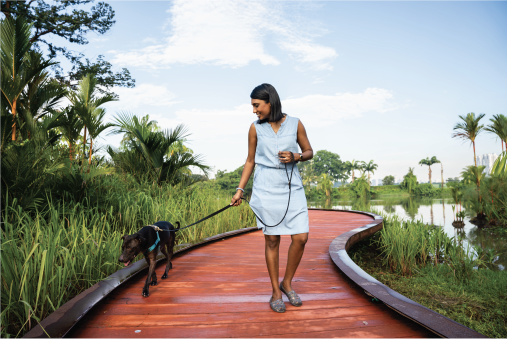 What's the most wonderful feeling in this world? Being loved by your pet doggo and knowing it's safe with you.
When you're outside, keeping your dog on a leash and close at heel would help you to manage it easier and keeping it out of harm's way. It is also an act of a responsible owner – and we are saying this not just because it is mandated by law (pet owners are required to leash dogs in public places and may be fined up to $5,000 for not doing so).
Why use a leash?
There are many benefits to leashing your dog and here are four of them:
Keep your dog from getting lost
We have heard many a dog owner say, "My dog is very obedient. He comes when called." Well, it's great that your dog is obedient! However, an accident may happen, when something in your dog's environment startles it or makes it uncomfortable. It could be a flash of lightning or clap of thunder, or another animal appearing in your dog's safe space. Sometimes, whatever spooks or unsettles your dog may be something very subtle and almost unnoticeable. Whichever the trigger, Buddy could dash off! A dog can run about 32 km/hour. The average human? 9 km/hour. Without the leash, it will be tough for you to catch your dog, and your dog could very well get lost!
2. Avoid unpleasant situations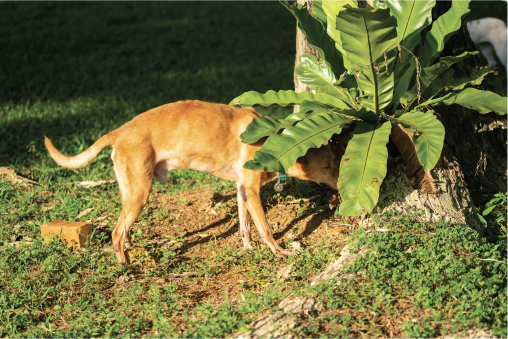 You never know when Fido may wander off to poke its nose into something unpleasant.
A free-roaming dog can get itself into other unpleasant situations. You may find your pal wandering off to that flooded grass patch to enjoy an impromptu mud bath, or digging into another dog's poop. Besides creating a huge mess that you have to clean up, Buddy may also unknowingly bring home diseases or parasites that may be lurking in those areas. It is also for this reason that dogs are not allowed in many of our nature parks and all nature reserves, to protect them from getting possible infections.
3. Keep yourself (and others) safe
You may have seen or heard of an online video in which a dog owner put herself in danger as she chased her pet which kept running around a cross junction, where vehicles were driving through. A few passers-by had to help her usher the playful pooch to safety. What a nerve-wrecking scene! If the dog were leashed, the owner could have kept it away and off the road.
Leashing your dog allows you to lead it safely away when it is uncomfortable meeting another dog or person.
Photo credit: Gemma Chong
Leashing can help to remove your dog from a potentially dangerous situation with other dogs. You may know how to read your dog's behaviour and take steps to prevent it from getting aggressive with another dog. However, the other dog owner may not, and fail to notice his dog is getting agitated. Should the dogs approach one another, a fight could ensue. Owners coming in-between fighting dogs to separate them can be badly hurt, what more the dogs. If the dogs were leashed, it would be easier to prevent such encounters.
4. Make people and other animals around you happy
There may be people who do not like dogs or are afraid of them. There may also be animals that are uncomfortable in the presence of dogs, such as community cats. Be gracious and respectful to those who are uncomfortable about dogs by giving them some space. Without a leash, how are you going to guide your dog away from others to provide this much-needed physical distance?
Using a leash will help to reassure a skittish person that you can manage your dog. Who knows, you may even strike up a friendship with this other person and slowly help him overcome his discomfort/fear!
Take the lead
Two most common reasons dog owners give for not liking to leash their dogs – leashing seems very restrictive for the dog and leashes look too plain or boring, they don't make the dog look cool.
"Responsibility is the price of freedom," said American writer Elbert Hubbard. Accepting the responsibility of keeping your canine companion leashed will actually free you and your dog up to enjoy your outings with fewer worries!
So what's the best way to make dogs happy and haute when being leashed? Here are some pointers:
Find the right fit
If the collar or harness you put on your dog does not fit it snugly, leashing is not going to work. While some owners prefer one over the other, the harness has proven to be more comfortable and secure for most dog breeds. Should one keep tugging on a leash attached to a collar, this may exacerbate shortness of breath in some dogs.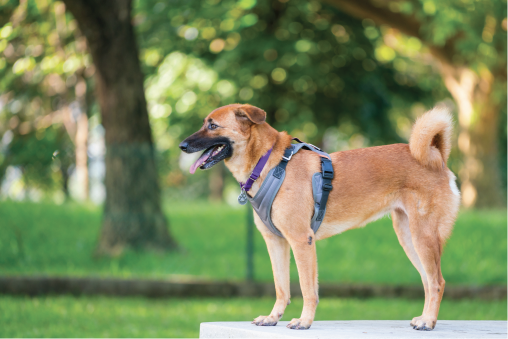 Attaching a leash to a harness offers better control for a strong or large dog.
Get the right length
In the past, you might have heard that dog owners should keep a tight rein on their dogs but guess what? A longer leash is actually safer for your pet pooch (provided it has been suitably trained) because there will be less tension! Holding a leash taut can unknowingly signal nervousness to your dog, and in turn may cause it to behave unfavourably. For example, if you're pulling on the leash or holding it tight when encountering an object, the dog may perceive this object as unsafe and thereby react to it negatively.
Using a long leash allows for more slack and less tension. Long leashes (usually made of nylon) are anywhere between 2 m and 4 m and should be used only with a harness. However, dog trainers do not encourage the usage of retractable leashes as these can cause severe injuries (burns, deep cuts, strangulation for example) to you, your dog and other parties who get entangled by such leashes.
Glam up your gear
Make your dog shine by personalising a set of harness and leash for it! More and more companies recognise that bringing Buddy out is an opportunity to make a fashion statement, and so offer top-quality, gorgeous bespoke products for your dog. You can choose from an assortment of materials (leather, nylon, natural fibre ropes, etc.) in a range of beautiful colours and sizes, or even the option of adding some bling like rhinestones! Feel free to customise something that turns heads when Buddy wears it during outings – that'll certainly make for great Instagram shots too.
To leash or not to leash – there is no question. Using a leash will allow you and your dog to enjoy many more years together safely with fewer accidents. Make your next stroll with Buddy a safe, considerate and glam one!
Learning More
To learn more about the ins and outs of responsible pet ownership and animal welfare, follow @AnimalBuzzSG or visit the Animal & Veterinary Service webpage.
You can also contribute towards the Animal & Veterinary Service's animal-related programmes through the Garden City Fund. Find out more here.
Visit NParksSG, our refreshed YouTube Channel that serves as a one-stop repository for close to 300 video resources, which includes videos on making pet treats or pet care tips. It also provides you a platform for existing and future digital outreach including DIY gardening and related crafts, virtual tours of our green spaces, and livestream events.
Text by Gemma Chong