No Dogs In Nature Reserves

Most dogs love the outdoors, but do take them for a walk in our parks and gardens, and out of our nature reserves.
Dogs need exercise and what better way than to take them for a walk, especially in Singapore's many green parks and spaces? However, our nature reserves are off-limits to dogs for good reasons.

Apart from the many ways in which dogs can affect the biodiversity of the nature reserves, there are also several possible natural hazards a domesticated animal like a dog could face there.
Ticks and Insects
Insects such as ticks and mosquitoes are natural inhabitants of our nature reserves. Ticks may carry diseases such as ehrlichiosis and babesiosis while mosquitoes transmit heartworm infection.
Tick bites – as well as the bites of other insects such as fire ants – often cause skin conditions such as dermatitis.
The sting of other insects such as from bees and wasps can result in skin irritation or serious injury to your dog. Most dogs get stung in the face as they investigate hives. But sometimes, a dog may snap at the insect, resulting in a sting in the mouth or throat. These are hazardous as an allergic reaction could cause swelling and block your dog's airway.
Danger in the Water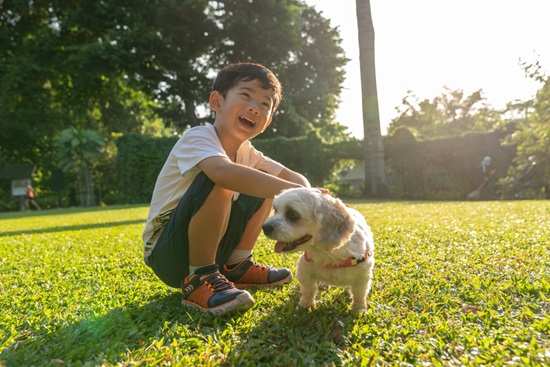 Keep your dog healthy by keeping it away from bodies of fresh water.


Your dog may get leptospirosis if it comes into contact with the urine of an infected animal, such as a rat, or with urine-contaminated soil or water. Leptospirosis can cause diseases such as kidney and liver failure in dogs.
Bodies of fresh water can also prove hazardous to dogs if they contain blue-green algae, or cyanobacteria. These cyanobacteria are microscopic bacteria that is highly toxic when swallowed by your dog. It will cause diarrhoea, vomiting and even death.
Of course dogs may also drown when swimming in any large and unfamiliar bodies of water, such as those found in nature reserves.
Do Not Ingest
Dogs are curious by nature, but this may prove hazardous to the animal if placed in a nature reserve.


Dogs are curious animals: they like to sniff and taste things they find on the ground. In a nature reserve, this behaviour could prove risky for your dog.
The faeces of wild animals may contain parasites such as intestinal worms. When a dog ingests worm eggs or larvae in infected faeces, it will cause intestinal infection. When a dog eats a foreign object such as litter, stones or even sand, it could cause gastroenteritis and intestinal obstruction, which might require surgery.
Some plants are toxic to dogs and an owner may not be quick enough to stop their dog from ingesting a poisonous fungus or plant.
Unfamiliar Terrain and Creatures
The nature reserve has broken branches and sticks, as well as stones with sharp edges and made from abrasive material. A dog that is unfamiliar with navigating the terrain may find itself with injured paws that could become infected.

And while we can make sure we are properly attired with long sleeves and suitable footwear before entering a natural environment such as the nature reserve, an over-excited dog may charge into dense shrubs and risk sustaining wounds or injuries to its face, such as scratches on its eyes.
When a dog comes face to face with a wild animal it could get injured. If threatened, monitor lizards, wild boars and snakes, for example, may defend themselves by attacking.

Visiting Nature Reserves… Without Pets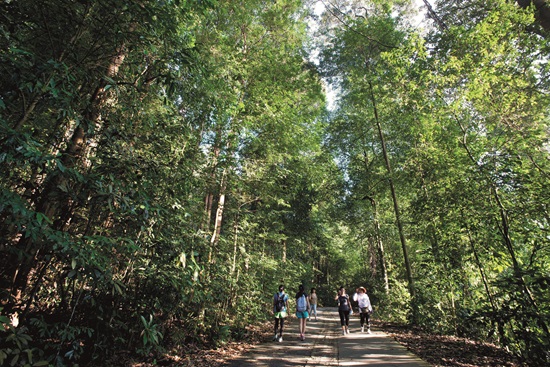 Enjoy the nature reserves, but keep your pet safely at home.


Help protect our natural heritage by being a responsible visitor when visiting our nature parks and nature reserves. Here are some other simple do's and don'ts when visiting. You can also view these videos for more information.

If you are heading to our green spaces, do the right thing and be socially responsible. Maintain a safe distance from other park goers and keep to not more than five persons in a group. Always wear a mask except when you are engaged in strenuous exercise or when consuming food, drink or medication.

Do check out the visitorship levels of our parks using our safe distancing portal before you head down and avoid the ones with high visitorship.

For More Pet Information
To learn more about the ins and outs of responsible pet ownership and animal welfare follow @AnimalBuzzSG or visit the Animal & Veterinary Service webpage here.

Thinking about getting a pet? Here are five key considerations before you bring one into your home.

A happy pet is a healthy pet. Find out how vaccination is essential to animal health, preventing diseases that are transmissible to humans and improving overall public health.

Capture your pet's day-to-day actions like a pro. Learn how to photograph your animal companion like a pro.

Make a date with us for the next digital edition of Pets' Day Out, right in the comfort of your home! Our Animal Welfare Group partners will showcase some loveable animals looking for 'fur-ever' homes. You can also ask our vet from the Animal & Veterinary Service questions you have about your pet during the chat-live segment.

Visit NParksSG, our refreshed YouTube Channel that serves as a one-stop repository for close to 300 video resources. It also provides you a platform for existing and future digital outreach including DIY gardening and related crafts, virtual tours of our green spaces, and live-stream events.


If you like what you read, follow us on Facebook, Instagram, Telegram and YouTube to get the latest updates.