Heritage Treasure Trail
Did you know that the Singapore Botanic Gardens has more than 160 years of history? It was in 1859 that the Gardens was founded and laid out in the style of the English Landscape Movement at its present site in Tanglin.

In its early years, the Gardens played a significant role in fostering agricultural development in Singapore and the region by collecting, growing, experimenting with and distributing plants of economic potential. In contemporary times, the Gardens contributed towards Singapore's greening movement post-independence and continues to cultivate and conduct research on plants of horticultural and botanical interest.

Today, visitors entering from Tanglin Gate will be greeted by the oldest part of the Gardens, known as the Tanglin Core. This is where you can stroll along the serene Swan Lake to catch a glimpse of the White Mute Swans, or stop for a photograph at the Bandstand, possibly the Gardens' most prominent landmark.

Along the way, you can also go on a heritage treasure trail, stopping by more than 20 Heritage Trees found in this area. These trees function as living records of the Gardens. Besides being botanical gems, each tree is also a marker of our heritage, with their own stories of times past.


Here are seven Heritage Trees for you to discover in the Gardens.
Temak Nipis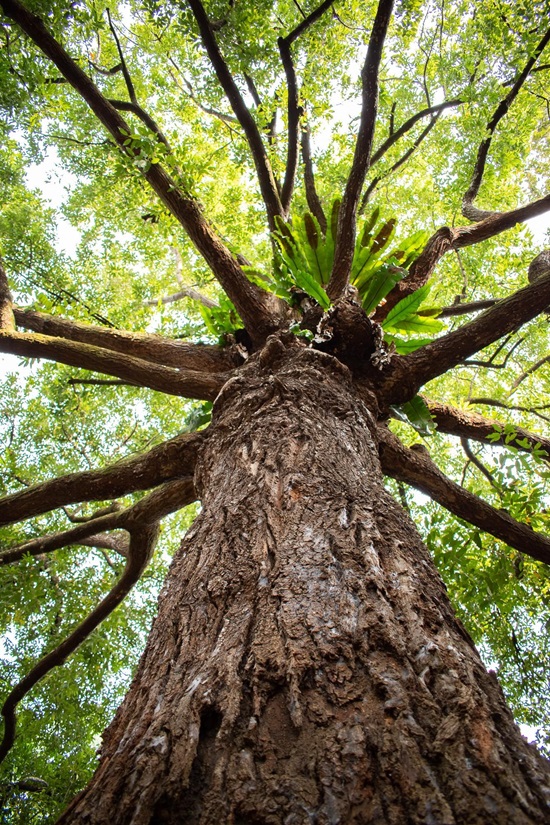 Look out for the Temak Nipis (Shorea roxburghii) as you enter the Gardens by Tanglin Gate. This tree is among the Gardens' collection of dipterocarp trees and was planted in 1978 by the first Commissioner of Parks and Recreation, Mr Wong Yew Kwan. It has since grown exceptionally well.
The Temak Nipis often exceeds 30 m in height, and has thick, fissured bark. It produces white pin-wheel shaped flowers with tinges of red around the middle. Interestingly, the Temak Nipis produces winged seeds that spin like helicopter rotor blades, which is beneficial during dispersal, even carrying them for long distances during a storm!

Many dipterocarps exhibit a peculiar behaviour called mast fruiting where a large number of trees in the forest will flower and fruit simultaneously. This helps these species to survive because together, the trees produce too many fruits for animals in the forest to consume and so many of the seeds are left to germinate and grow into trees.
2. Snake Tree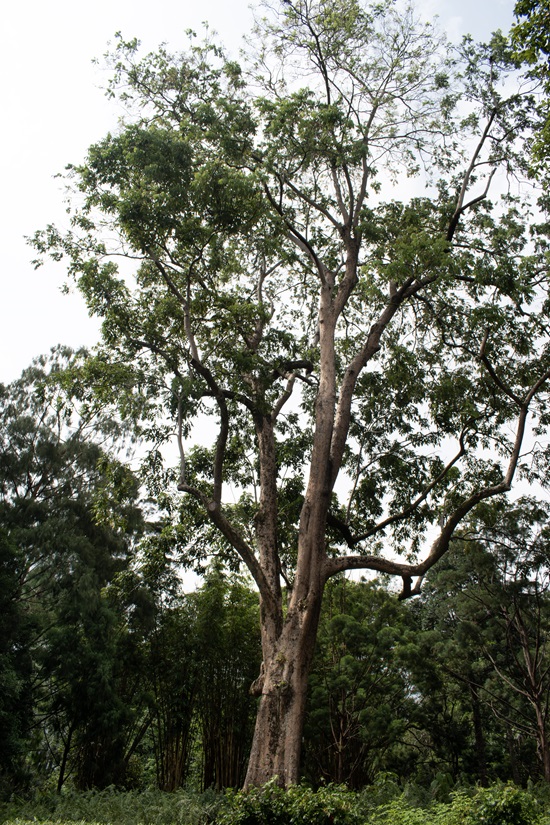 On the slope above Main Gate Road, near the point where it meets Swan Lake, resides a tree that produces pink-lilac flowers reminiscent of ballet tutus. After the flowers are shed, the tree appears to be covered in snakes hanging from the branches. These menacing-looking "snakes" are in fact just the fruits of the tree.
This is the Snake Tree (Stereospermum fimbriatum), several of which were planted in the Gardens as early as 1882. This specimen, brought in from a nursery in 1937, is the only one that has survived from the Gardens' early years.
The deciduous tree can grow up to 25 m and has a light-grey scaly bark. Its trumpet-shaped flowers are 5 to 6 cm across and its snakelike seedpods range from 37 to 75 cm in length. They split open when mature to release the seeds.
3. Senegal Mahogany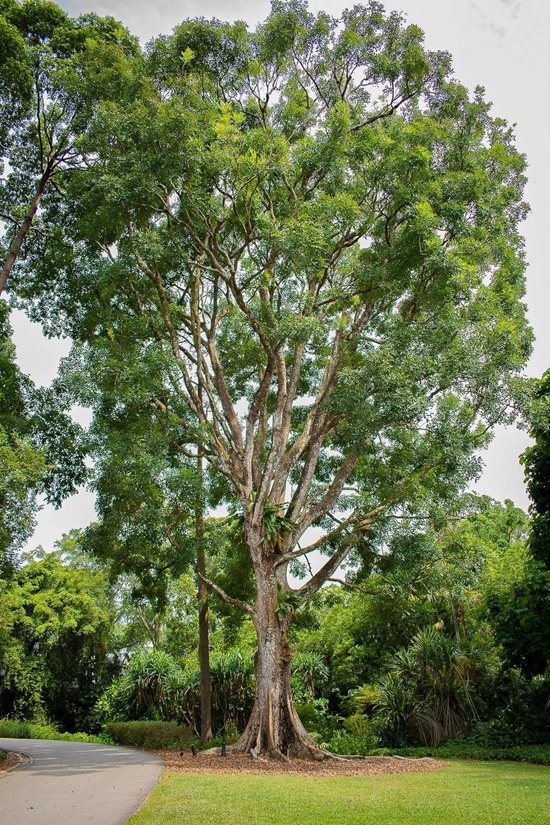 Straight ahead from the Snake Tree is another Heritage Tree that can be spotted from a distance away. It stands tall, by a pavilion next to Swan Lake.
This is a Senegal Mahogany (Khaya senegalensis). It is also known as Mr Lee's Tree as it was planted by Singapore's late founding Prime Minister, Mr Lee Kuan Yew, on 2 November 1980 to commemorate Tree Planting Day. Mr Lee launched the first nationwide tree planting campaign in 1963, when he initiated Singapore's greening journey.
The Senegal Mahogany can grow up to 30 m in height. This tree's scaly bark was found to be effective against malaria, earning the name 'quinine of Senegal' (quinine is a medicine commonly used to treat malaria). Its flowers are creamy white in colour while the fruits are round, woody capsules that release numerous winged seeds when split open.

The Senegal Mahogany was a popular street tree in the 1980s due to its rapid growth, ease of transplanting and ability to tolerate harsh, dry urban conditions.

4. Burmese Banyan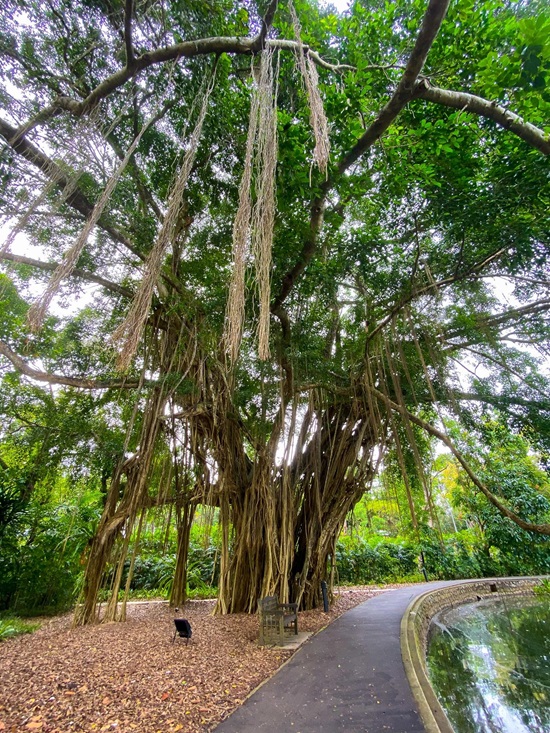 Found beside Mr Lee's tree, shadowing part of Swan Lake is the Burmese Banyan (Ficus kurzii). It is thought that this tree predates the establishment of the Singapore Botanic Gardens and there are reports that it may have been bought in by a colonial planter that was Burmese.
The Burmese Banyan is a type of strangler fig that begins its life near the top of the forest canopy, unlike most trees that grow from the ground up. The tree then sends its aerial roots down to the forest floor, forming a network of supporting roots that soon engulfs its host tree.
Figs can only be pollinated by specialised fig wasps, and as this species is not native to Singapore, it lacks its associated fig wasp. Hence its fruits usually develop without seeds.
5. Purple Millettia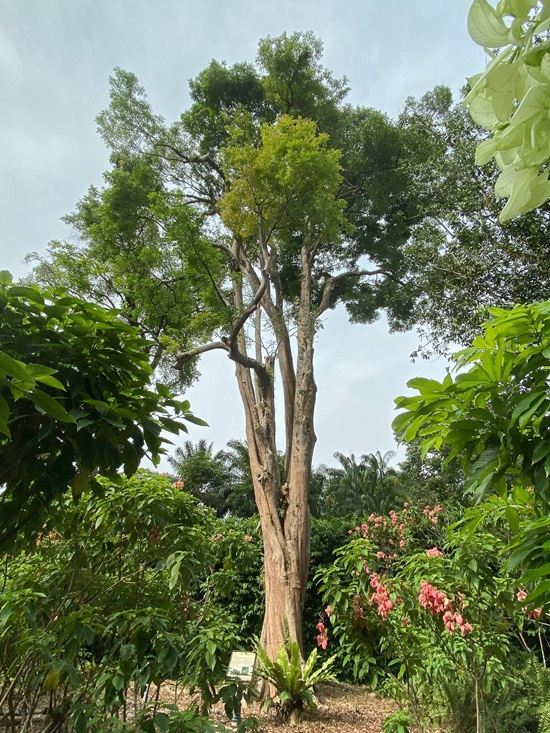 Continue on past the Burmese Banyan and after making your way around Swan Lake, you will be able to see the Purple Millettia (Callerya atropurpurea) that can grow up to 30 m in height. This species went through a total of six name changes since being first described in 1831. It has been known as Pongamia, Adinobotrys, Padbruggea, Whitfordiodendron, Millettia and now belongs to the genus Callerya.
It produces beautiful flowers deep purple in colour and its fruit comes in woody pods shaped like the keel of a boat. When ripe, it releases one to four brown seeds. The Gardens' Purple Millettia Heritage Tree was planted in 1889 when Swan Lake was developed.
6. Buni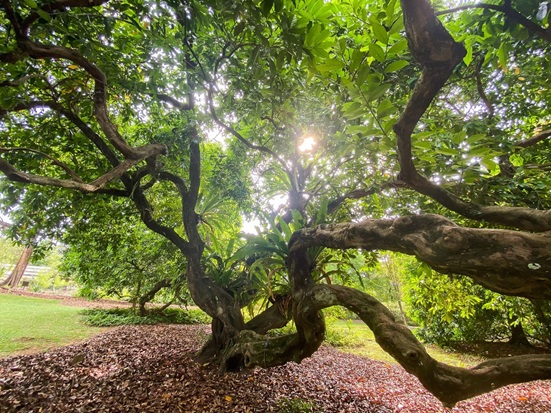 Continuing on along Swan Lake and crossing over to the other side, you will find another Heritage Tree just east of The Dell. This is the Buni tree (Antidesma bunius), and it can grow up to 15 m in height.
The tree looks unremarkable on the open lawn as its gnarly trunk sprawls upon the gently sloping ground. However, looks can be deceiving, as the tree occasionally bursts into colourful displays of reproductive activity, producing fat bunches of juicy, round fruits in colours of green, yellow, red, and blue-black as they never ripen all at once. The deep red juice of the fruit can be made into a refreshing drink or fermented wine.
The tree is dioecious, meaning that individual trees can produce male or female flowers but not both. Luckily this is a female tree, for the male flowers are said to smell like rotting fish!
7. Jelawai Jaha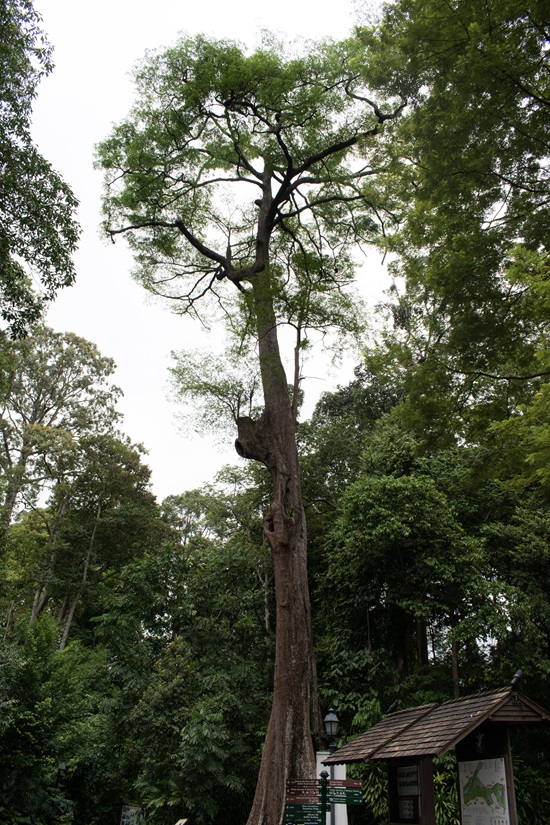 Just before Maranta Avenue and beside the entrance into the Rain Forest, lies the majestic Jelawai Jaha (Terminalia subspathulata), possibly the tallest tree in the Gardens. It towers over other trees, standing at a height of more than 50 m. It has a grey-scaly bark and plank-like buttress roots.
The tree is a native species and is assumed to have existed as part of the Rain Forest even before the Gardens was established. It is dedicated to Lady Yuen Peng McNeice (1917 – 2012), an ardent supporter of conservation and environmental causes who made valuable contributions in these fields in Singapore.
The semi-deciduous tree has inconspicuous yellow-green flowers on spikes about 20 cm long. The fruits are flattened, 4 to 8 cm wide, with two broad wings.
Immerse Yourself in History
The trees highlighted here are just some of the more than 50 Heritage Trees found in the Singapore Botanic Gardens, and the more than 250 such trees in the whole of Singapore, many of which have been present for generations!

NParks' Heritage Tree Scheme, announced in 2001, advocates the conservation of Singapore's mature trees. The Hongkong and Shanghai Banking Corporation Limited (HSBC) established the Heritage Trees Fund then, to kick-start a conservation programme that safeguards and promotes the appreciation of these trees.
Anyone can nominate a tree for Heritage Tree status consideration. Nominated trees will be inspected by NParks arborists before being submitted to the Heritage Tree Panel for consideration. The panel ultimately decides which trees are suitable to be endorsed as Heritage Trees. Learn more about how you can nominate a tree for this scheme.

Want to explore other parts of the Singapore Botanic Gardens? Go on a virtual tour of the Naturalist Trail at the Jacob Ballas Children's Garden.


Learning More
Interested in learning more about trees that make up our urban forest? Check out trees.sg, our online map which shows the locations of over 500,000 trees, features interesting bites of information on unique tree species, and even lets you show some love to your favourite tree by leaving it a treemail and giving it a hug!

As Singapore moves towards becoming a City in Nature, we will safeguard and extend Singapore's natural capital island-wide. This will be the next bound of our urban planning to create a liveable Singapore for all.

NParks has launched a new movement to plant a million trees across Singapore over the next 10 years. The One Million Trees movement will take place throughout the island, including streetscapes, gardens, parks and park connectors, nature reserves and nature parks. The community is key to the success of this movement. Click here to learn how you can contribute to the movement.

If you are heading to our green spaces, do the right thing and be socially responsible. Maintain a safe distance from other park goers and keep to not more than five persons in a group. Always wear a mask except when you are engaged in strenuous exercise or when consuming food, drink or medication.

Do check out the visitorship levels of our parks using our safe distancing portal before you head down and avoid the ones with high visitorship.

Visit NParksSG, our refreshed YouTube Channel that serves as a one-stop repository for close to 300 video resources. It also provides you a platform for existing and future digital outreach including DIY gardening and related crafts, virtual tours of our green spaces, and livestream events.
For more information about the flora and fauna found in Singapore, please visit NParks Flora and Fauna Web.
If you like what you read, follow us on Facebook, Instagram and Telegram to get the latest updates.
Text and photographs by Sarah Anne Tan and Eileen Chew
The text was adapted from the book, Tall Tales: Singapore Botanic Gardens Heritage Tree Trail Guide.