Gallop Extension
The Gallop Extension is an 8-hectare addition to the Singapore Botanic Gardens, bringing the total area of the Gardens to 82 hectares. It comprises two conserved buildings that have been refurbished into the Botanical Art Gallery and Forest Discovery Centre @ OCBC Arboretum, the COMO Adventure Grove, Mingxin Rambler's Ridge and OCBC Arboretum.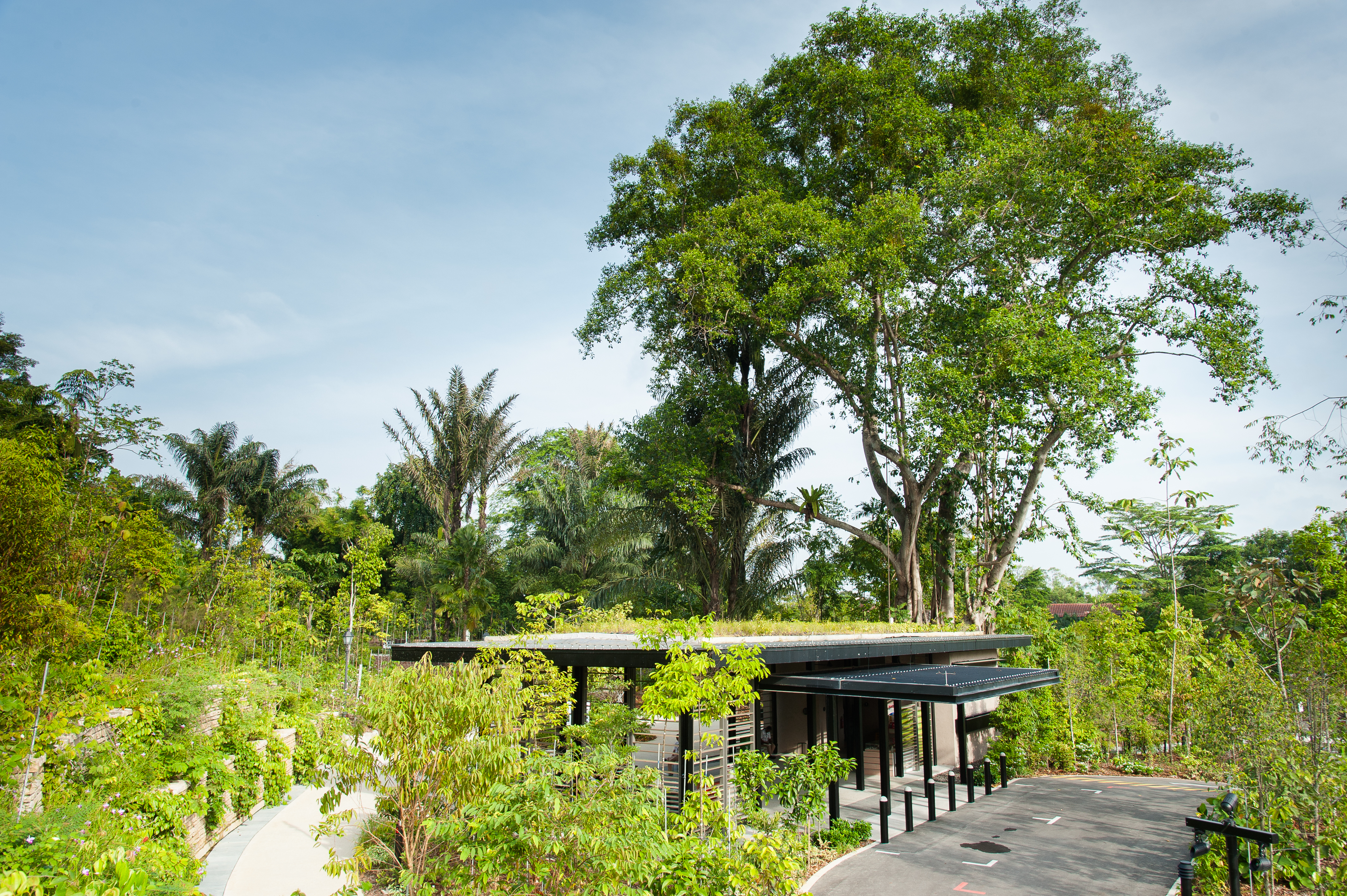 Forest Discovery Centre @ OCBC Arboretum
9am - 6pm

Closed every last Monday of the Month

No dogs allowed

Botanical Art Gallery
9am - 6pm

Closed every last Thursday of the Month

No dogs allowed

COMO Adventure Grove
7am - 7pm
No dogs allowed
Mingxin Foundation Rambler's Ridge
7am - 7pm
No dogs allowed
Forest Discovery Centre @ OCBC Arboretum
Gallop House No. 5 (Atbara) is Singapore's oldest surviving colonial era or black-and-white bungalow. Built in 1898, it now houses the Forest Discovery Centre @ OCBC Arboretum, which showcases Singapore's forest ecosystems, and highlights the importance of conserving them. Through a series of interpretive and interactive displays, visitors can enjoy a bird's eye view of Singapore's diverse forests, and learn about the Gardens' historical role in conserving them. Highlights include a photographic installation of forest trees, family-friendly displays and videos featuring three distinctive forest habitats found in Singapore, and their unique flora and fauna.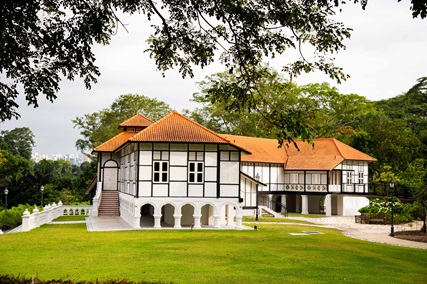 The Forest Discovery Centre @ OCBC Arboretum will also host the Singapore Botanic Gardens' Tropical Forest Ecology Research programme. This programme reprises a historical role for the Singapore Botanic Gardens, which dates back to the late 1800s. One of the Gardens' early superintendents, Nathaniel Cantley, was tasked to survey the forests in the Straits Settlement in 1882. His report led to the demarcation of the first forest reserves in Singapore in 1884, in order to prevent the ecology and climate from further deteriorating.
Complementing the Forest Discovery Centre is the OCBC Arboretum, which is a first-of-its-kind high-tech arboretum in Southeast Asia. Opened in October 2019, the arboretum plays an important role in the Gardens' conservation work, housing and displaying the Gardens' growing collection of rare dipterocarps.
Botanical Art Gallery
The Botanical Art Gallery is housed within the second refurbished conserved building, Gallop House No. 7 (Inverturret), which was built in 1906. The gallery highlights the vital role that art plays in the scientific documentation of plants in Singapore and the region, as well as how art can inspire renewed appreciation of the natural world around us. This will be Singapore's first permanent display of botanical art, where visitors will be able to see a selection of the Singapore Botanic Gardens' collection that includes more than 2,000 botanical paintings, as well as hundreds of sketches, line drawings and photographs. The display will also showcase various art forms, from original watercolours and ink drawings to prints and printing blocks.
Some of the iconic artwork on display includes the oldest dated painting in the Gardens' collection completed in 1890, of Phaius tankervilleae, an orchid which grows in freshwater swamp forests, as well as an illustration of Durio singaporensis, which is commonly known as the Singapore Durian.
Visitors will also be able to try their hand at the various techniques involved in botanical illustration, such as sketching, mixing colours, and composing scenes. The activity room also offers sweeping views of the forested areas surrounding the house.

The Botanical Art Gallery will also feature changing exhibitions that complement the Gardens' permanent artwork collection. The first show, 'Plants in Print', will showcase a collection of rare books that records the development of early colonial botany in South and Southeast Asia. Local artists such as Shubigi Rao and Weixin Chong have also been commissioned to offer creative responses to these books and produce a series of contemporary artworks.
COMO Adventure Grove
Inspired by the distinctive parts of trees found within the Gardens, this is a modern interpretation of the timeless experience of climbing and playing in trees. Children can swing, slide and climb on structures resembling the aerial roots of the Weeping Fig (Ficus benjamina), scramble over the warty surface of a giant Cempedak (Artocarpus integer) or roll and hop around the pod and seeds of a Saga tree (Adenanthera pavonina). These adaptive components will help introduce children to nature through play.

The COMO Adventure Grove is set within nature, so children can connect with nature through play and exploration. It will enable children to choose how and what to play with, thus developing a sense of adventure and discovery, and increasing their independence.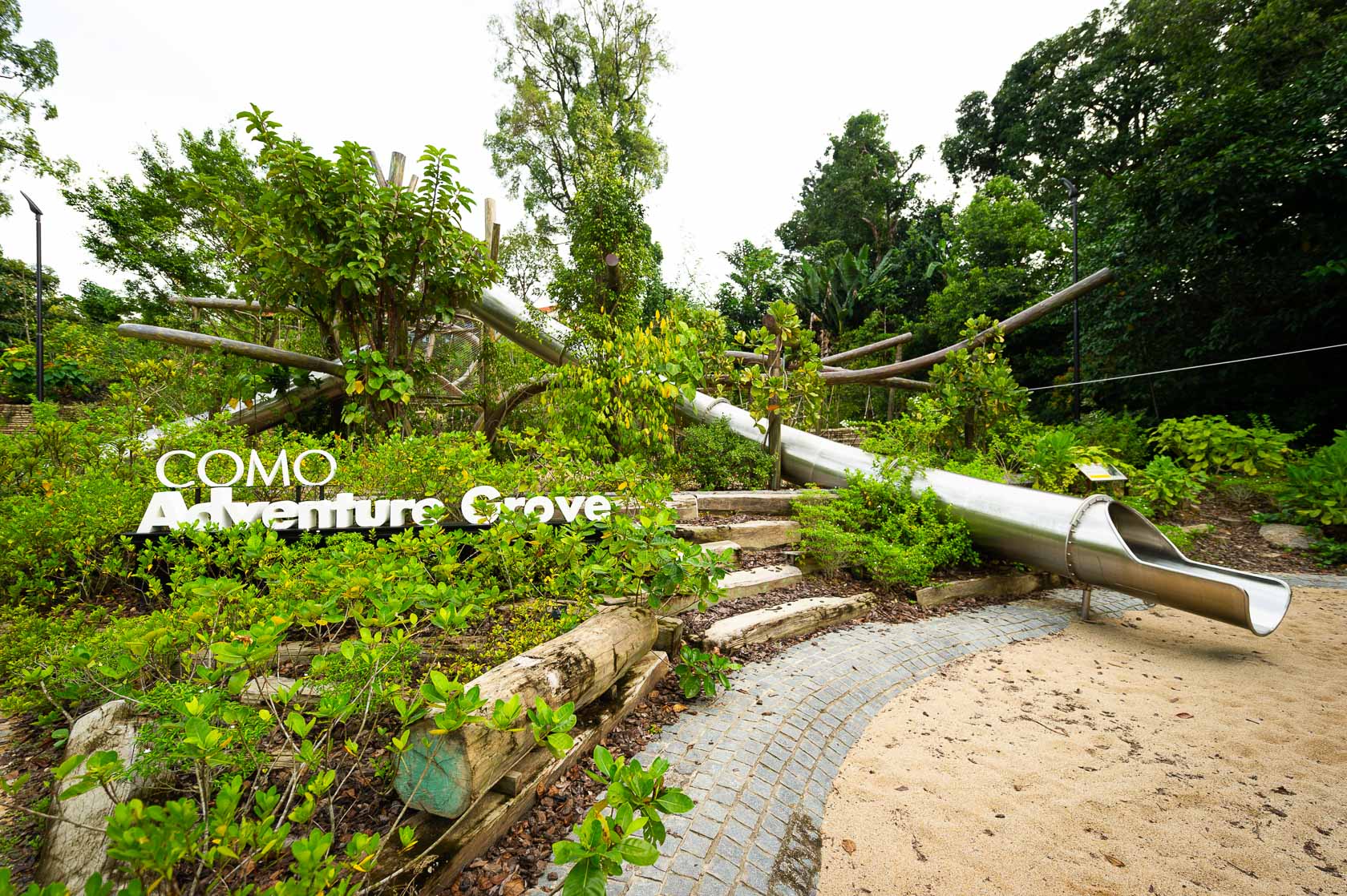 Mingxin Foundation Rambler's Ridge
Ascend the ridge via a barrier-free path lined with trees such as the critically endangered Spike Oak (Lithocarpus elegans) and Braided Chestnut (Castanopsis inermis). Those looking for more of an adventure can then continue along the hiking trail, and then descend the rocky steps to return to the path.
The ridge draws its inspiration from unique forest habitats on the tropical hills of Southeast Asia. Some of these environments, such as the Kerangas heath forests, are known for their harsh conditions, with poor soil and exposure to strong winds. As such, the plants that naturally occur in these landscapes have evolved fascinating adaptations.

It may be a little tricky to get here, so we hope this little video will be of help!
25-minute walk from Botanic Gardens MRT station
20-minute walk from bus stop at Napier/Holland Road
10-minute walk from bus stop along Holland Road (after Ministry of Foreign Affairs)