Dr Hubert KURZWEIL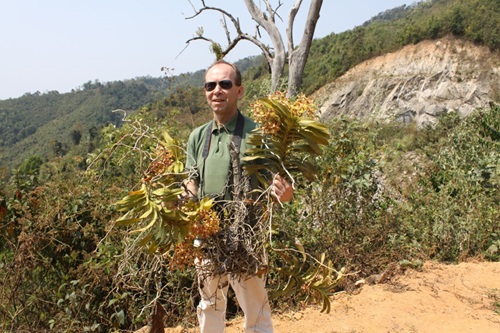 Email Address: HUBERT_KURZWEIL@NPARKS.GOV.SG
Research Interests
My research interest is in documenting the diversity of the orchid family in mainland Southeast Asia. After having written contributions for the Flora of Thailand and Flora of Peninsular Malaysia, I am now mainly focussing on the taxonomy of the family Orchidaceae in Myanmar. As this is the botanically poorest known region in mainland Southeast Asia, much basic inventory work is still needed. The eventual aim of my work is a comprehensive floristic treatment of the orchids of the country through fieldwork and the examination of specimens in international herbaria. Apart from this, I am actively involved in compiling an account of the Orchidaceae for the Flora of Singapore.
Current Research
Annotated checklist of the Orchidaceae of Myanmar, in collaboration with Paul Ormerod (Australia) and Santi Watthana (Thailand). This involves the examination of all available material in major overseas herbaria.
A checklist of the orchids of Natma Taung, a mountainous region in western Myanmar. The work aims to contribute the family Orchidaceae to a publication on all flowering plants recorded in this region which is coordinated by botanists at Makino Botanical Garden (Japan).
Identification of specimens of Myanmar Orchidaceae; particularly when requested by Drs. Nobuyuki Tanaka (Curator, National Museum of Nature and Science, Tsukuba, Japan) and Kate Armstrong (Myanmar Program Coordinator, New York Botanical Garden).
Coordination of the account of the Orchidaceae for the Flora of Singapore.
Selected Publications
Kurzweil, H.
& P. Ormerod (2019). A review of the Calanthe group (Orchidaceae) in Myanmar. Thai Forest Bulletin 47: 196–225.
Kurzweil, H.
& P. Ormerod (2018). Precursory studies on the orchid flora of Myanmar with one new species and thirty eight new distribution records. Rheedea 28: 1–15.
Kurzweil, H. & P.J. Cribb (2016). Flora of Peninsular Malaysia ― the Calanthe group. Malesian Orchid Journal 17: 61−122.
Kurzweil, H. & P. Tripetch (2015). A new species of Peristylus (Orchidaceae) from southern Thailand. Thai Forest Bulletin 43: 24−29.
Kurzweil, H. & S. Lwin (2015). New orchid records for Myanmar, including the first record of the genus Stereosandra. Gardens' Bulletin Singapore 67(1): 107‒122.
Kurzweil, H. (2014). Acanthephippium (p. 309‒313), Anthogonium (p. 318‒320), Calanthe (p. 341–376), Cephalantheropsis (p. 378‒382), Eriodes (p. 499‒501), Ipsea (p. 545‒547), Pachystoma (575‒578), Phaius (p. 584‒593), Plocoglottis (p. 613‒621) and Spathoglottis (621‒631). In: Santisuk, T. & Balslev, H. (eds), Flora of Thailand 12(2). The Forest Herbarium, Bangkok.