Dr YAM Tim Wing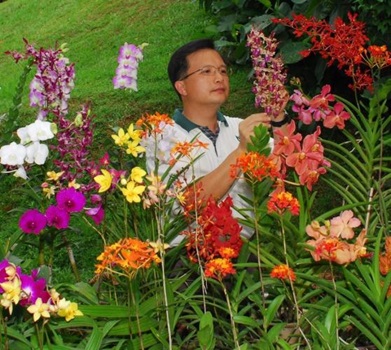 Email Address: YAM_TIM_WING@NPARKS.GOV.SG
Research Interests
My areas of research include orchid hybridisation and conservation. For orchid breeding, I aim to produce colourful and free-flowering vandaceous, dendrobiums and other hybrids suitable for growing in the lowland tropics. I also administer a programme designed to conserve the native orchids of Singapore by propagating and reintroducing these species into urban and natural areas in the country.
Current Research
Breeding of free-flowering and colourful orchid hybrids for landscaping and for naming after visiting dignitaries. We are also creating new artificial genera by trying out new combinations of orchid genera.

Conservation of native orchids through propagation and reintroduction. We are investigating the best methods to propagate and reintroduce the different species into urban and natural areas in the country. Also, we want to find out how the native species can be used in landscaping to beautify our environment.

Ecological and physiological studies of reintroduced native orchids, such as strategies for long term survival and physiology of stress tolerance.
Selected Publications
Yam, T.W. (2020). Singapore Botanic Gardens. In: Hermans, J., Hermans, C., Linsky, J. & Li, C.W. (ed.) World Orchid Collections 2020. Pp. 194-202.
Yam, T.W. (2019). Hybrids of Paraphalaenopsis serpentilingua – some old, some new. Malayan Orchid Review. 53: 61-66
Izuddin, M, Srivathsan, A, , Lee, A.L., Yam, T.W. & Webb E. (2019). Availability of orchid mycorrhizal fungi on roadside trees in a tropical urban landscape. Scientific Reports 9, article number: 19528. DOI: https://doi.org/10.1038/s41598-019-56049-y
Lim, R.C.J., Leong-Škorničkova, J., Lindsay, S., Niissalo, M.A., Yam, T.W. & Middleton, D.J. (2019). Plant conservation in Singapore II: practical implementation. In: Middleton, D.J., Leong-Škorničková, J. & Lindsay, S. (ed.) Flora of Singapore 1: 83–106.
Yam, T.W. and Arditti, J. (2017). Micropropagation of orchids, 3rd ed. John Wiley & Sons Inc, Oxford, U. K.
Yam, T.W., P. Ang and F. Tay. (2017). Conservation and reintroduction of Bulbophyllum pulchellum – an orchid thought to be extinct in Singapore for more than fifty years. Gardenwise 48: 16-17.
Wang Xiaoming, T.W. Yam, Q. Meng, J. Zhu, P. Zhang, H. Wu, J. Wang, Y. Zhao & X. Song. (2016). The dual inoculation of endophytic fungi and bacteria promotes seedlings growth in Dendrobium catenatum (Orchidaceae) under in vitro culture conditions. Journal Plant Cell, Tissue and Organ Culture (PCTOC), 126(3): 523-531
Tay, S., He, J. and Yam, T.W. (2015). Photosynthetic Light Utilization Efficiency, Water Relations and Leaf Growth of C3 and CAM Tropical Orchids under Natural Conditions. American Journal of Plant Sciences, 6, 2949-2959.
Yam, T. W. (2013). Native orchids of Singapore: Diversity, identification and conservation. National Parks Board, Singapore.