18th Flora of Thailand Conference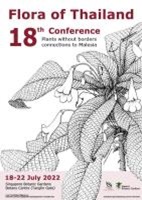 18 to 22 July 2022, SINGAPORE
Organised by Singapore Botanic Gardens, National Parks Board, Singapore
Our Guest-of-Honour for the Opening Ceremony is HRH Princess Maha Chakri Sirindhorn

The Singapore Botanic Gardens, founded in 1859 and inscribed as a UNESCO World Heritage Site in 2015, is one of the leading botanical institutions in Southeast Asia. The Gardens' connections with Thailand can be traced back to King Chulalongkorn's visit to Singapore in 1871 and through Henry Murton, who was the Superintendent of Singapore Botanic Gardens from 1875 to 1880 and then Director of the Royal Gardens in Bangkok until 1882. The most famous of Singapore Botanic Gardens' former Directors, Henry Ridley, explored the south of Thailand in 1910 and described many new species. Connections and collaborations between Thailand and Singapore continue today through joint fieldwork and taxonomic research, including writing Flora of Thailand accounts.

Venue location & language:
For in-person participants: Botany Centre, Singapore Botanic Gardens, Singapore.

For virtual participants: A dedicated website will be available.

The official language for the conference will be English.


Programme:
The Conference will be a hybrid of both in-person and online participation. Due to covid restrictions, the number of registrations available for participation in person will be capped at 100. For speakers who will be in Singapore, the talks will be delivered live and for those attending virtually, they will be pre-recorded and will be made available to registrants only.

Participants are encouraged to give oral and/or poster presentations covering diverse fields of research relating to the plant diversity of Thailand and neighbouring regions. The Scientific Committee will decide on the suitability of all presentations offered and will inform the participants whether their presentations have been accepted.
Click here for the programme (4.3 MB) -- last updated 30 Jun 2022


Dates to note:
Please note that as the number of places available for those wishing to attend the Conference in person is limited, you should register and state your preference early to avoid disappointment.


Registration: Until 10th July 2022
Submission of abstracts (talks and posters) before 17th May 2022.
Abstract(s): max of 500 words
Posters: should be designed to print at A0 size (84.1 x 118.9 cm), portrait format, resolution of 300 DPI.
Late submissions will not be entertained.
Registration fees** (in Singapore dollars):

The price is the same for in-person and virtual attendance.

Please separately email floraofthailand18@gmail.com after registration to inform us whether you plan to attend in-person or virtually.
Professional(s):
International: $400
ASEAN: $100

Student(s):
International students: $200
ASEAN students: $50

* a copy of the Student ID to be emailed to floraofthailand18@gmail.com upon successful payment.

Click here to register / make payment


Accommodation(s):
Metropolitan YMCA Singapore @ Stevens Road



Deluxe Single/Double/Twin at S$170 nett per room per night.
This rate is inclusive of daily breakfast.

Email askmore@mymca.org.sg and quote " FOT 2022 " to enjoy this offered rate.
Orchard Hotel Singapore



Grand Deluxe Room at S$180 nett (single) / S$200 nett (double) per room per night
This rate is inclusive of daily breakfast and complimentary wifi.

Email Jerry.Loh@millenniumhotels.com and quote " FOT 2022 " to enjoy this offered rate.



Additional(s):
Complimentary excursions to Botanical Art Gallery, Seed Bank and Ethnobotany Centre (upon reservation)

** There will be no refund for any cancellation.
Secretariat e-mail:
To receive the second and subsequent circulars, please email the Secretariat:
Serena Lee / Bazilah Ibrahim
Please forward this circular to fellow researchers who may be interested.

Click here to the high-resolution version of the Flora of Thailand 2022 poster.