Arts@SBG presents NAC-ExxonMobil Concert in the Gardens
Date: 30 July 2022, Saturday
Time: 6pm – 7pm
Venue: Shaw Foundation Symphony Stage
Registration: No pre-registration is required, but in line with Safe Management Measures for live performances, only fully vaccinated, recovered, medically ineligible individuals, or children aged 12 and below will be admitted into the concert grounds.

Come and celebrate Singapore Botanic Gardens' Heritage Festival with an evening of classical music! Singapore's most celebrated classical string ensemble, the T'ang Quartet, will perform at the Shaw Foundation Symphony Stage featuring familiar classics - excerpts from works of beauty and refinement by great composers such as Mozart, Haydn, Borodin, Brahms, Bizet and more.

The concert is part of the Arts@SBG NAC-ExxonMobil Concert in the Gardens series. Singapore Botanic Gardens is a part of the National Arts Council's Arts and Culture Nodes Network.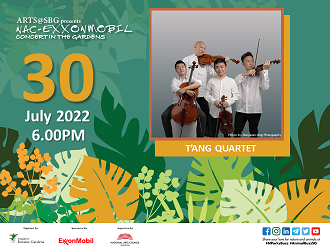 About T'ang Quartet
Constant innovation, steady reinvention and regular updates is the name of the game for the T'ang Quartet (唐四重奏). For the past 30 years, the group's musical dexterity has surprised and delighted audiences locally and globally. Based in Singapore, T'ang Quartet is one of the best known and most accomplished string quartets in Asia.

The Quartet comprises Ng Yu-Ying (1st Violin), Ang Chek Meng (2nd Violin), Han Oh (Viola) and Wang Zihao (Cello).

Audiences hold expectations of no less than yet another ingenious production each time they attend a T'ang Quartet performance. The T'ang Quartet's creative output is a tight, stylish blend of East and West, seamlessly reinterpreting classical work for contemporary fans while appealing to traditional audiences. T'ang Quartet is also the Quartet In Residence at Yong Siew Toh Conservatory of Music, National University of Singapore.

In 2022, T'ang Quartet celebrates three decades of music with a series of concerts as well as the release of their coffee-table book, T'ang At 30, in July.

www.tangquartet.co
Social handles: @tangquartet