An Evening of Pop Opera with FIVERA
Date: 7 August 2022, Sunday
Time: 6pm – 7pm
Venue: Shaw Foundation Symphony Stage
Registration: No pre-registration is required, but in line with Safe Management Measures for live performances, checks will be conducted for all audience members before entrance into concert grounds. Only fully vaccinated, recovered, medically ineligible individuals, or children aged 12 and below will be admitted into the concert grounds.
Join us for an evening of pop-opera with FIVERA!
The evening's entertainment will feature a performance by FIVERA, a quintet of classically trained musicians from Thailand who will thrill audiences with their repertoire of popular classic operatic arias and renditions of universally popular hit songs from the movies and West End show tunes.
Do join us live at the Gardens, or online at our livestream at 6pm!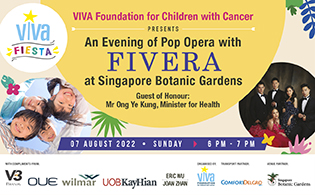 About the Charity
The VIVA Foundation for Children with Cancer is a Singapore-based charity which focuses on saving the lives of more children with cancer. This is achieved through excellence in medical care, research and education, and actionable intervention to assist patients to take charge of their own health and mental wellness.