Arts@SBG: NAC-ExxonMobil Concert in the Gardens presents Nadi Singapura
Date: 19 March 2023, Sunday
Time: 6pm – 7pm
Venue: Shaw Foundation Symphony Stage, Singapore Botanic Gardens
The Arts@SBG NAC-ExxonMobil Concert in the Gardens series presents Nadi Singapura.

Witness Nadi Singapura's mastery of drumming and music in Istana Cinta - Palace of Love. Featuring exclusive and original compositions that reflect their passion for Malay music, culture, and evolving identity, amidst the progressive urban landscape of our multicultural society. Through the harmonious blending of Rebana, Gendang, Jidur, Marwas, Talempong, and other instruments, Nadi Singapura demonstrates their commitment to pushing the limits of creative expression and their unwavering passion for their craft - a remarkable display of their skill and dedication.

Since 2011, the ensemble has produced numerous shows and have been invited to various international music and folkloric festival across the globe.

Come on down for an immersive experience inspired by the customs and traditions practiced by the Malay community in Singapore and the Nusantara, thoughtfully crafted by Nadi Singapura. A concert not to be missed!

Nadi Singapura is a recipient of the National Arts Council's Major Grant for the period of 2023 – 2025.

This concert is part of the Arts@SBG NAC-ExxonMobil Concert in the Gardens series. Singapore Botanic Gardens is a part of the National Arts Council's Arts and Culture Nodes Network.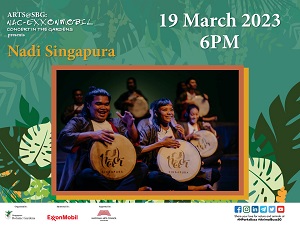 Nadi Singapura
Formed in November 2011, the Nadi Singapura ensemble is made up of young, aspiring and impartial musos who believe in uplifting their traditional drums and percussions like no other. Nadi, which means 'pulse' or 'flow of consciousness' in Malay, features the most common Malayan drums found in Singapore namely the kompang, rebana, jidur and gendang in their performances. The ensemble is led by two renowned individuals in the Singapore Malay Arts scene, Rebana artisan, Yaziz Hassan and prominent drummer/percussionist, Riduan Zalani. Both founders aim to position Nadi Singapura as a dynamic ensemble which adopts an innovative approach in the use of the Malay Archipelago drums.