Connecting People and Plants Exhibition
Date : 24 Oct 2020 to 14 Mar 2021
Time : 9am to 6pm daily*
Venue : CDL Green Gallery (located beside level 2 of the Botany Centre)
Connecting Plants and People : A Century and More of Gardening Contributions
Go on a journey through Singapore's gardening history. For over a century, the Singapore Botanic Gardens, among others, has contributed to nurturing a gardening nation. Key among the Gardens' initiatives is its association with the early gardening and horticulture movement in Singapore that continues today.
In this exhibition, discover how people and plants of past and present come together through a love for gardening, and find out how you, too, can be a part of this movement.
Be greeted by a garden display featuring a myriad of edibles at the entrance of the gallery.
Living sustainably requires us to be conscious of our basic needs and the ecological footprint we leave on this world. Inspired by the diverse range of plants and objects that we use in everyday life, a garden of edibles has been created using repurposed and recycled rubber tires, discarded wheelbarrows and old gardening tools. Come and experience the "new-old" edible plots amidst colourful ornamental blooms and foliage!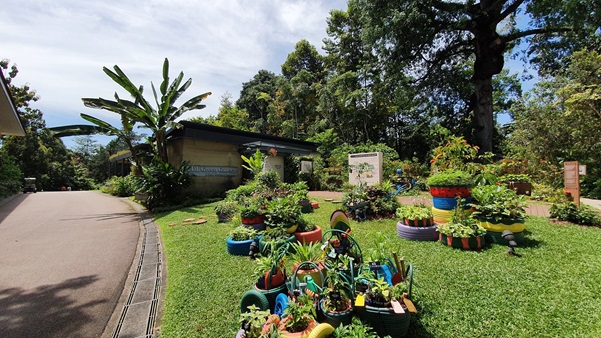 *The CDL Green Gallery is closed every last Tuesday of the month. If the closure day falls on a public holiday, the closure will be moved to the following working day.
Note : The CDL Green Gallery will be kept open on 27 October 2020, Tuesday for the SBG Heritage Festival 2020.