Home: Made with Plants
What plants make you think of home?
'Home: Made with Plants' invites visitors to rediscover their relationship with plants and communities across the region, from past to present, while reflecting on what 'home' means to them. It houses stories from the community about personal and cultural connections with plants commonly found in and around homes across Southeast Asia. This exhibition is a collaboration between SBG's Centre for Ethnobotany and ground-up initiative SayurStory, co-created by migrant domestic workers in Singapore.
Visit its virtual living room here!
Co-curators: Hanisha Marni Astuti (Lily), Liza Elupre Sale (Liza), Nam Nei Them (Themboi), Mince Djara Lodu (Ince)
Facilitators: Leong Man Wei, Yap Cai Ni
SayurStory is a ground-up initiative that aims to grow an inclusive community with migrant domestic workers in Singapore through nature-based connections. Founded in 2020, it has engaged migrant domestic workers and local communities in gardening and cooking activities, amongst other initiatives like nature art and ethnobotany walks.
Venue: Level 2, Centre for Ethnobotany (Ethnobotany Garden)
Nearest Entrance: Bukit Timah Gate (Botanic Gardens MRT)
Date: 6 June 2022 to 11 Dec 2022
Time: 9am – 6pm
Closed every last Wednesday of the Month
Admission is free
Please take note of the scheduled closure dates:
12 June & 19 June 10.30am to 12.30pm
Using banana leaves to prepare suman and bot-ong (glutinous rice and coconut milk snacks). Photo by SayurStory.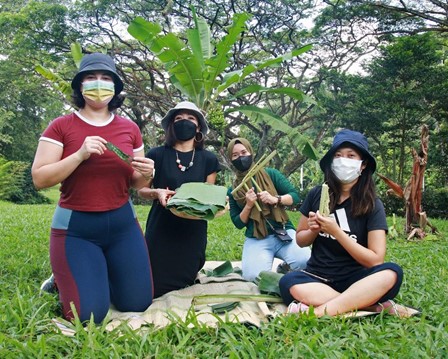 Using various parts of the banana plant to make crafts and toys. Photo by SayurStory.