Exhibition @ Centre for Ethnobotany
Uncommon Market Vegetables
Exhibition runs from 17 December 2022 to 18 June 2023
Venue: Level 2, Centre for Ethnobotany (Ethnobotany Garden)
Nearest Entrance: Bukit Timah Gate (Botanic Gardens MRT)
Open Daily from 9am – 6pm (Closed every last Wednesday of the Month)
Admission is free
Ethnobotany is the study of the relationship between people and plants and the customs and traditional knowledge related to plants and their uses.
One of the most important uses of plants is as a source of food. While it has been estimated that the average person eats about 100 different species of plants in a year, there are actually 30,000 or more edible plant species recognised in the world! Such edible plants or plant parts may be broadly defined as vegetables and they are consumed for their nutritional value or medicinal benefits.
Come visit this exhibition and learn about some uncommon vegetables that you may or may not have heard about. Many of these can be found in Singapore's wet markets and supermarkets, and are also planted on the grounds of the Singapore Botanic Gardens.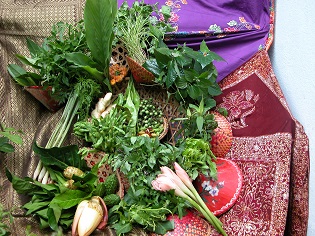 A variety of vegetables which may be used in the traditional Malay salad ulam. Photo credit: M. Sugumaran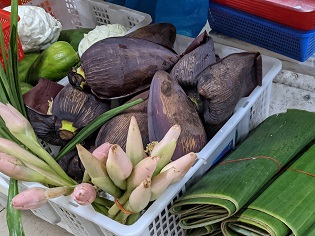 You probably enjoy eating banana fruits, but did you know that banana flowers can also be cooked and eaten in at least three different ways? Photo credit: L. Neo