The Spectacular Shores Of Singapore
A Day With: Pierre-Yves Cousteau, President of Cousteau Divers
Pierre-Yves Cousteau leans against the railing of the dive boat. He gazes at the Singapore skyline silhouetted against the sunrise, and the multitude of ships visible on the horizon. All these stand in stark contrast to the quiet solitude of the Sisters Islands, off which we are docked. He smiles, in silent amazement.
Despite his relative youth, 29-year-old Pierre-Yves is no stranger to the weird and wonderful world under the sea. He is the youngest son of famed undersea explorer, ecologist, innovator and marine conservation pioneer Jacques Cousteau. The older Costeau's documentaries inspired a generation of marine biologists, and his co-development of the aqua-lung made underwater exploration and recreation possible.
Pierre-Yves is already a veteran of Mediterranean and Caribbean diving. True to the Cousteau legacy, he started Cousteau Divers, an outfit that aims to unite "divers who are concerned about the marine environment... making each diver an agent of the study and conservation of the marine realm".
He also stars in an upcoming National Geographic documentary, where he re-visits the sites in the Northern Mediterranean where his late father had dived and filmed in the 1950s. The documentary spotlights the impact brought about by overfishing.
You could well say that Pierre-Yves has seawater running in his veins. Yet, this trip to Singapore is his first trip to Asia. He was quite taken with the fact that our marine biodiversity exists hand-in-hand with the first-world cityscape as a backdrop. It is a vastly different paradigm from the norm, he said – where "rich marine biodiversity" typically equates to "isolated, clear-water coral reefs".
The Singapore Environment Council (SEC) organised this trip and invited NParks to lead a dive and low tide reef walk. Pierre-Yves was astonished at every turn. During the reef walk, guided by irrepressibly enthusiastic volunteer and nature blogger Ria Tan, Pierre-Yves was treated to a diverse range of interesting intertidal creatures. One by one, they dispelled his initial scepticism. We encountered a locally-endangered giant clam; two seahorses; spider conch snails; carpet anemones with "Nemo" clownfishes; blue-spotted stingrays; circular mushrooms corals; colourful sea slugs; a scorpionfish and several octopuses. All these without even getting wet above his ankles!
After the walk, the NParks team led two dives. The dive teams were treated to the sight of huge coral colonies; a baby shark; sea whips; featherstars; and mating nudibranchs. These were sighted despite the downpour that preceded the dive, and the fairly poor visibility at the dive site.
The coral reef remains a source of wonder and Pierre-Yves was impressed with the number of species we harbour in our small and crowded seascape. Singapore has more than 250 hard coral species in about ten square kilometres of coral reef area – more than the number of species that exist in the Mediterranean, as well as the Caribbean.
It was a different and possibly more challenging dive than he was used to, but eye-opening and highly educational nonetheless. After the dive, Pierre-Yves remarked that he sees the potential beauty of our reefs. He later told the media that he was grateful to have experienced our fantastic marine biodiversity.
We are honoured that the heir of the Cousteau marine conservation legacy has been so fascinated by his Singapore visit. It speaks volumes about what we have to offer – a unique juxtaposition of rich biodiversity with an urban environment, both on land and at sea. We hope that more people around the world will come to realise that coastal and marine habitats still exist in Singapore and are worth a visit, and that they are an integral part of our natural heritage.
By Jeff Low
Photos by Jeff Low and Shaw Soo Wei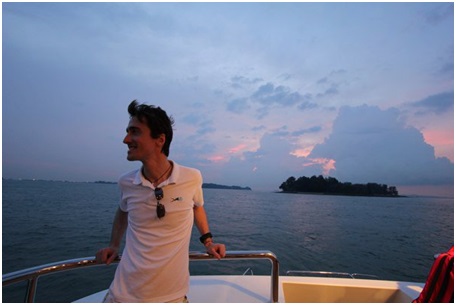 In his element – Pierre-Yves Cousteau enjoying the view off Sisters Island.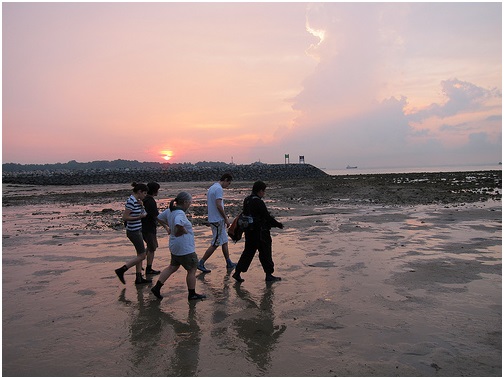 Volunteer Ria Tan leads the charge in the early morning reef walk at "Big" Sisters lagoon.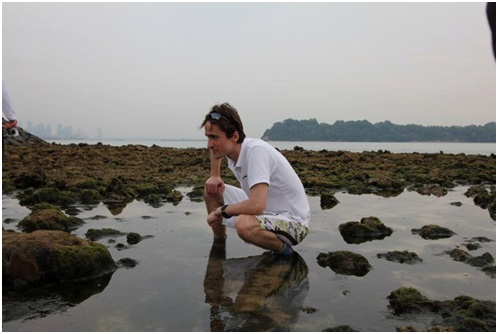 Pierre-Yves marvels at the lagoon's intertidal life.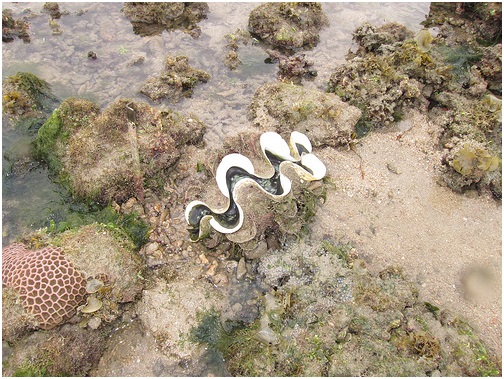 A giant clam (Tridacna squamosa) encountered at the reef walk.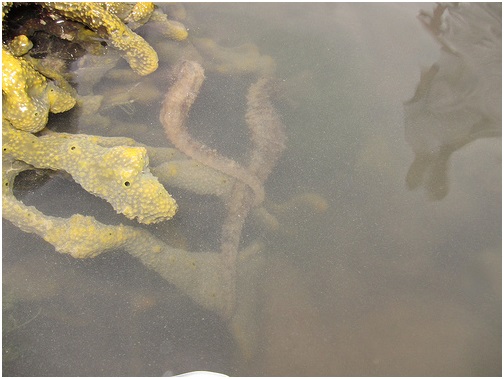 Two seahorses (probably Tigertails, Hippocampus comes) attempting to look like sponges.

Featherstars, like this one, adorned the sea whips and sea fans at the deeper reef slope.

Two mating Hypsolodoris bullock nudibranchs.