Introducing Flora&FaunaWeb
Perhaps you recently visited a plant nursery and saw a pretty bloom, but wanted to know more before bringing it home. Or maybe you have a pot of Sweet Basil (Ocimum basilicum) that isn't growing well – and you're not sure if you've provided it with the best growing conditions.
If you've ever been in such a situation, help is at hand with NParks' Flora&FaunaWeb (http://florafaunaweb.nparks.gov.sg), a website that integrates information on both plants and animals in Singapore into a one-stop portal. Launched in April 2011, Flora&FaunaWeb provides information on more than 2,500 plant and 1,000 animal species found in Singapore.
Flora&FaunaWeb is extremely user-friendly. Browsing and searching is made easy for you. For instance, if you are a gardening enthusiast looking for plants suitable to grow indoors, simply mouseover the "Browse Plants" button, then choose "interiorscape / indoor plants". If you work in the landscape industry and are planning a vertical greenery project, there is also a category on plants for green roofs.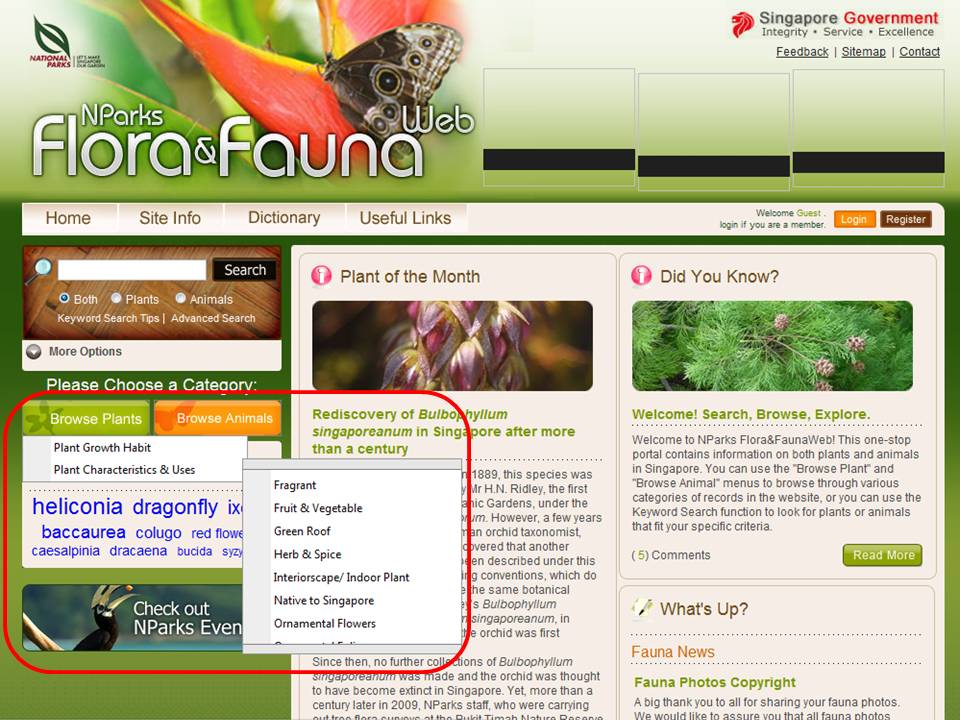 The same search features extend to information on animals. If you're curious about the fauna of Bukit Timah Nature Reserve, just select the corresponding location entry from the categories available under the "Browse Animals" function.
Information on each plant and animal species is presented in a profile page. In a plant profile page, you will find the plant's scientific and common names, description, uses and how to care for it. So the owner of the Sweet Basil plant will learn that it requires full sun and moderate watering. The fauna profile pages are similar, but also include the locations where each particular fauna can be found.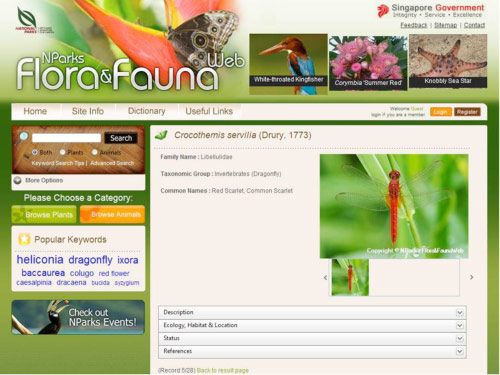 All profile pages also provide reference sources for further information, such as NParks publications. Also referenced is the "Singapore Red Data Book", an invaluable source on the conservation status of plants and animals in Singapore. It is based on the system developed by the International Union for Conservation of Nature (IUCN).
To enhance your browsing experience, plant and animal profile pages are also linked where there are plant-animal associations. If you are viewing the profile page of the Yellow-Vented Bulbul (Pycnonotus goiavier), a bird commonly seen in our parks and gardens, you will learn that it feeds on the fruits and seeds of the plants Melastoma malabathricum and Dillenia suffruticosa. The profile pages of these plants are hyperlinked to the page on the Yellow-Vented Bulbul.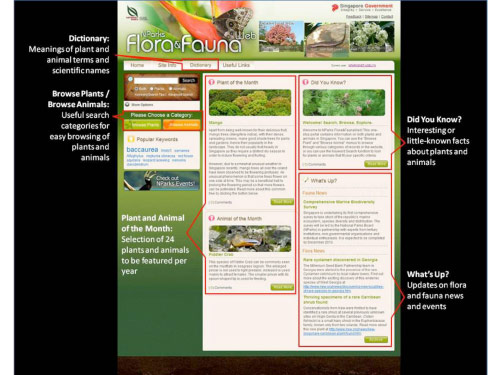 In the same way, you can also find out which animals a particular plant has interactions with. For instance, did you know that the Malay Lacewing butterfly (Cethosia hypsea hypsina) feeds on the Large-leafed Adenia (Adenia macrophylla)?
A picture paints a thousand words – so Flora&FaunaWeb includes lots of photographs to illustrate the plants and animals. These photographs are contributed by NParks staff, as well as by partner institutions, nature groups… as well as you! Just register for a free account, and you can share photos and information with other Flora&FaunaWeb users through the "Share Your Photos" feature, or by leaving comments on the profile pages.
You can also look forward to reading about a featured plant and animal each month ("Plant of the Month" and "Animal of the Month"), fun and unique plant and animal facts ("Did You Know?") and updates on flora and fauna news and events ("What's Up?"). You can also refer to the Dictionary which sheds light on unfamiliar terms related to flora and fauna.
We hope you will enjoy using Flora&FaunaWeb. If you have any suggestions on new features you would like to see, or any other feedback, just click the Feedback hyperlink located at the top right-hand corner of each page, or email us. We would be glad to hear your comments and suggestions.
By Joyce Foo, Chng Mun Wye and Cheryl Chia