Enhancing Butterfly Habitats at Tampines Eco Green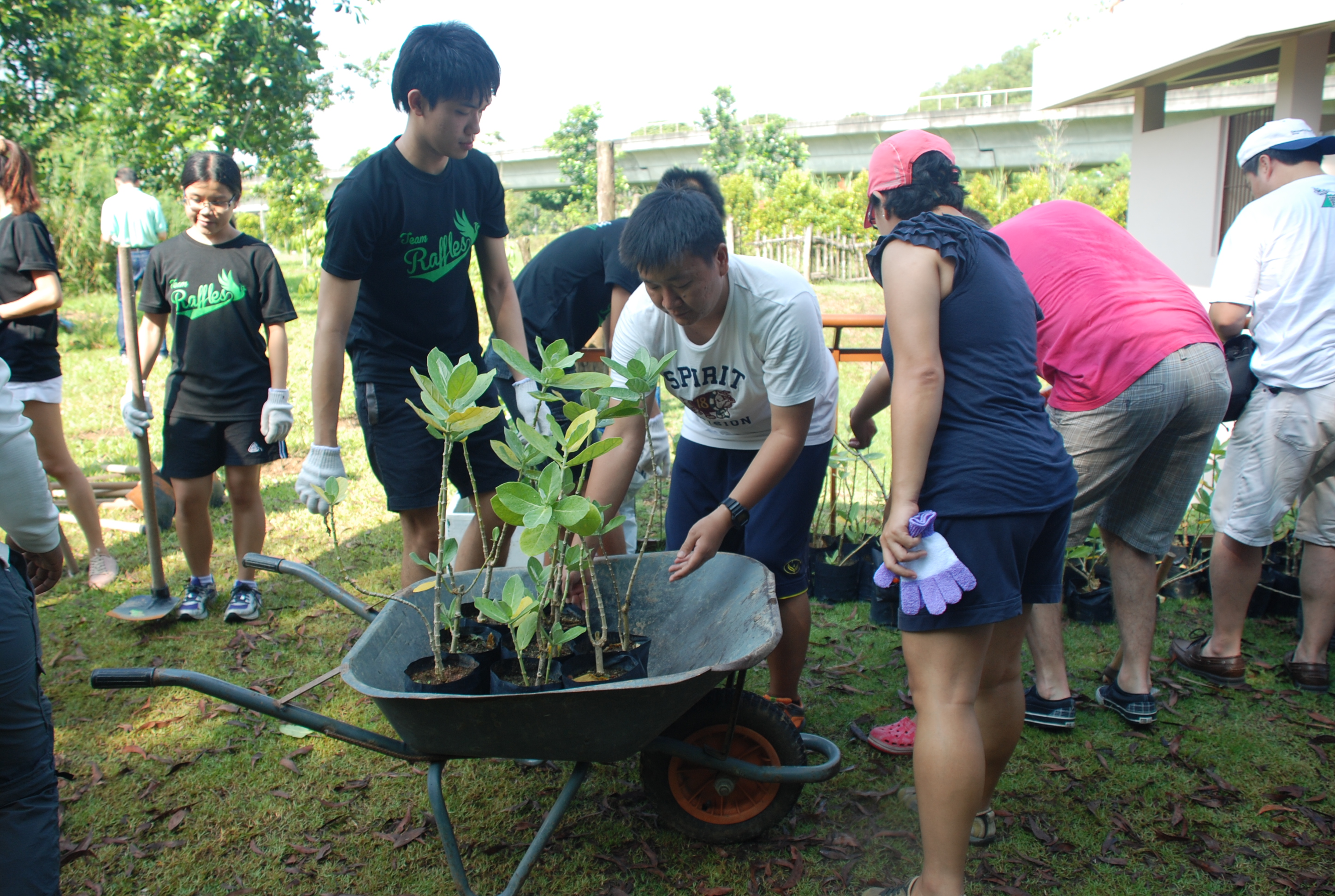 Volunteers loading Crown Flowers onto the wheelbarrow for planting. The leaves of these shrubs are a feast for caterpillars.
Nestled in the northern end of Tampines is NParks' first eco-friendly park, Tampines Eco Green. It teems with biodiversity: over 80 species of birds, 30 species of butterflies and 20 species of dragonflies, among other fauna. With such a rich biodiversity, the park offers visitors of all age groups an exciting outdoor experience.
In an effort to survey and document the flora and fauna in the park, NParks launched the All Taxa Survey in January 2012 with the support of Garden City Fund. Along with the land and water plants in the park, seven animal groups were surveyed for one year.
How the project started
Knowing what wildlife exist in the park and recording their numbers is just the first step in a conservation project. The information collected would be used to enhance the wildlife population and create more conducive habitats for them to flourish in.
From the results of the All Taxa Survey, the Butterfly Habitat Enhancement Project was created at Tampines Eco Green. It had been established during the survey that the most common butterflies found in the park were Plain Tigers, Dark Glassy Tigers and Black-veined Tigers.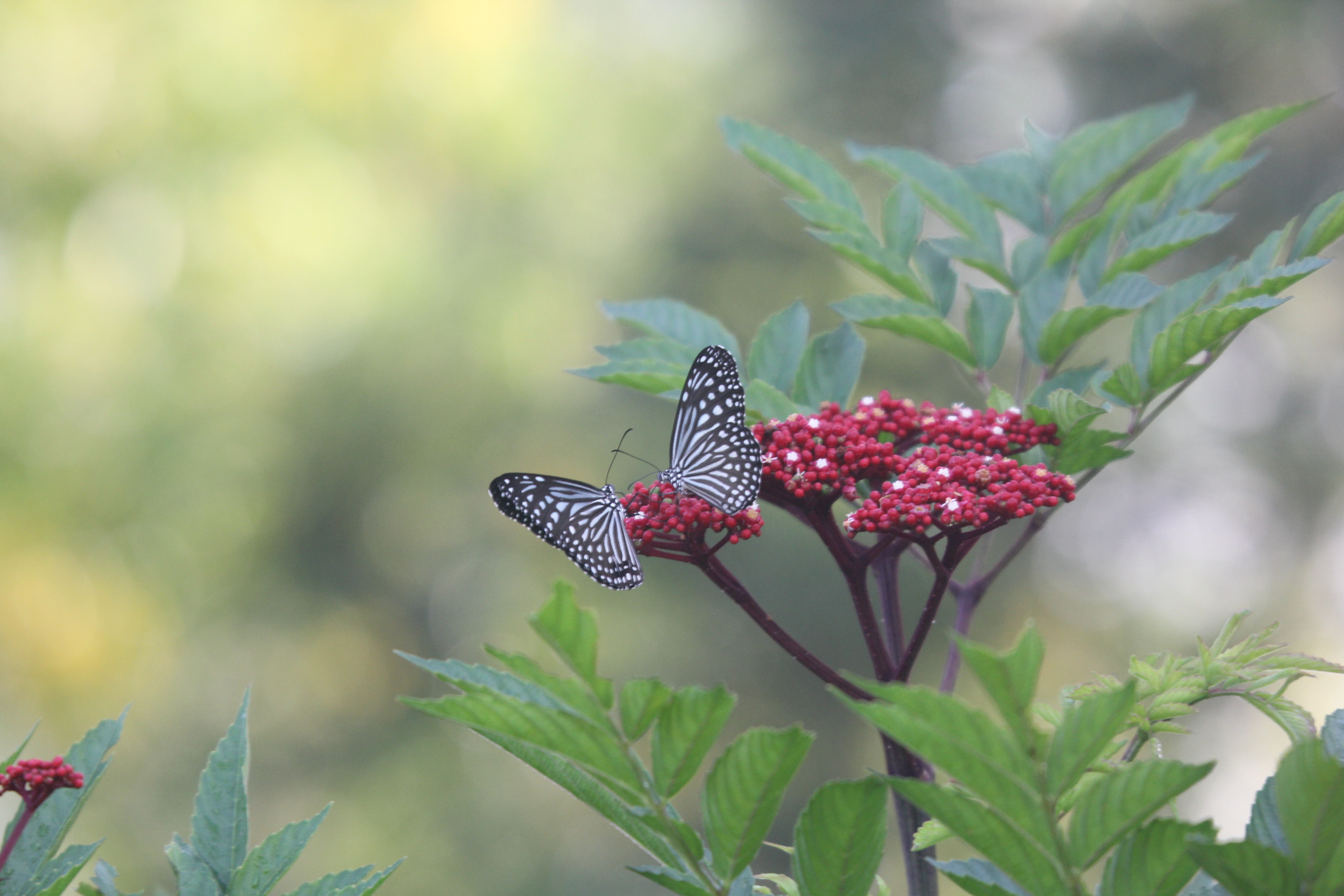 Dark Glassy Tiger butterflies on a Red Leea plant.
As a result, Khew Sin Khoon from the butterfly-interest group ButterflyCircle, the advisor for the butterfly surveys, encouraged the planting of more butterfly-attracting plants to increase their numbers as well as movement range in the park.
In October last year, the Green Volunteers led by its founder-leader Grant Pereira, partnered NParks in kick-starting the habitat enhancement. The Green Volunteers are veterans in creating butterfly gardens in Singapore.
Grant Pereira of the Green Volunteers demonstrating to gardening first-timers how plantings are done.
Their skilful handiwork can be seen at Pasir Ris Park Kitchen Garden as well as Stamford Green at Fort Canning Park. To date, over 60 volunteers have helped on a regular basis to introduce more than 200 host and nectar plants to Tampines Eco Green. These volunteers include children as young as six years old! They would show up every Saturday to cultivate, weed and water the plants in the park.
Jan Tan, an NParks intern from Ngee Ann Polytechnic, said, "I truly enjoyed my time with the kids, teaching them how to weed and collect seeds from the Ulam Raja plant. One parent even told me that she believes children should be brought up to be closer to nature instead of spending time on computer games. That was the main reason why she always encourages her 6-year-old-son, Jia Le, to join these volunteer activities."
Apart from creating habitats for our urban biodiversity, such volunteer programmes also serve as platforms for family bonding and community engagement. Carlyn Law, a public relations consultant in her 30s, shares what it takes to be a Green Volunteer, "We come from all walks of life and are bound by our love for gardening and nature; seeing how the butterfly plants thrive and attract the butterflies so as to make our community spaces beautiful."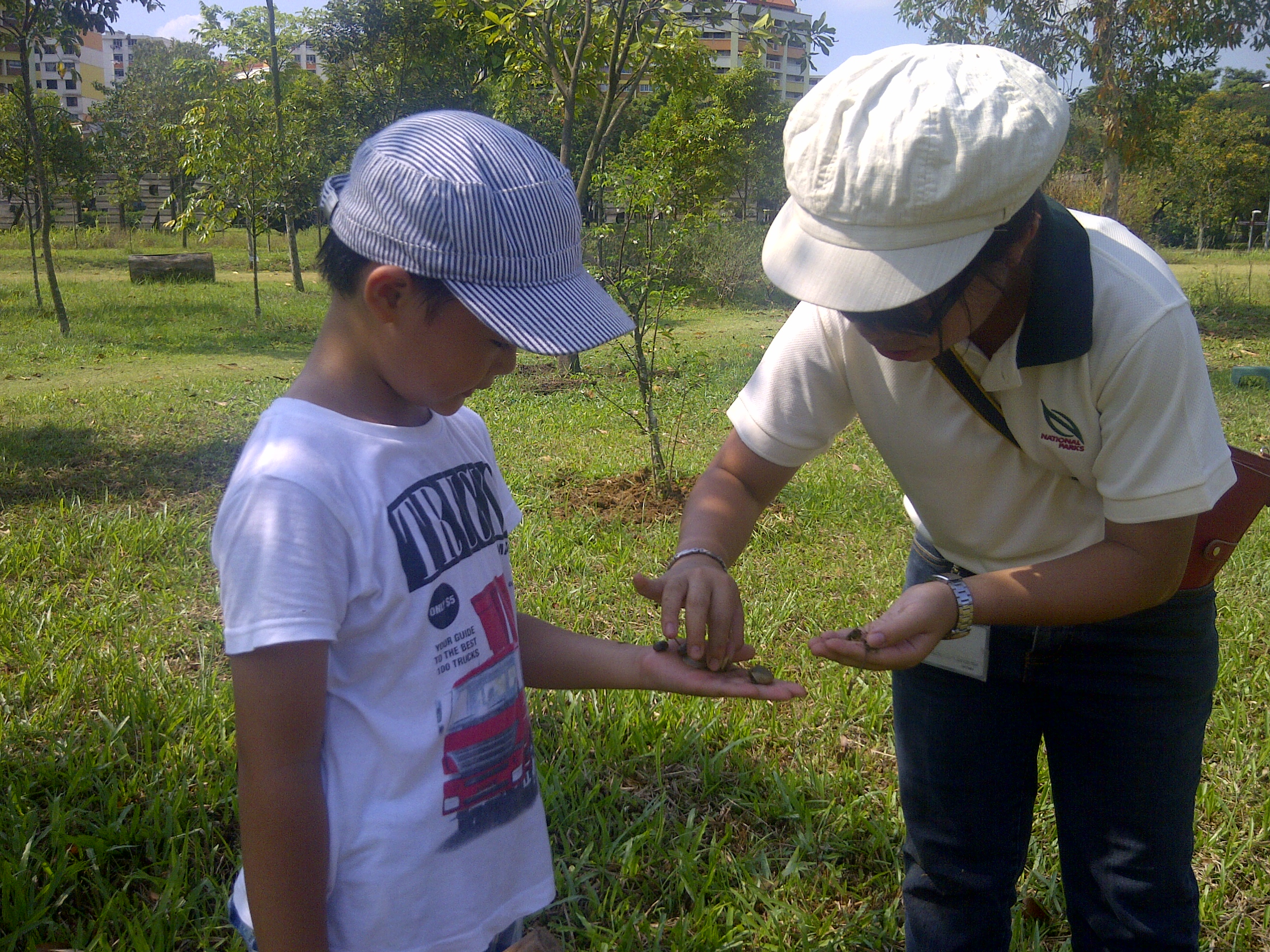 NParks intern Jan Tan arranging snails of different sizes on a young volunteer's palm to show him the variety of snails found in the park.
This project is so successful that it has led to several volunteer initiatives in Tampines Eco Green. Currently, students from Tampines North Primary School have embarked on the Green Guides Training Programme conducted by NParks, in which they are trained to conduct tours of the park for the public. IT Club students from Dunman Secondary School are partnering NParks to create an animal monitoring app for Tampines Eco Green. This app allows park users to take photos during their walk and these photos will then be embedded into the map in the app. Park users will thus have a personalised map featuring the sights they saw during their walk.
The objective of these community engagement projects is to increase awareness among Singaporeans of our country's biodiversity, as well as promote the outdoors as a lifestyle option in our increasingly urbanised society. If you are interested in volunteering with NParks, visit our website for more information.
By Nanthini Elamgovan
Photographs of volunteers by Jan Tan
Photograph of young volunteer with intern by Grace Ang
Photograph of Dark Glassy Tiger by Toh Yuet Hsin.