Discover the Many Uses of the Roselle Plant!
The roselle plant is well known for its fleshy calyces that are used to make a beverage that tastes like Ribena. The drink reportedly possesses anti-hypertensive, diuretic and mild laxative properties, and contains abundant amounts of natural antioxidants such as vitamin C and anthocyanins.
Either fresh roselle or dried calyces are used to make the drink. They are first boiled in water to yield a deep-red and sour beverage, which is then sweetened with sugar and chilled in a refrigerator before serving.
Besides producing calyces for making drinks, the roselle plant has a stem that is laden with calcyes at every node. This can be turned into an alternative cut-flower material for flower arrangements, after the removal of its leaves.
Also, did you know that the young leaves and tender shoots of the roselle plant are edible? They can be eaten raw in salads or cooked as greens either on their own, or with other leafy vegetables and meat. The stems of the roselle plant also yield a fibre that can be used as a substitute for jute in making burlaps.
The roselle plant is easily raised from seeds or stem-cuttings, and is best grown using well-drained, fertile soil. It can be planted outdoors in the ground or inside a container placed on a windowsill or balcony, as long as the plant receives direct sunshine for at least six hours daily. Fertilise regularly with granular fertiliser to encourage vigorous growth and generous production of calcyes at maturity.
If you were wondering what calyces are (singular – calyx), well, they refer to the collection of sepals behind the petals of a flower. Sepals in most flowering plants are leafy and green, forming the outer protective covering of a flower bud.
Botanically known as Hibiscus sabdariffa, the roselle plant is a member of the hibiscus family, Malvaceae. The plant is a shrub that produces numerous attractive, pink-coloured hibiscus-like flowers, with a distinctive eye in the centre.
By Wilson Wong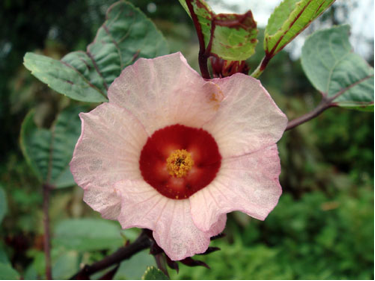 The pink flower of the roselle plant that looks like a small hibiscus.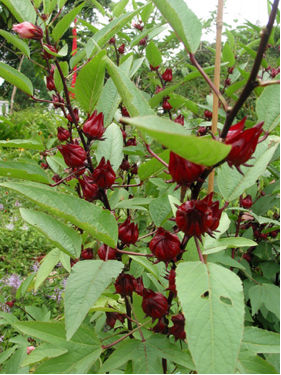 A stem with calyces on it makes an attractive cut-flower material for flower arranging.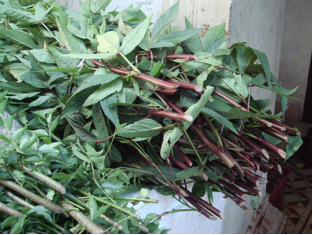 Cut portions of roselle plants are sold as a leafy vegetable in Little India.