Working Together to Enhance the Native Coastal Habitat at Coney Island Park
If you've visited Coney Island Park recently, you may have noticed a new feature nestled amongst its Casuarina forest. Sitting along the main path, this little plot actually hosts a surprising variety of plants.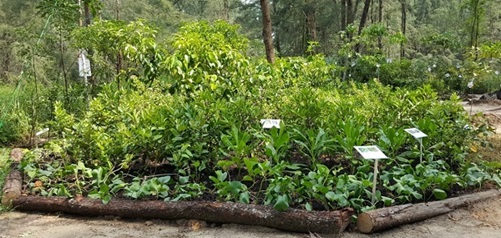 A coastal forest "demonstration" plot at a habitat enhancement site in Coney Island Park
Rose Myrtle
(Rhodomyrtus tomentosa)

Seashore Purslane
(Portulaca pilosa ssp. pilosa (race pilosa))

Small-leaved Nutmeg
(Knema globularia)


Twin-Apple
(Ochrosia oppositifolia)
Free-flowering shrubs found commonly along the sandy, coastal beaches of Singapore, as well as a variety of coastal trees
This plot marks the first phase of a new habitat enhancement programme for a 4-ha area in the park! The five-year programme, which was launched on 29 June 2017, will see the reforestation of the 4-ha plot with over 50 different native coastal species suited to Coney Island Park's environment. Partnering the National Parks Board (NParks) on this programme are OCBC Bank management and staff who are contributing $250,000 to the Garden City Fund and participating in various volunteering efforts.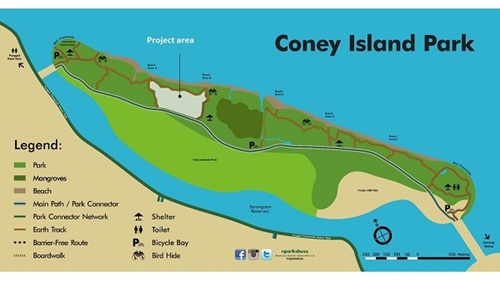 The project area where the habitat enhancement programme is ongoing
To kick off the programme, 60 OCBC Bank management and staff joined NParks for a fun afternoon of planting on 29 June 2017. Twenty different plant species were introduced to the plot, including the presumed nationally extinct Twin-Apple (Ochrosia oppositifolia).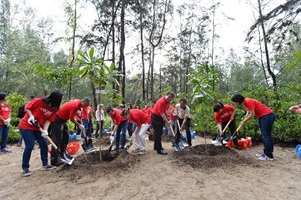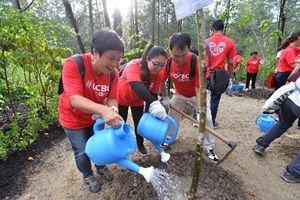 OCBC staff volunteers greening up the plot (Photo credits: OCBC Bank)
Caring for our biodiversity together
Work had actually started as early as 31 May 2017 when 20 OCBC staff volunteers partnered NParks staff on a trip to Coney Island Park and Punggol Promenade to collect seeds and harvest plants suitable for introduction to the project area.
Some of the plants required specific harvesting methods, such as air-layering. This is a method of propagating new trees and shrubs from stems still attached to the parent plant, in which the stem is wrapped with damp moss to encourage roots to form.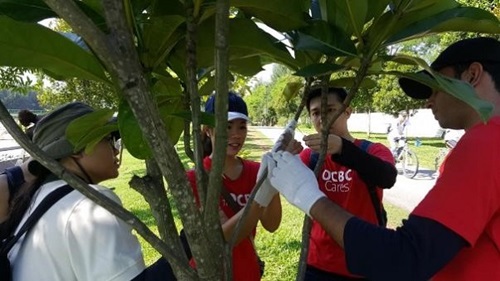 Guided by NParks staff, OCBC volunteers carry out air-layering on Pelir Musang (Fagraea auriculata).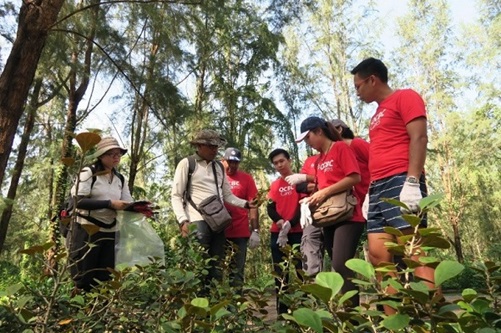 The volunteers learn how to take cuttings. (Photo credit: OCBC Bank)
The plants and seeds were brought back to NParks Pasir Panjang Nursery where the volunteers helped to process the cuttings and seeds and plant them into trays. These plants will be nurtured in the nursery until they are of suitable size and hardy enough to be planted on site.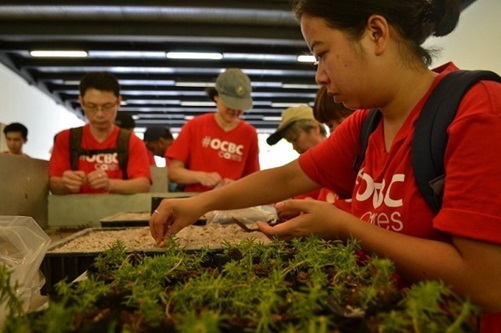 Seeds are planted into trays, and the resulting plants will be nurtured until they are of suitable size (Photo credit: OCBC Bank)
An estimated 1,400 OCBC staff volunteers will be working with NParks over the next five years, on activities ranging from identifying plant species to be planted, propagation, maintenance, coastal clean-ups, and conducting learning expeditions to rally support for conservation efforts in Coney Island Park.
How habitat enhancement helps Coney Island Park, and Singapore!
Many of the species to be introduced to the plot are nationally critically endangered, such as the Small-leaved Nutmeg (Knema globularia), Silver Bush (Sophora tormentosa) and the Damak-damak Tahun (Scolopia macrophylla), a tree that was thought to be extinct until its rediscovery in 2014. At present, Coney Island Park is the only place in Singapore where this species is found. Through the habitat enhancement programme, more specimens will be introduced and we hope to help its population recover!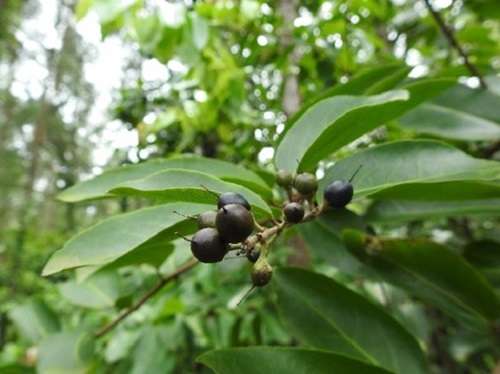 The fruit of the Damak-damak Tahun (Scolopia macrophylla) (Photo credit: Eileen Chia)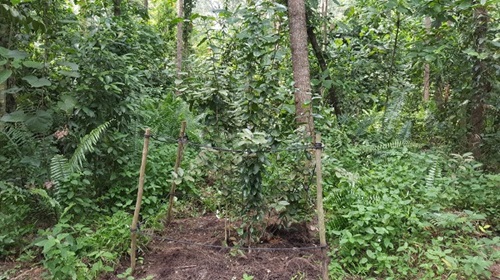 The Damak-damak Tahun (Scolopia macrophylla), which was last seen in 1953 before being rediscovered in 2014
These introduced plants will act as seed sources for the subsequent regeneration of the natural ecosystem, building up the overall plant diversity in this area. This also means that there will be more food and shelter for fauna, including the Rusty-breasted Cuckoo (Cacomantis sepulcralis), the Spotted Wood Owl (Strix seloputo) and dragonflies like the Sultan (Camacinia gigantea) and Lined Forest-Skimmer (Cratilla lineata), in turn contributing to the conservation of our native biodiversity.
You can help too!
This habitat enhancement programme fits in Singapore's plan for conservation of our natural heritage. Without the help of corporate partners and members of the community, achieving that goal would be a much greater challenge.
If you would like to play an active part in Singapore's biodiversity, how about volunteering through one of our many programmes that involve plant propagation or reforestation (https://www.nparks.gov.sg/contribute/volunteer), or Community in Nature (CIN) initiatives? You can also contribute by sponsoring the planting of a tree or the seeding of a coral reef under the Garden City Fund.
Text by Toh Wan Ting