Contest Issue 41
In this issue, we are giving away five sets of prizes, each comprising either a Frangipani or Torch Ginger botanical journal with bookmark.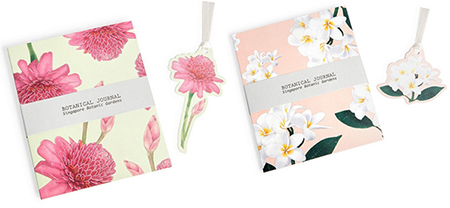 Made from 100% recycled fibre, this beautiful botanical journal measures 17 x 14 cm and has writing lines on all pages matched with a pretty bookmark – perfect for you to note down your thoughts and ideas after a pleasant stroll in our parks and gardens.
Simply answer the questions below and you could be a lucky winner!
In the article, "Singapore History Amidst Lush City Greenery", we trace the history of Fort Canning Park. According to the article,
What is the height (in metres) of Fort Canning Hill?

In which year, was the hill converted into a fort and renamed Fort Canning?
Contest closes 17 May 2019. Email your answers to nparks_communications@nparks.gov.sg with the subject title "My Green Space Contest Apr – Jun 2019", together with your name, e-mail address, IC/Passport number and contact number.
My Green Space Contest Winners: January – March 2019
Congratulations!
Li Sihui

Adeline Wong

Ong Seng Hwee

Cecilia Lai

Yee Xiaojie