Who? Who? Bulbul!
Bulbuls are medium-sized songbirds in the family Pycnonotidae, found in Asia and Africa. Some of them may be colourful, but many of them have brown plumage. They generally do not show sexual dimorphism, meaning that the males and females look alike, although females can be smaller in size. Some species also have a distinct crest on their heads.
Even if some of them look drab, bulbuls are good songsters, and some of them are very popular as cage birds. Most species are frugivores, but some do also take insects as part of their diet. As they eat a large variety of fruits, bulbuls are seed dispersers to many plant species.
There are 13 species of bulbuls in Singapore, and six of them are regularly seen in our parks and nature reserves. Learn about the differences between these six more commonly seen bulbul species in Singapore.
1. Yellow-vented Bulbul (Pycnonotus goiavier)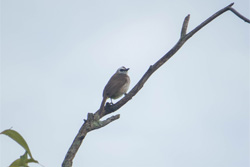 Photo credit: Tok Yin Xin
The Yellow-vented Bulbul is a common species found in our green spaces. It is highly adaptable and can be found in a variety of habitats, from coastal scrubland to parkland and urban areas, but not deep forests.
Being a generalist, this species has a very broad foraging spectrum and feeds on a wide variety of plants as well as insects,thus contributing to its ubiquity. This species is identifiable by its black eye mask on a white head, with brown upper parts, pale under parts and a yellow vent.
Text by Tok Yin Xin