Feathered Global Ambassadors
Singapore's reputation as a global tourism hub is well known, but did you know that we welcome more than just human visitors? We are a country of many magnificent migratory birds, particularly during September to March every year.

According to National Geographic, approximately 40% of the birds in the world migrate to warmer areas which have more food to achieve the best living conditions for themselves. Singapore happens to be a hot spot for many of these birds.

Singapore has at least 170 species of migratory birds recorded throughout the country up-to-date, with sightings of these birds at places like Pasir Ris Park, Pulau Ubin and Sungei Buloh Wetland Reserve.

What is more unique is that some of these birds are more unique than others – they are representative or national birds of certain countries! Learn about these birds here.
1. Black-tailed Godwit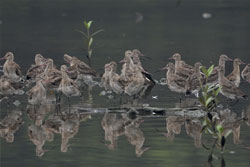 Photo credit: David Li
Standing at an average height of 38 cm, the long-billed Black-tailed Godwit (Limosa limosa) is mostly found in mudflats. It has a long and straight black-tipped bill which is fresh pink at the base. It is, however, named after its tail which is black except for the base, which is white.

An uncommon visitor to Singapore, it stops at places like Sungei Buloh Wetland Reserveto re-fuel enroute to its wintering grounds in Australia. A flock of 32 were recorded in the Reserve in 2015, the highest number sighted since 1996.

It is also the national bird of the Netherlands. However, the European population of the bird does not migrate to Southeast Asia and instead winters in Africa.
2. Barn Swallow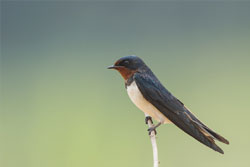 Photo credit: Francis Yap
A considerably smaller bird that stops by Singapore during its travels is the Barn Swallow (Hirundo rustica). With an average size of 15 cm, it is identifiable by the black band across its chest which contrasts starkly with its white belly. Its tail is forked with elongated tail feathers. The longer these tail feathers and the brighter the colours of the bird, the more mature it is!

The national bird of Austria, the Barn Swallow breeds in the temperate region of Eurasia and is a common winter visitor and passage migrant to Singapore between the months of August to April. The largest numbers are usually seen in October, where they are easily observed flying over our parks and water bodies in search of insects. The Sungei Buloh Wetland Reserve is one such location where this species can be observed.
3. Peregrine Falcon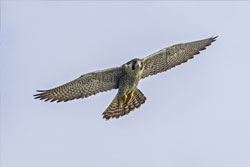 Photo credit: Loke Peng Fai
A symbol of strength and courage, the falcon is the national bird of the United Arab Emirates. In Singapore, you may find the Peregrine Falcon (Falco peregrinus). Renowned for its speed, reaching over 320 km/h during its characteristic hunting dives, it is an uncommon winter visitor to Singapore. Its distinctive features are its blue-grey long-pointed wings and buff-coloured underside with brown spots.

This species has a cosmopolitan distribution, with breeding populations in northern Asia migrating southward to the Malay Peninsula and Sumatra during the winter months. In Singapore, this raptor can even be observed perched on skyscrapers during the winter months.
4. White Wagtail
The White Wagtail (Motacilla alba) is a black, white and grey bird that is usually found close to water bodies such as canals where it forages for invertebrates along the water's edge. It is about 20 cm in length and can be identified by its long black tail that is finely edged with white as well as its white cheeks and sides of head that contrast with its black or grey throat and chin. It has the characteristic habit of wagging its tail actively from side to side, hence its name.

An uncommon winter visitor to Singapore, it breeds widely across the Northern Hemisphere and spends the winter in warmer regions such as Africa, India and Southeast Asia. It is the national bird of Latvia.
Join Our Conservation efforts

Learn more about the migratory birds that pass through Singapore and become involved in our conservation efforts. For more information, please check out Sungei Buloh Wetland Reserve website here.

The Sungei Buloh Wetland Reserve is open to public daily from 7 am – 7 pm. Head on down for your next hangout or family outing and maybe you will be the next lucky one to spot one of our feathery global ambassadors.

You can also learn more about the flora and fauna in Singapore here.


Text by Nur Hafizah
About the writer

Nur Hafizah is a Third Year Mass Communications student of Nanyang Technological University (NTU). She worked in the Communications and Community Engagement (CCE) division of NParks, as part of her school's six-month professional internship programme. During her time in NParks, she wrote and edited articles for My Green Space, contributed to the creation of social media posts and video content, and took photographs for publicity materials for events such as the Forest Restoration Action Plan at Bukit Timah and Central Catchment Nature Reserves and the opening of Raintree Cove at East Coast Park.

Please email wong_yeang_cherng@nparks.gov.sg for more information on our internship programme.