Contest Issue 42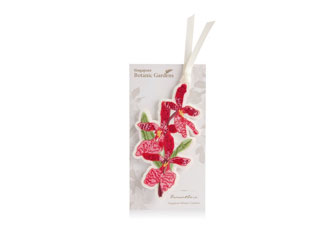 This bookmark features the Renanthera Singapore Botanic Gardens, an orchid hybrid named in 1999 to commemorate the Gardens' 140th anniversary – perfect for you to use this year in 2019 as the Gardens celebrates its 160th anniversary.
Simply answer the questions below and you could be a lucky winner!
In the article, "Playing In Nature", we introduce three playgardens for children to enjoy while learning about nature. According to the article,
How many play features are there in the Nature Playgarden at HortPark?
How large, in hectares, is Forest Ramble at Lakeside Garden?
Contest closes on 16 August 2019. Email your answers to nparks_communications@nparks.gov.sg with the subject title "My Green Space Contest Jul – Sep 2019", together with your name, e-mail address, mailing address and contact number.
My Green Space Contest Winners: April – June 2019
Congratulations!
Wong Lee Chan

Angela Lim

Shirlyn Choo

Cheun Yeut Horg

Zachary Kho