Fuel-up at Jurong Lake Gardens
Fusion Spoon at Jurong Lake Gardens

Located next to Clusia Cove, the water play at the Jurong Lake Gardens, Fusion Spoon is a casual dining spot sure to tantalise the taste buds of the young and old alike. Be spoilt for choice with affordable meal options from local, Asian, Japanese and Western fares. Diners can savour their meals while basking in the beautiful scenery of Jurong Lake with their family and friends.
Do not forget to check out the tuk-tuk "Annette" parked right outside Fusion Spoon. Pick up a bespoke artisan ice-cream on a stick for the perfect ice cold treat in the tropical heat.
| | |
| --- | --- |
| Address | 102 Yuan Ching Road Singapore 618663 |
| Operating hours | 7 am to 10 pm daily |
| Contact number | 6677 8976 |
| E-mail | |
| Website | |

Chef-In-Box
Chef-In-Box at Jurong Lake Gardens serves up piping hot delectable meals. Tuck into a variety of halal-certified bento meals thoughtfully prepared by a team of chefs, with a wide assortment of flavours from Western, Malay, Indian, Thai, Korean and Japanese cuisines as well as delectable local delights.
Using only fresh ingredients with no added preservatives, additives or artificial flavourings, Chef-In-Box's bentos are a nutritious quick-meal solution at any time of the day. Find something to satisfy your rumbling tummy at the Chef-In-Box vending machines found at Forest Ramble and Gardenhouse.
| | |
| --- | --- |
| Address | Forest Ramble and Gardenhouse, Jurong Lake Gardens |
| Operating hours | 7 am to 10 pm daily |
| Contact number | 8606 8800 |
| E-mail | |
| Website | |
Drop Buy – Localized Smart Vending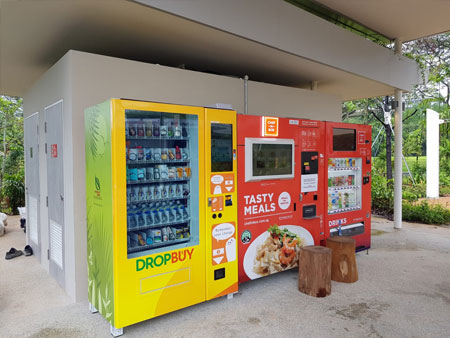 Forgot something while visiting the park? Check out the Drop Buy vending machines for a comprehensive selection of goods and necessities carefully curated to fit your outdoor needs. Available 24/7, the machines conveniently carry various items such as beverages, first-aid items, insect repellent, bicycle tubes, sun protection lotion, electronics, pet food, flower seeds and a host of many other handy products at low prices.
Drop Buy is available at selected parks nationwide.