Introducing Our Elusive Wild Neighbours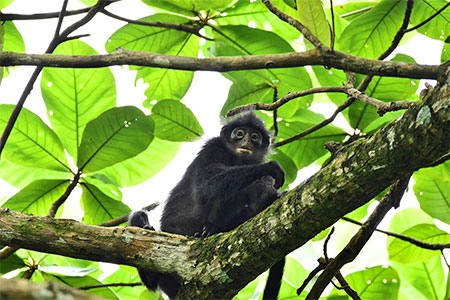 The Raffles' Banded Langur is recognised by its black coat, prominent white eye rings as well as the white stripe down its chest, belly and inner thigh.
Photo credit: Jeanne Tan
You probably have spotted the Long-tailed Macaque when visiting the Central Catchment Nature Reserve, but did you know that we have a much more elusive wild neighbour living next to us?

Unbeknownst to most locals is the Raffles' Banded Langur (Presbytis femoralis femoralis), a native primate that is critically endangered at the national level. It is also one of only three non-human primates found in Singapore. But how much do you know about this animal?

Here are five things you should know about the shy and rarely-sighted Raffles' Banded Langur.
1.

How Did It Get Its Name?
The Raffles' Banded Langur has quite an interesting story behind its name. Why? It is believed that Sir Stamford Raffles was the first to take note of these primates as a species new to science in 1822. It was then named after him.
2.

Where (Not) To Find It?
The Raffles' Banded Langur was once a flourishing species with reports indicating that you could find them in areas like Tampines, Changi,Bukit Timah, Pandan and Tuas.
However, the langurs were confined only to the Bukit Timah and Central Catchment Nature Reserves by the 1980s Recent research indicates that there may be only up to 60 individuals currently, limited to the Central Catchment Nature Reserve. This means the chance of spotting one in its natural habitat is extremely rare!
A number of isolated populations can also be found in southern Peninsular Malaysia but they continue to be threatened by habitat loss.
3.

How Can I Identify It?
This furry critter is recognised by its black coat, prominent white eye rings as well as the white stripe down its chest, belly and inner thigh. It has a whitish crescent-shaped mark on each side of its face between its eye and ear.
These "cute" features were what made them ideal pets in the 1900s causing a heavy blow to their population numbers as many were poached to satisfy the pet trade.
4.

What Are Its Habits and Behaviours?
The langurs' diet largely consists of leaves, fruits and other plant parts that are easily obtainable in the treetops.
5.

What Is Being Done To Conserve Them?
In an effort to boost the population of the Raffles' Banded Langur, NParks has been working with the community to improve their habitat through reforestation and enrichment plantings.
To ensure their long-term conservation, the Raffles' Banded Langur Working Group was formed in 2016. This group includes representatives from NParks, Wildlife Reserve Singapore, National University of Singapore, Nature Society (Singapore), Jane Goodall Institute Singapore and partners from Malaysia, Thailand, Indonesia, and has mapped out a Species Action Plan to guide and implement key conservation work.
The newly opened Thomson Nature Park has also been sensitively enhanced with the planting of more than 1,000 native trees, including food plant species for the langur such as the
Radermachera pinnata
and
Nothaphoebe umbelliflora
.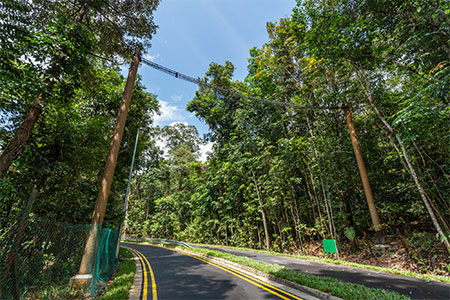 Rope bridges installed across Old Upper Thomson Road help increase aerial connectivity for langurs and other arboreal animals.
Links in the forest canopy have been conserved and enhanced by planting trees with spreading canopies. Rope bridges have also been installed across Old Upper Thomson Road to increase aerial connectivity for the langurs and other arboreal animals.
A pilot trial using technology to prevent vehicle-wildlife collisions has been installed along Old Upper Thomson Road. This system uses video analytics to recognise animals approaching the road and provide real-time alerts to motorists. This gives motorists more time to take necessary precautions, such as slowing down.
Moreover, Old Upper Thomson Road has been converted to a one-lane road to narrow the carriageway, thereby reducing vehicular speed and traffic and enabling animals to cross the road more safely.
How You Can Help
Old Upper Thomson Road is the site of the first citizen science monitoring programme on the Raffles' Banded Langur, where volunteers have been surveying the monkeys' behaviour and demographics. This citizen science programme falls under the Raffles' Banded Langur Species Action Plan.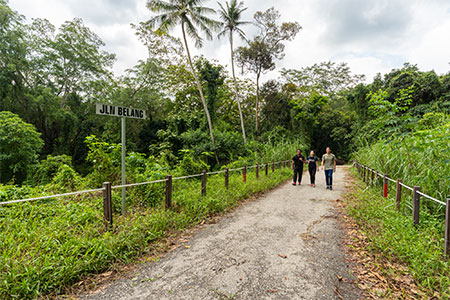 Come explore the unique trails in Thomson Nature Park. Who knows you may be able to spot the elusive Raffles' Banded Langur!
Do visit Thomson Nature Park where the langurs have been spotted in the trees. Who knows, you may be lucky enough to catch sight of our elusive wild neighbours!
If you see the langurs or any other wild animals while out in the nature park,
1.
Do not be alarmed and admire the animals from a distance
2.
Do not attempt to feed the animals
3.
Be quiet and avoid frightening the animals
4.
If you see evidence of traps, snares or nets, do take photos of them and alert NParks
5.
If you see the Raffles Banded Langur, report your sightings and contribute resources or media to NParks to assist in important research and conservation efforts.
Thomson Nature Park is closed daily from 7 pm to 7 am to provide a more conducive environment for nocturnal animals.
Text by Jade Er
About the writer
Jade Er is a Third Year Mass Communications student from the School of Republic Polytechnic. As part of her school's Industry Immersion Programme (Internship), she was attached to the NParks' Communications and Community Engagement department for five months. During this time, she contributed ideas towards social media posts, produced videos and wrote articles for My Green Space.
Please email
wong_yeang_cherng@nparks.gov.sg
for more information on our internship programme.