Success Stories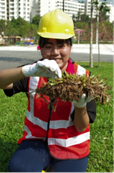 Fresh NUS Graduate- Cheryl Lim, Prince's Landscape & Construction Pte Ltd
I have always love plants and wanted to learn more about them. When I graduated last year from NUS with a B.Sc. in Life Sciences (Environmental Biology), I decided to pursue my interest in plants by joining the landscape industry. I am currently an Assistant Project Manager with Prince's Landscape & Construction Pte Ltd. My work is challenging and extremely fulfilling; my knowledge of plants has improved tremendously yet I continue to learn new things every day. Being in project management, I get to work with many different stakeholders from all walks of life, thereby enhancing my interpersonal and communication skills. After a year with my company, there are plans for me to take on a different portfolio. I am grateful to be given so much exposure at this young age, and so glad I made the decision to join this industry! I strongly encourage anyone with a love of nature and a willingness to work outdoor to step into this industry.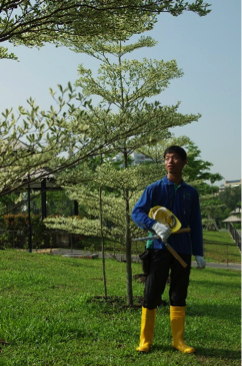 One Step Ahead - Mr James Yeo
Unlike many of his peers, James was very certain of the career path he wanted to pursue. When James heard about the launch of the Landscape Apprenticeship Programme, he immediately signed up for the event. Soon after, he joined Swee Bee Contractors as an apprentice.
Without any prior experience, James had to start from scratch and quickly got acquainted with the basics of landscape maintenance such as hedge pruning and grass cutting. It was not as easy as it looked but James was undeterred. In addition to WSQ training, he also took on driving lessons as that would provide him with another skill to help in his work.
His company was impressed with his drive to excel and in less than two years, James has already been promoted to supervisor.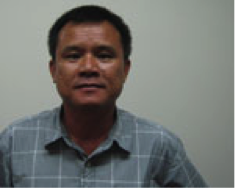 LY Landscape & Development Pte Ltd - Richard Goh
CUGE plays a vital role in landscape company like LY Landscape & Development Pte Ltd for giving awareness to the people for this kind of industry. It also helps landscape companies in sourcing potential people and providing opportunities to those people to develop their potential to utmost possible.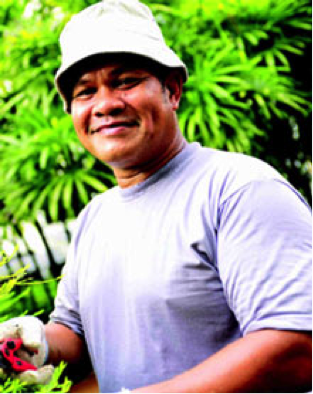 Former Labourer turned Landscape Technician - Mr Rahim bin Zakariya
Aged 50, an ex-inmate and having done only manual work all his life, Mr Rahim bin Zakariya is happy that he has found a rewarding landscape job through Project Green Beacon.
"I look forward to work every day," Mr Rahim quips. "The plants are a joy to work with and when residents show their appreciation, it makes me really proud." Mr Rahim is currently performing maintenance work in HDB estates. He has put the knowledge from the WSQ Prune Hedges and Shrubs course he attened to good use.
So satisfied is he with the job that Mr Rahim has even recommended it to some of his friends, "I tell them that working outdoors is fun and refreshing. As I'm out and about all the time, I get a lot of exercise. Time also flies, there's never a dull moment."
Asked how his family has reacted to his new-found job, Mr Rahim said, "My wife and two adult daughters are happy for me. They find the working hours reasonable as we still have time to spend together as a family."
Mr Rahim's wife who works as a production operator is also happy that his current monthly income comes in handy for the household expenses. "I plan to complete the rest of the course modules which will qualify me as a certified landscape technician," he said. Mr Rahim knows that a better income will come with better qualifications and has his heart and mind set on achieving his goal.
A New Graduate - Miss Lin Yiting
Ever since I graduated around mid May, I have been searching endlessly everyday through the internet for a post related to Horticulture. I was a bit depressed as not many of the applications that I sent through web were successful, until my friend recommended me to CUGE Career Centre. When I send my resume and information to the Centre, I believed that with their network of various companies in Singapore, they would be able to help me find a company where I can use my knowledge and perform. The Centre is highly efficient, I was very happy and surprised when 800 Super Waste Management Ptd Ltd offered me a job after 2 - 3 weeks of waiting. Now, as a Resident Landscape Coordinator or Horticulurist, I am working in the Pasir Ris area with my salary of $1,600 per month. More to that, I am very happy that I am learning a lot more than my school can teach me.
Director of Toh Kim Bock C-E Contractor Pte Ltd - Mr Freddy Toh
For the past 3 years, I am personally involved in the job placement exercises which CUGE Career Centre has organised and I have managed to recruit many workers for our need. I sincerely appreciate CUGE Career Centre for inviting us to participate such exercises which given us another source to employ local workers. It has been an enjoyable, happy and fruitful result for the past and I definitely wish to continue with CUGE Career Centre for future. Thank you CUGE Career Centre.
Fresh Ngee Ann Poly Grad - Ms Teo WP
It has been a month after my graduation, and I'm gald to know about CUGE Career Center through their website and my friends. Approaching CUGE Career Center not only allows me to know that actually Singapore's horticulture industry is still in need of people even though it is still on recession period. I believe it is the right choice for people who are looking for horticulture jobs to approach CUGE Career Centre, as they can find a wide range of job vacancies available in the private landscape companies which cannot be found online or through newspapers easily.
Of course,CUGE Career Center helps me to get a job which is related to my course and a job that I'm passionate in. And lastly, I'm grateful to Ms Christina Lee who found a job which I believe that will enhance my horticulture skills and develop my potential to the fullest.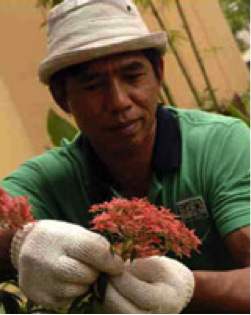 Landscape Industry Veteran - Mr Arbaa bin Motar
In spite of having 30 years of experience in the landscape industry, Mr Arbaa bin Motar, 47, still signed up for the NSRS course. "I see all these new recruits qualifying as landscape technicians and felt that I too need to upgrade my skills," he wisely said.
His decisions paid off handsomely. When he finished just one module, he was promoted to be a supervisor, overseeing a team of seven landscape technicians. This added responsibility came with an attractive pay rise.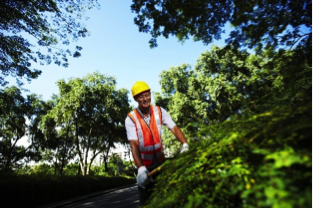 Former Fruit Stall Owner - Mr Fan Chap Wah
Mr Fan participated in CUGE Career Centre Monthly Job Placement Programme and was successfully offered a job as a Landscape Technician, with Toh Chin Leong Construction Pte Ltd, a landscape company, despite having no experience.
Mr Fan used to own two fruit stalls. He ended his business to take care of his ill wife . When she recovered, he decided to pursue his passion for greenery and participated in a job placement exercise organised by CUGE Career Centre. After a work trial, he was employed and sent for further training at CUGE in WSQ in Landscape Operations.
Mr Fan enjoyed working and is happy with his newly acquired skills. Mr Fan who has a positive work attitude, was a proud recipient of the "May Day Model Worker Award 2009" this year. "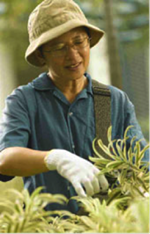 Former Homemaker - Madam Poon Boon Cheng
It's never easy to re-enter the workforce after a big lapse, which was the case for Madam Poon Boon Cheng, 48.
"I worked as a clerk 10 years ago. But I gave that up to look after my children," said the mother of two. "But now my children are older and I need to find work to supplement the family income."
After a series of short-term jobs, Madam Poon then chanced upon a press advertisement for training in the landscape industry.
"I registered with NTUC CareerLink and was lucky to be short-listed," she explained.
"With modules in pruning, hedging and plant maintenance, the course was interesting and I completed it within a month and a half."
With her new qualifications, Madam Poon was quickly job-matched to work as a landscape technician in Temasek Polytechnic, working amongst locals and foreigners. "Many people visit this place. When they see me in my uniform, they know that I'm one of those responsible for this beautiful environment," said Madam Poon, standing proud in her work attire.