eBook
Design Guidelines for Contemplative Landscapes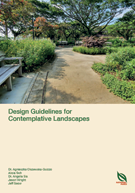 This publication is a translation of research findings from the study Effects of Landscapes on Brain Activity into design application. The information aims to help landscape professionals design and implement landscapes that enhance mental well-being, for a more liveable Singapore.
ISBN: 978-981-18-6070-6
Download: here
Contemplative Landscape Model II: here
---
Sustainable Landscape
This book invites landscape developers, designers, installers and practitioners to take a closer look at managing urban landscape from a sustainability perspective. It addresses the major problems of sustainable landscape management which are labour shortage and productivity. By focusing on principles of productive maintenance for various landscape components and reviewing the infrastructure needed for equipment and machinery access, this book provides new and creative solutions for future design and upgrading works.
ISBN: 978-981-09-5218-1
Download: here