Landscape Excellence Assessment Framework (LEAF)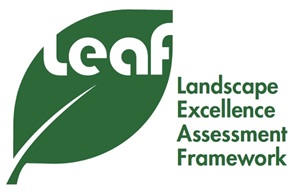 The Landscape Excellence Assessment Framework, or LEAF for short, is a certification scheme to celebrate good landscape design, construction and management of parks and development projects. With LEAF, NParks aims to encourage ecologically, climatically and socially resilient parks and developments in Singapore's urban landscape
LEAF is the first scheme in Singapore that is solely dedicated to recognising the provision and management of greenery in developments and parks. LEAF is developed with consideration of the current best practices in landscape design and management.
This certification recognises excellence in efforts of developers, landscape architects, architects, contractors and maintenance agents in creating high quality urban landscapes, contributing to Singapore's journey to be a City in Nature.
LEAF certification also helps inform the public of the quality of landscapes of the certified development. The LEAF logo can be used for marketing purposes for each certified development, project owners and team members.