PWM WSQ Training Requirements
The Progressive Wage Model (PWM) for the Landscape Industry, launched on 24 April 2015, requires local landscape maintenance workforce to fulfil specific training requirements based on the Singapore Workforce Skills Qualifications for Landscape (Landscape WSQ).

From June 2016, the PWM for the landscape industry will be a mandatory condition for companies that want to be registered under the Landscape Company Register (LCR) administered by the National Parks Board (NParks). Landscape companies are therefore urged to register your local maintenance workforce for the relevant WSQ courses.
To register for WSQ courses, please click here.

The TCL recommends the following PWM for the landscape maintenance sub-sector: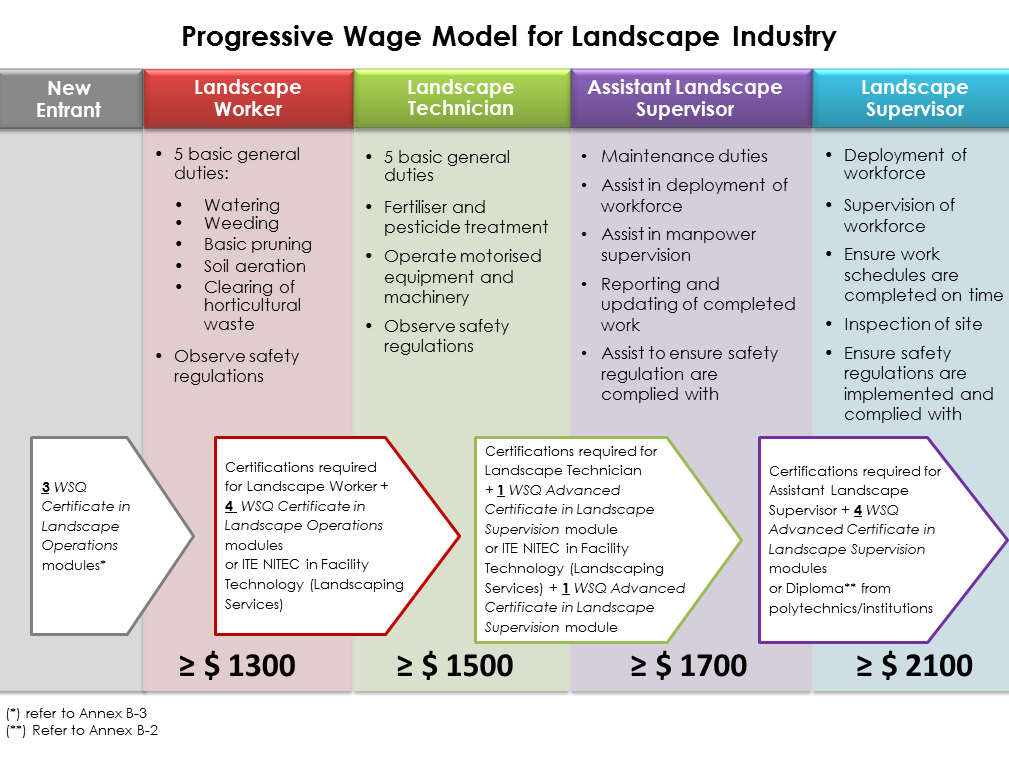 The recommended Landscape WSQ modules are

RECOMMENDED LANDSCAPE WSQ MODULES
Job Category

WSQ Modules

Landscape Worker

[Compulsory] Plant, mulch and maintain planted areas

[Compulsory] Prune plants

[Compulsory] Maintain amenity turf and open grassed spaces

Landscape Technician

Choose 4 out of 5:

Recognise plants and their growth requirements
Recognise pests, diseases, invasive and noxious plant species
Improve soil and media
Safe use and handling of non-hazardous chemicals
Perform daily checks and maintenance on machinery, tools and equipment

Assistant Landscape Supervisor

[Compulsory] Control risk and safety hazards of sector specific practices

Landscape Supervisor

Choose 4 out of 5:

Implement soil/water/plant health management programme

Maintain workplace safety and health policies and procedures

Classify plants

Identify symptoms and infestations of pest and diseases in horticultural situations

Facilitate effective work team*
(*) This module is to be taken with the Training Provider appointed by CUGE only.

Note: For experienced landscape workers who are proficient and familiar with landscaping duties, their employers may apply for assessment and certification via the Composite Assessment for WSQ Certificate in Landscape Operations.
To read the full recommendations of the Tripartite Cluster for Landscape Industry (TCL) on the Progressive Wage Model for the landscape industry, please click here.

To register for WSQ courses, please click here.