A Fragrant Garden Of Herbal Remedies
At Nanyang Technological University's (NTU) community garden, the plant selection is highly unique. This garden specialises in herbs – its name in Chinese, 方草园, loosely translates as 'herb garden'.
Planted on a steep slope, the fragrant, fresh smells from this herb garden beckon to all who visit or pass by. It has been a labour of love since the beginning. "Every day, volunteers came in batches to lay the tiles, dig the trenches and create terrace beds," said Mr Ng Kim Chuan, 58, a technician with NTU's Engineering Services Division, who engineered the project. He also shared that 90% of the materials were either donated by sponsors or recycled.
The garden is tended by students from the School of Biological Sciences, alongside a dedicated group of regular volunteers. The garden's produce provides resources for the students' research; in return, they act as volunteer guides to the garden, even for visits on weekends or public holidays.
The NTU garden is well known for a number of reasons. The harvested herbs are not just used in research, but distributed to the campus community and visitors. It is also famous as a butterfly garden, thanks to its abundance of butterfly-attracting plants and its pesticide-free environment. Many species of butterflies can be seen throughout the day.
The achievements of the NTU community gardeners were recognised during the Community in Bloom Awards 2010, their first entry in the awards. They clinched the Gold Award, as well as the Best New Garden award under the schools category.
The garden continues to flourish, sustained by the passion of its gardeners. Retiree Mr Tan, 66, is a volunteer gardener who is very experienced in herb usage. "Nowadays, you can get many varieties of vegetables at the markets. However, herbs are hard to come by. Even if you can find them, they would be expensive."
Mr Tan is especially eager to share the health benefits of the herbs with the others, especially the young. "Most of these plants are often regarded as 'weeds'. I want to use this garden to educate the public about the medicinal properties and proper usage of these herbs, so that they can appreciate these herbs better."
The following herbal drink recipes were contributed by Mr Tan. These drinks, which are meant to aid your general well-being, are easy to make at home. The ingredients can be obtained from the NTU community garden.

Melastoma drink
Health benefits:
Helps to relieve insomnia, circulate 'qi', and assist in skin repair
Ingredients:
500 grams flowers of Melastoma malabathricum var. alba or Melastoma malabathricum (Straits rhododendron pink / white)
50 grams stems and leaves of Murraya koenigii (curry leaves and stem)
1 litre of water
Yellow rock sugar to taste
Preparation:
Place the curry stems and leaves in a pot of water and bring to boil. Continue cooking the mixture over low heat for 20 min.
Add the Straits rhododendron flowers to the pot, and continue cooking for 10 min.
Add rock sugar to taste, and simmer for 10 min.
Strain the solids, and serve.
Passion fruit drink
Health benefits
Helps to relieve stress, calm the body, and boost the immune system
Ingredients:
500 grams of Passiflora laurifolia (passion fruit), either ripe or unripe whole fruits
1.5 litres of water
Yellow rock sugar to taste
Preparation:
Place the cleansed whole passion fruits, with skin, in a pot of water and bring to boil. Continue cooking over low heat for 3 hours.
Add yellow rock sugar to taste. Simmer for 10 min.
Strain the solids, and serve.
Both drinks should be served warm or at room temperature. Avoid chilling or adding ice to the drinks, as doing so may impede your circulation and digestion.

By Maxel Ng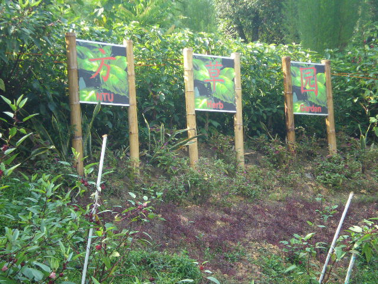 The community garden is located near the junction of Nanyang Ave and Lor Danau, behind the substation.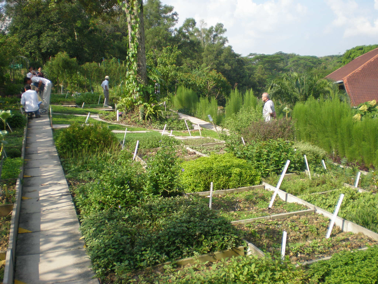 Well-designed and spacious, this garden boasts paved pathways for easy access by gardeners and visitors.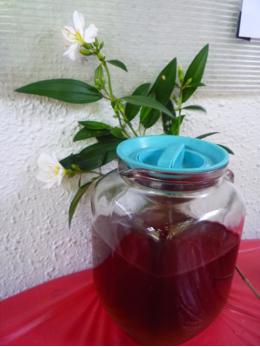 The Melastoma drink is an appetising maroon colour, pictured here with a sprig of Melastoma malabathricum var. alba.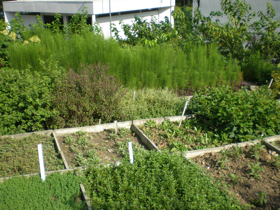 There are more than 300 type of herbs in this garden. Many are also used as ornamentals for general landscaping.