Eco-Link@BKE – Reconnecting Our Biodiversity
Many busy commuters rushing to their destination may not notice the green lungs situated on both sides of the Bukit Timah Expressway (BKE) between the Dairy Farm exit and the Pan Island Expressway (PIE) exit. However, these days, it is hard to miss the engineering marvel that is the Eco-Link@BKE, a forest planted above the BKE for the purpose of reconnecting our biodiversity.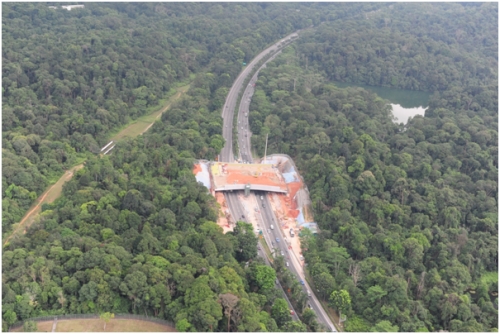 An aerial view of the Eco-Link@BKE, which is an hourglass-shaped ecological corridor which reconnects the two nature reserves on either side of the BKE.
Shaped like an hourglass, the Eco-Link@BKE is Singapore's latest effort in promoting conservation and the first overhead ecological corridor in the region. It is projected to improve the ecological connectivity of the two nature reserves – Bukit Timah Nature Reserve (BTNR) and Central Catchment Nature Reserve (CCNR), which were once one continuous patch of rainforest before the BKE was constructed.
To prevent genetic isolation of fragmented flora and fauna populations, the bridge would encourage the interaction of wildlife by facilitating movement between the once separated forests and effectively expand habitat, mating and foraging ranges of flora and fauna. Since the very beginning of the project, nature groups, tertiary institutions and government agencies have worked closely with the National Parks Board (NParks) and the Land Transport Authority (LTA) to conduct feasibility studies and biodiversity monitoring surveys. The targeted taxonomic groups for the surveys include mammals, birds and insects (mainly orthopterans).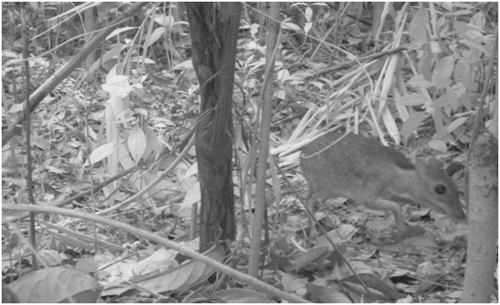 With the completion of the Eco-Link@BKE, it is hoped the Lesser Mousedeer (Tragulus kanchil), which is currently found only in CCNR, might cross into BTNR and establish viable populations there, thus expanding its habitat range.
Through numerous monitoring surveys, we have discovered new species and recorded rare and geographically restricted fauna. Five new species of orthopterans (grasshoppers and crickets) – Cardiodactylus singapura, Tremellia timah, Singapuriola separate, Micrornebius kopisua, Asiophlugis thaumasia – were discovered.
From camera traps and nocturnal faunal surveys, we also recorded several rare and geographically restricted mammals, such as the Lesser Mousedeer (Tragulus kanchil), and Sunda Pangolin (Manis javanica). Understory forest birds, such as barbets and bulbuls, were observed in the vicinity of the Eco-Link@BKE. These species are vulnerable to local extinction and would rarely traverse the expressway in the absence of an ecological bridge.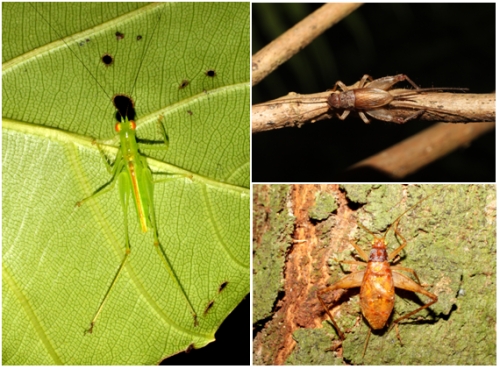 Seen here are three of the five species of orthoptera discovered during the monitoring surveys for Eco-Link@BKE. (Left) Asiophlugis thaumasia was presumed extinct in Singapore and was rediscovered recently. (Top Right) Singapuriola separata, only recently described, belongs to a genus endemic to Singapore. (Bottom Right) Tremellia timah is an endemic cricket recently described and named after Bukit Timah.
With wildlife crossing the expressway from one nature reserve to another, the chances of pollination and dispersion of rare native plants could greatly increase. For example, the Singapore Durian (Durio singaporensis) and Singapore Walking Stick Palm (Rhapaloblaste singaporensis) are pollinated and dispersed by animals.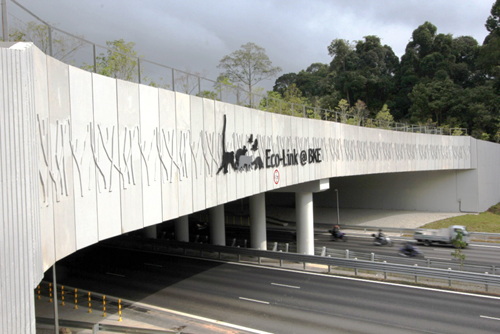 Transforming Eco-Link@BKE into a forested bridge not only demonstrates Singapore's commitment to conserving biodiversity, but also provides motorists with a pleasant driving experience.
We also hope that the Eco-Link@BKE would also bring about greater interaction between individuals leading to a healthy exchange of genetic materials, thereby reducing the occurrence of inbreeding and increasing the long-term survival of our native species.
| | |
| --- | --- |
| | On 5 October 2013, some 100 representatives from various agencies and organisations planted 50 native trees on Eco-Link@BKE to kick start the greening of Eco-Link@BKE, a project that was completed in end-2013.Minister of State for National Development, Mr Desmond Lee, was the guest-of-honour at the event, where he planted a Singapore Kopsia (Kopsia singaporensis). At the event, MOS Lee said, "I think this represents at the symbolic level, a commitment by Singapore and Singaporeans to preserve what is precious about our biodiversity, because of itself and because of the importance of nature." |
By Chung Yi Fei and Chenny Li
Photo of aerial view of Eco-Link@BKE by Eng Lee Pte Ltd
Photos of orthoptera by Tan Ming Kai.